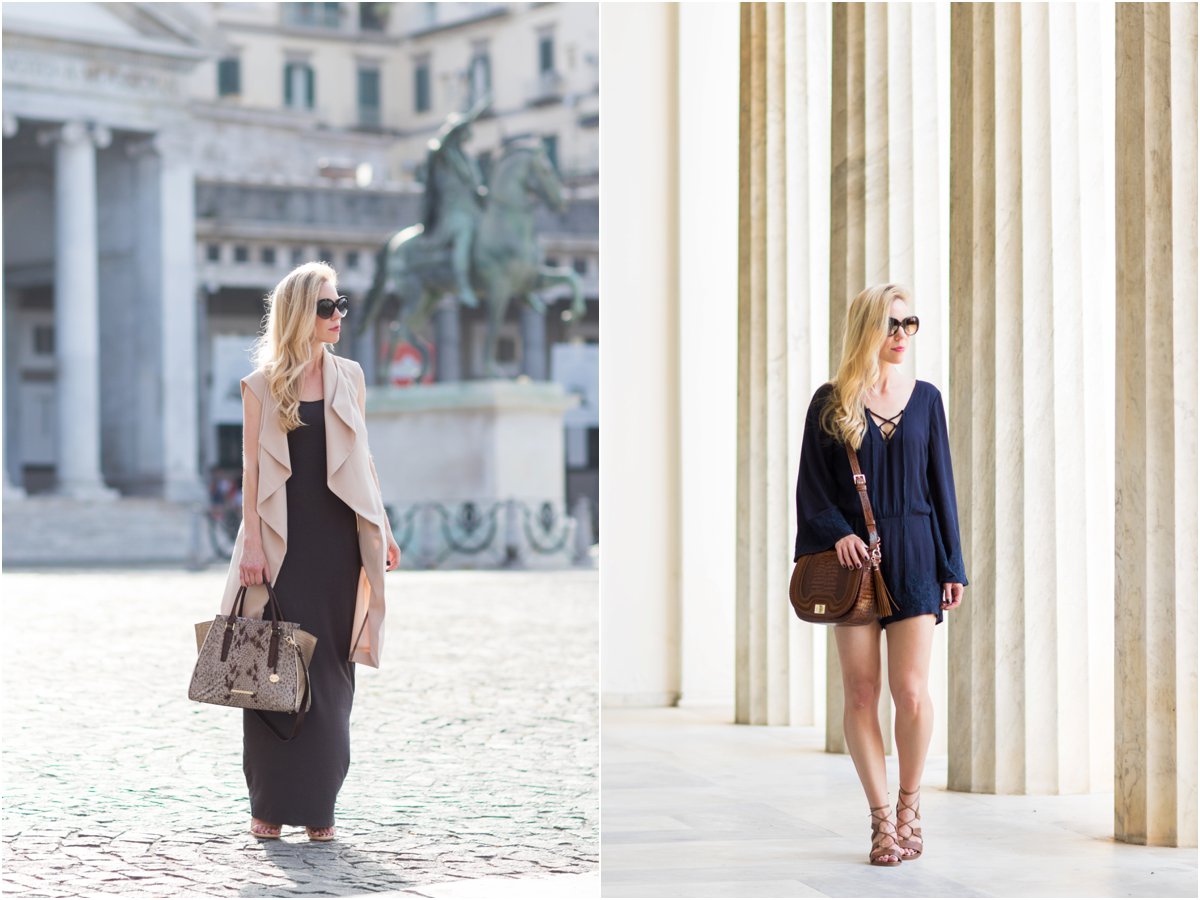 If you've been following my blog for awhile, you already know I am a longtime fan of Brahmin Handbags. You're probably also aware of my complete obsession with fall and the rich colors and textures seen in autumn fashion. Today, I'm combining these two loves of mine for a special preview of Brahmin's brand-new Fall collection.
According to the Brahmin Blog, the collection was inspired by the convergence of classic splendor and rustic countryside in England. This season boasts a wide spectrum of designs and fabrics, all of which come together to make timeless pieces. To complement their elegance, I took my bags to some of the most beautiful spots in Naples, Italy last weekend.
---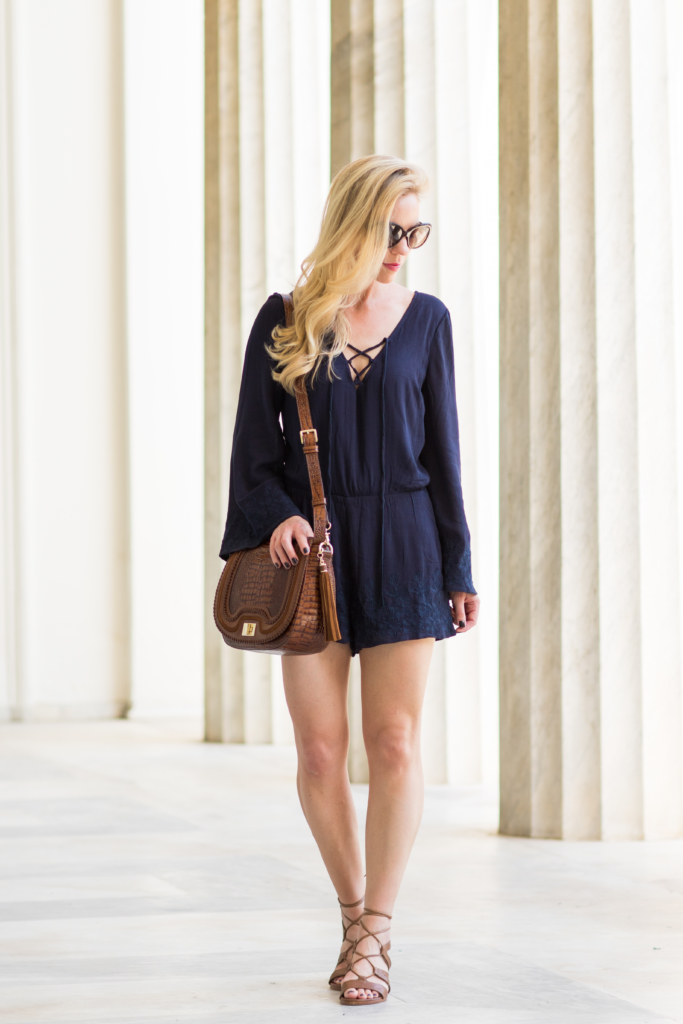 The first stop we made was at Villa Pignatelli, once the home of Princess Rosina Pignatelli, and now a museum full of European fine art and furnishings.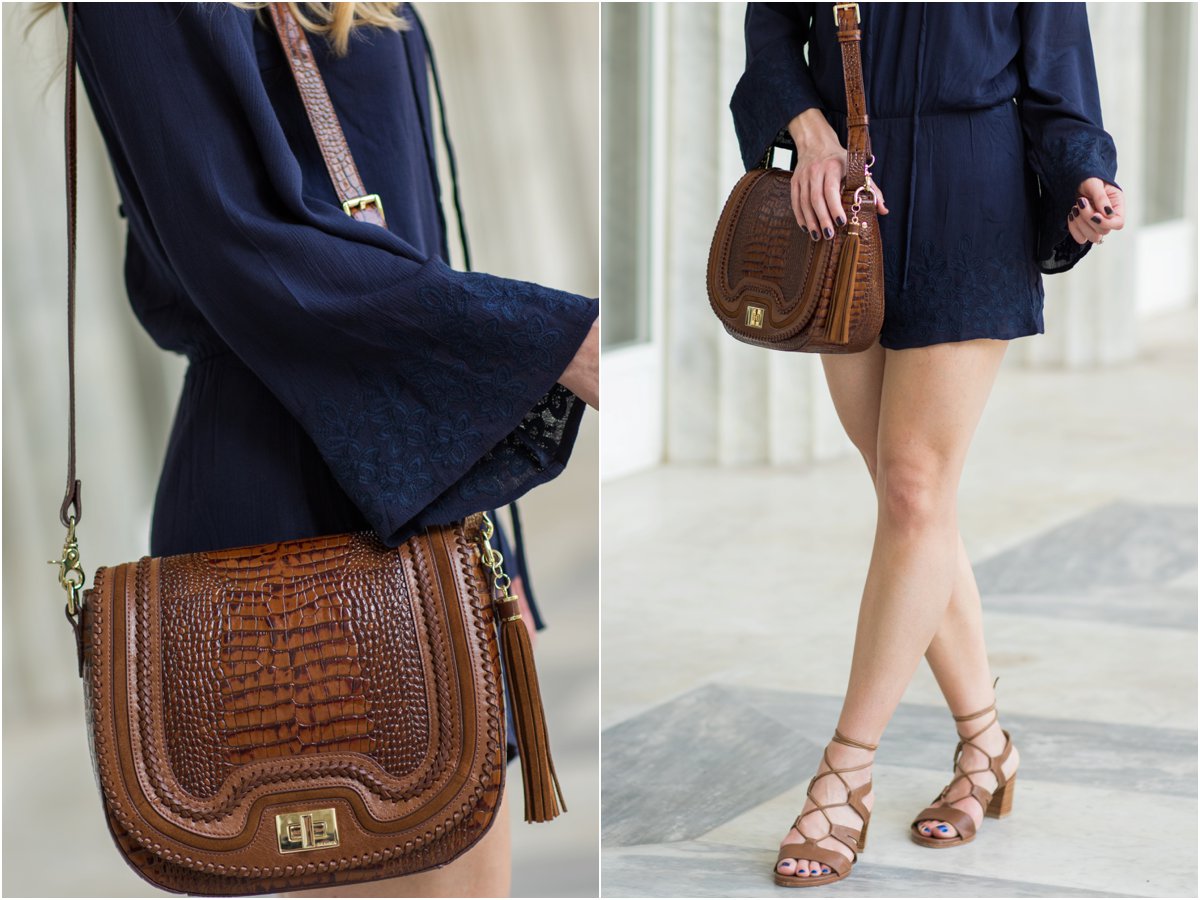 Vintage-inspired saddlebags are everywhere this season, and the new 'Sonny' style is the most beautiful I've seen yet. A luxe blend of leather and suede with an intricate woven pattern make this crossbody style a total showstopper. The ample size provides plenty of room for your essentials, yet it's small enough not to be cumbersome when you need to carry it hands-free.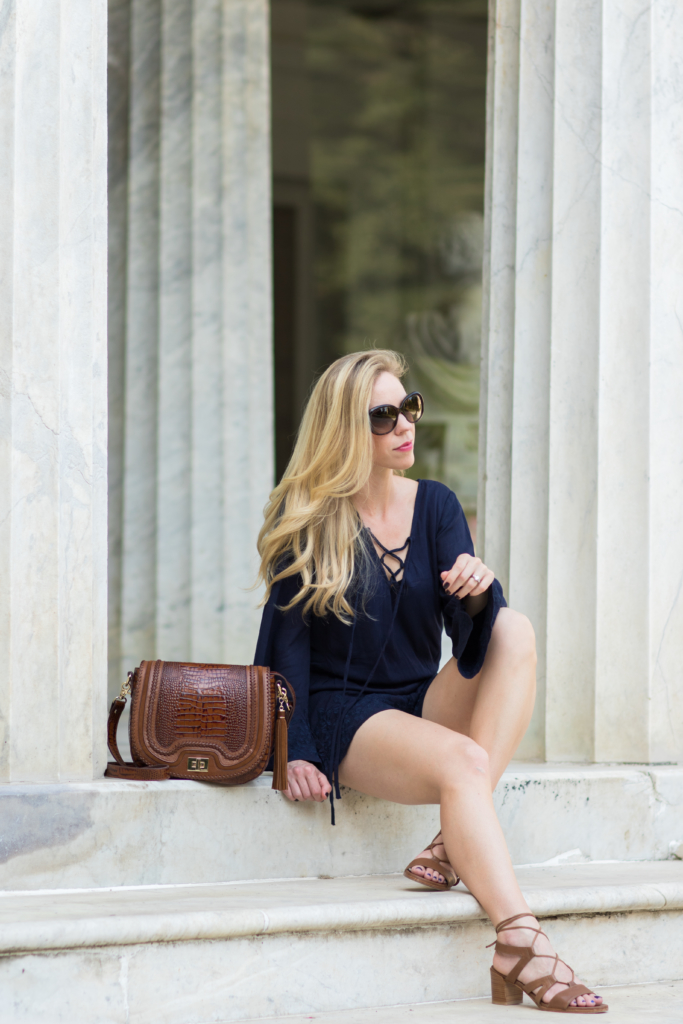 If you're in need of a bag which will transition effortlessly from summer to fall, this is it! I love how the neutral 'Toffee Rockdale' tan color works now with my summer outfits and will look even better with boots and cozy sweaters later.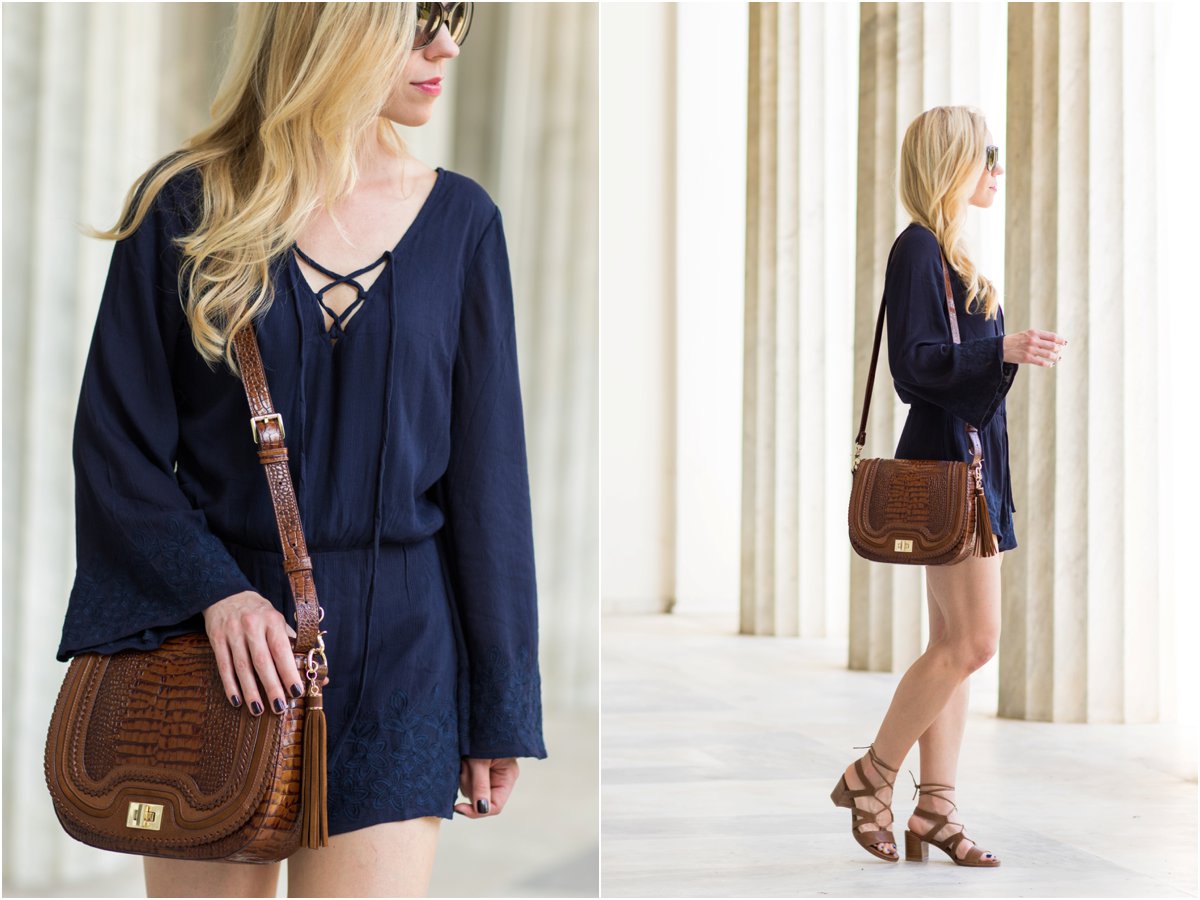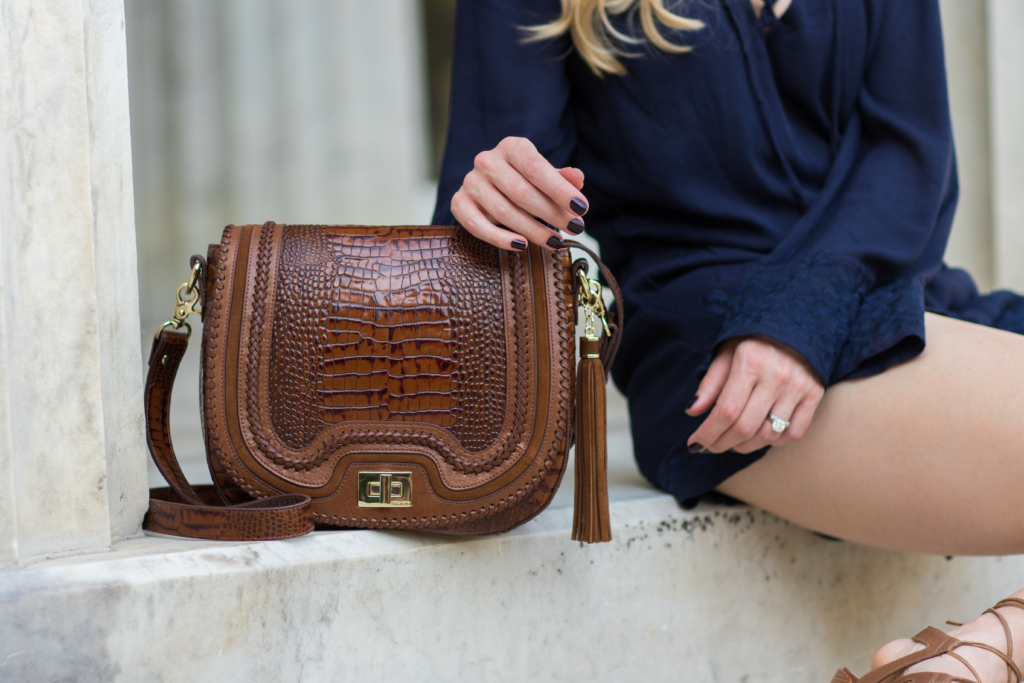 One thing I always tell people about Brahmin is that NO OTHER BRAND understands organization as well. If you're like me and want your bags to have a place for everything, this is the brand for you. No matter the size, each bag has multiple pockets inside and almost always has an outside pocket, which is crucial for quick access to my phone. The 'Sonny' easily holds a full-size wallet, sunglasses, and small cosmetics case.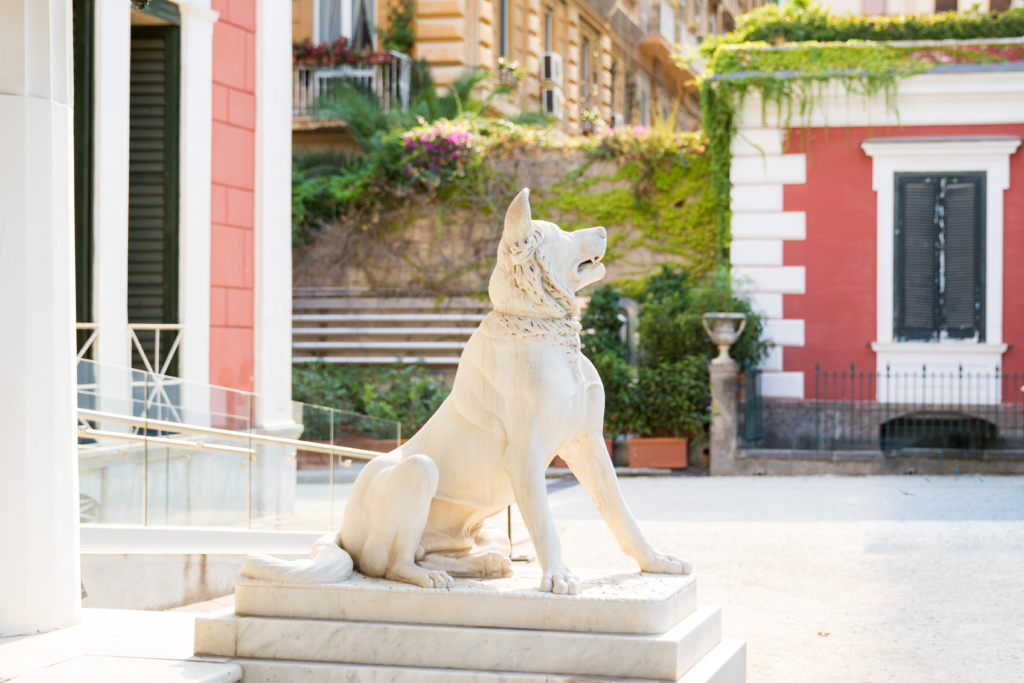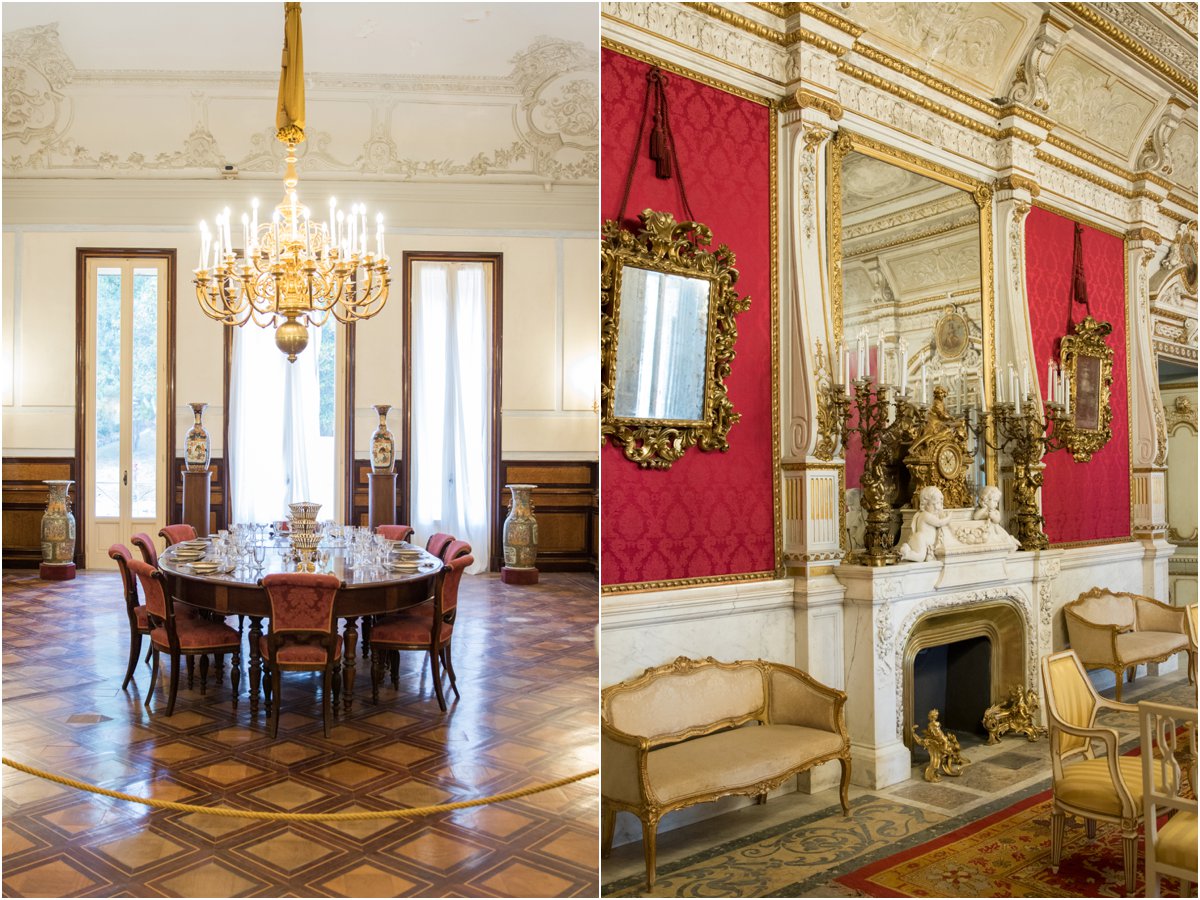 Look 1 :: Outfit Details
Shop the Look
---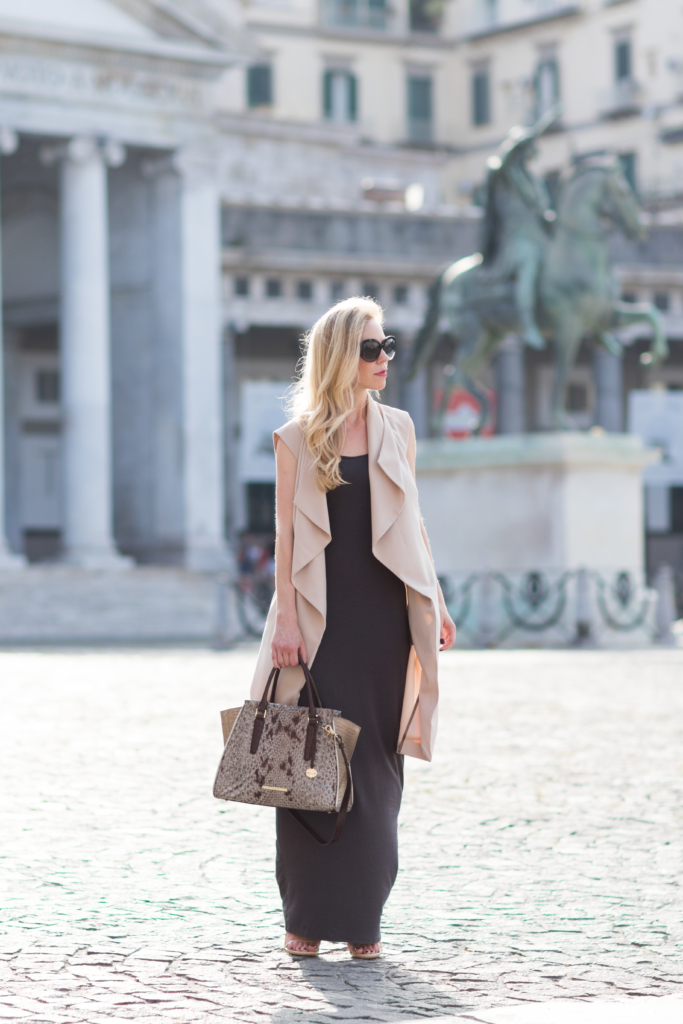 Just before sunset, we headed to arguably the most gorgeous spot in Naples: Piazza del Plebiscito.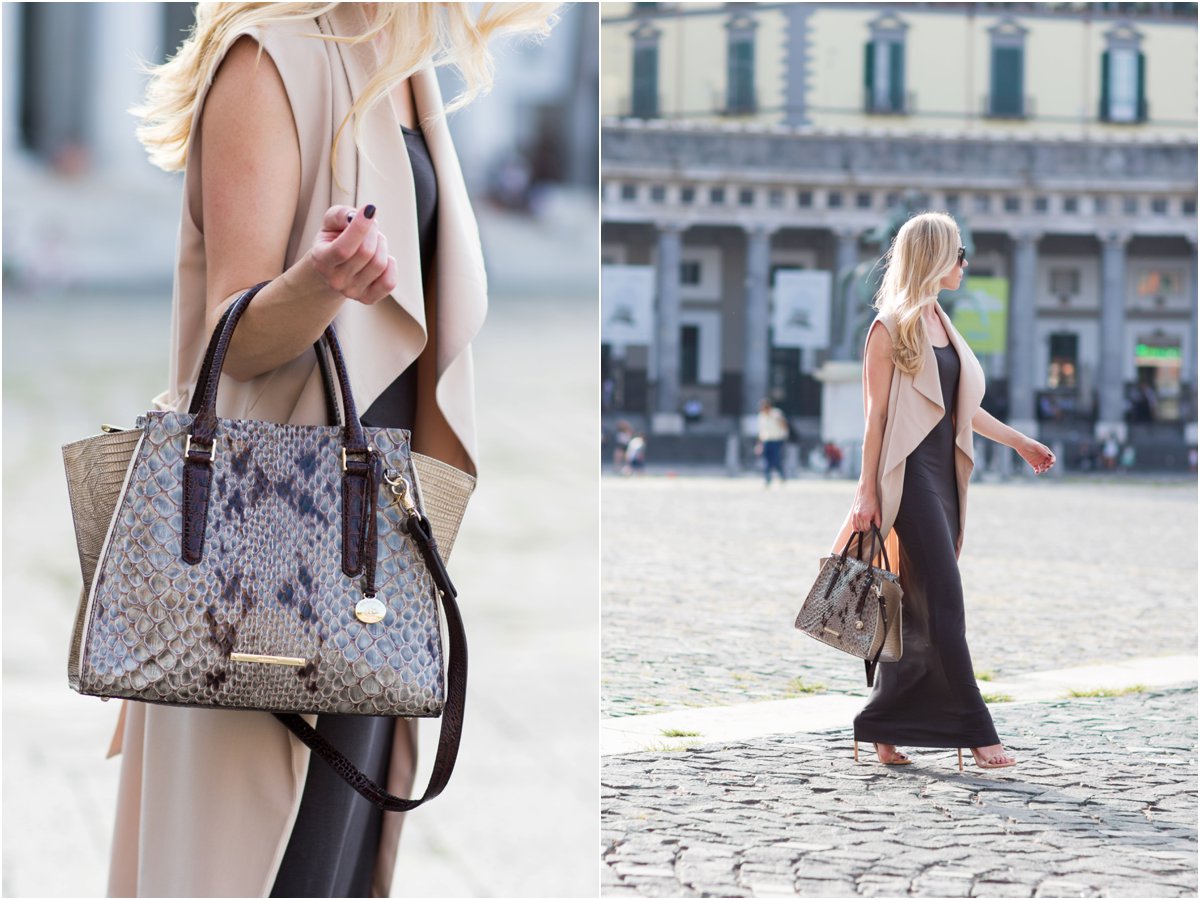 Meet Priscilla, Brahmin's newest satchel with a unique shape. This may be my favorite style yet: the silhouette is classic, yet modern, thanks to its geometric edges.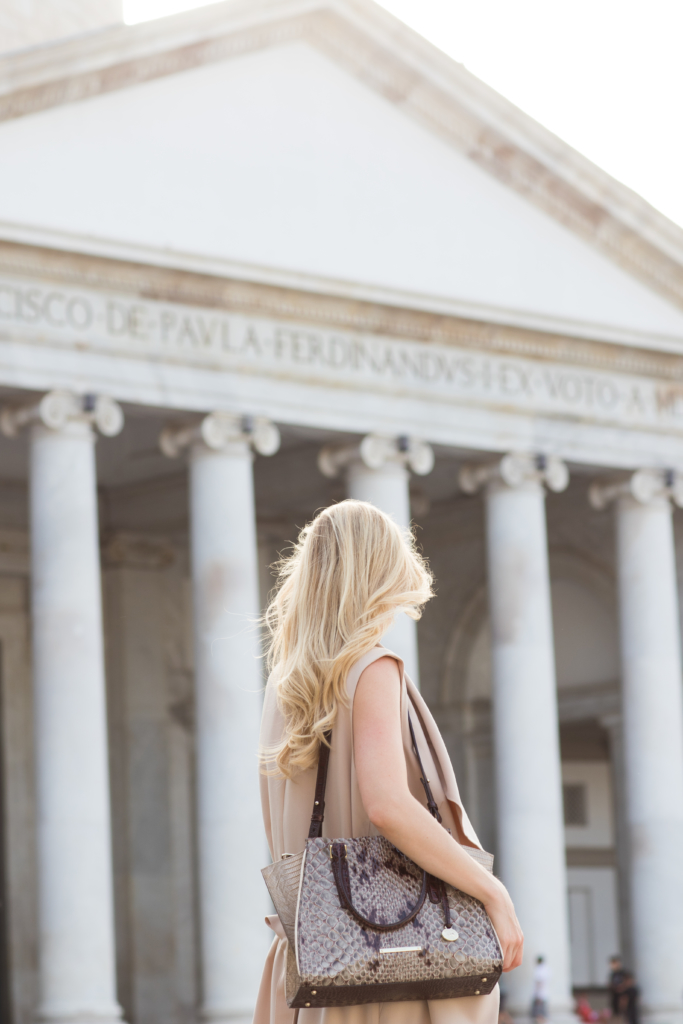 I adore exotic prints and this embossed snakeskin is truly stunning. If you can't tell, it's a mix of gray, brown, and beige—another neutral handbag you'll wear constantly now through fall/winter!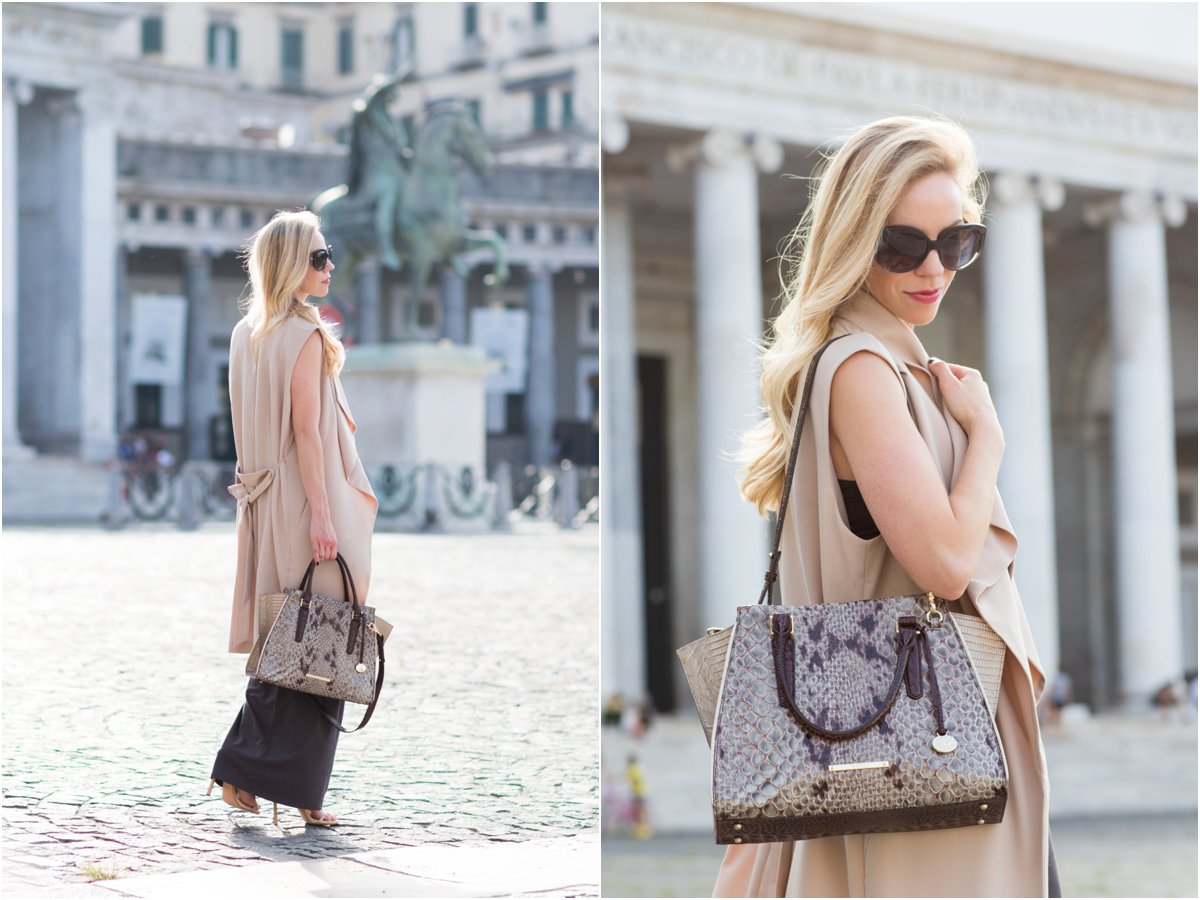 The adjustable strap is just right for carrying on your shoulder without slipping off.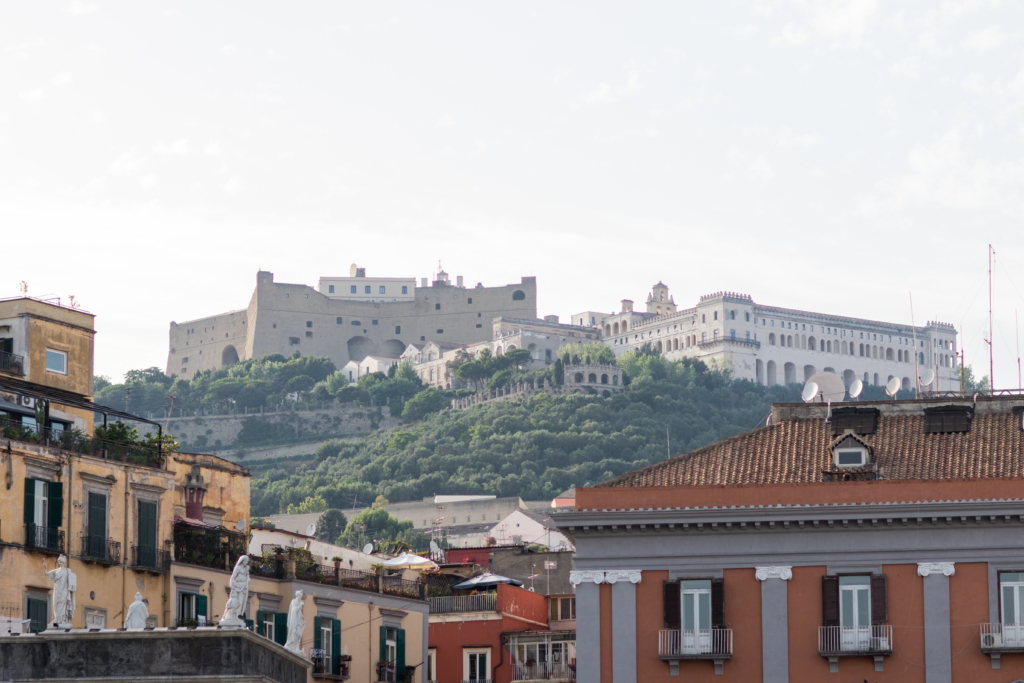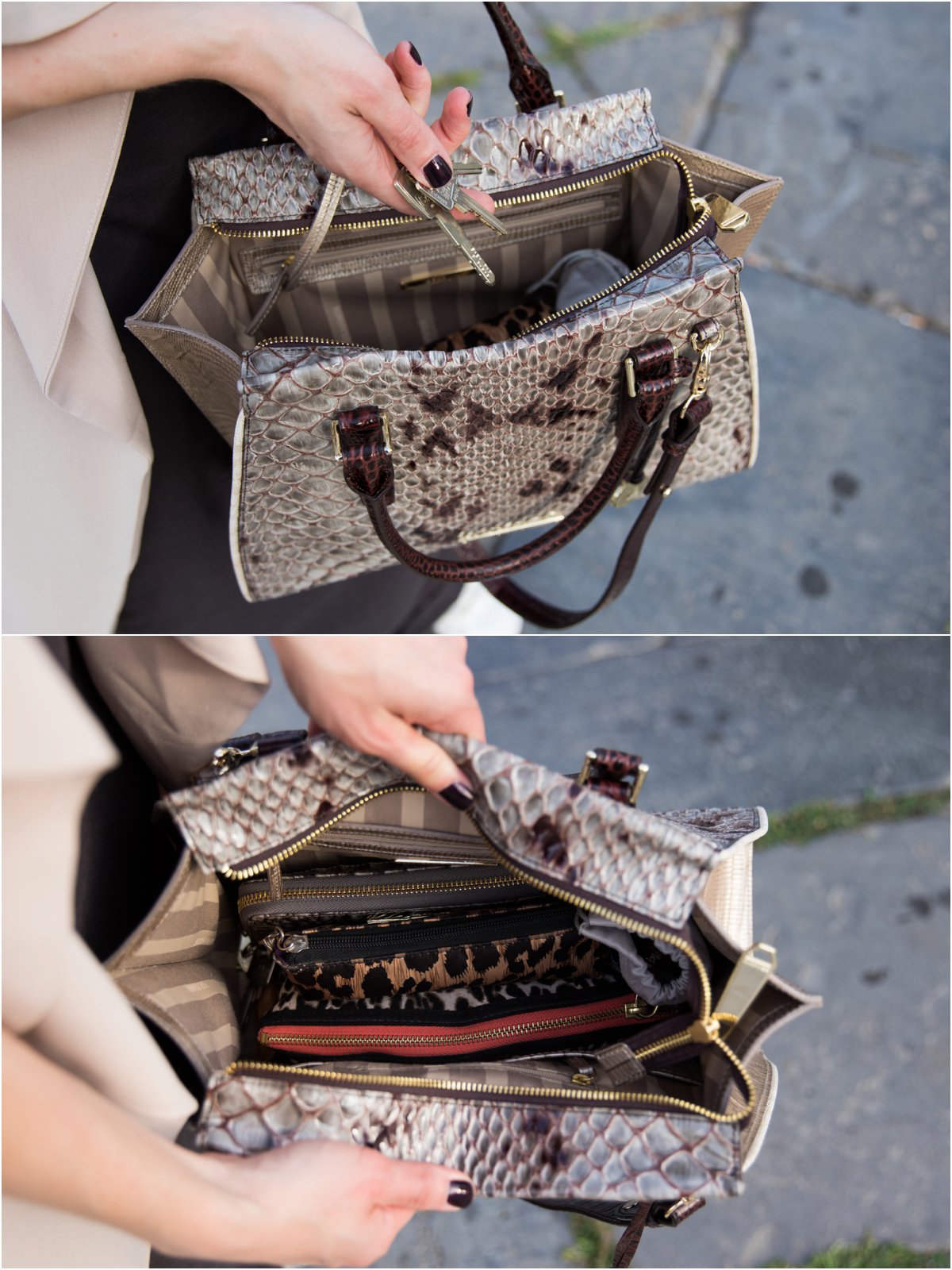 The 'Priscilla' is perfect for everyday use and I especially love the top zipper closure to keep everything secure. The size is plenty large, but not overwhelming for petite ladies. I took it with me on the train to Naples and it was able to accomodate my wallet, large cosmetics case, small lipstick case, sunglasses, and iPad (and I even zipped it shut!) One of my other favorite Brahmin organizational features—which is rarely in other bags—is their signature key clip. I never have to dig around in my bag for keys, which is crucial (trust me: you'll never realize what you've been missing until you use one!)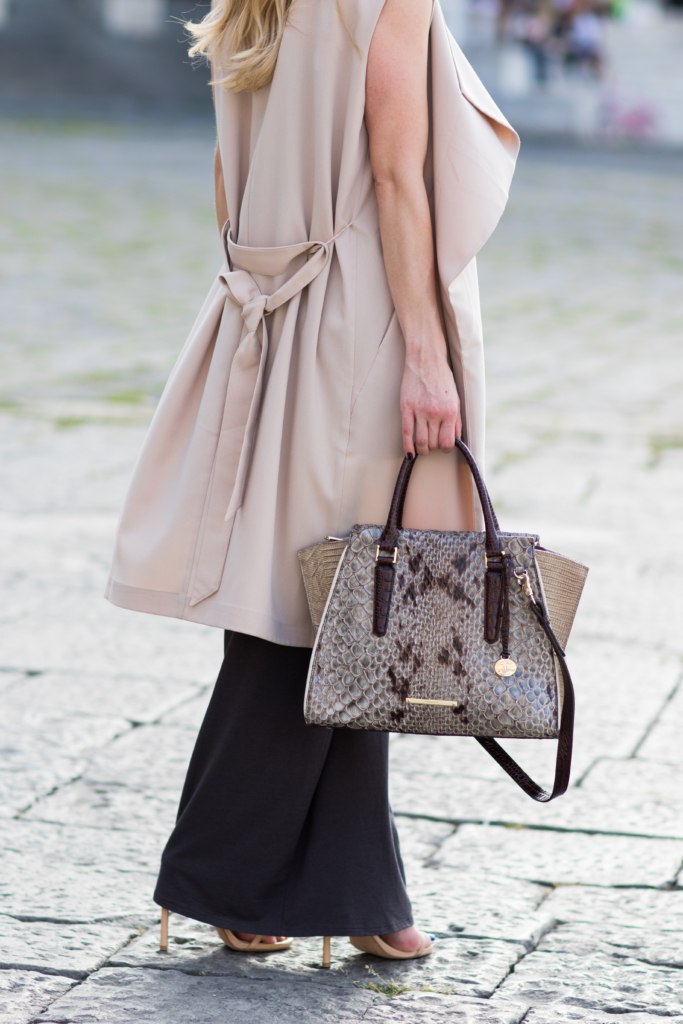 Which Brahmin speaks to your style? Be sure to check out the full collection here and get inspired for fall!
Look 2 :: Outfit Details
Shop the Look
A special thank-you to Brahmin for sponsoring this post!