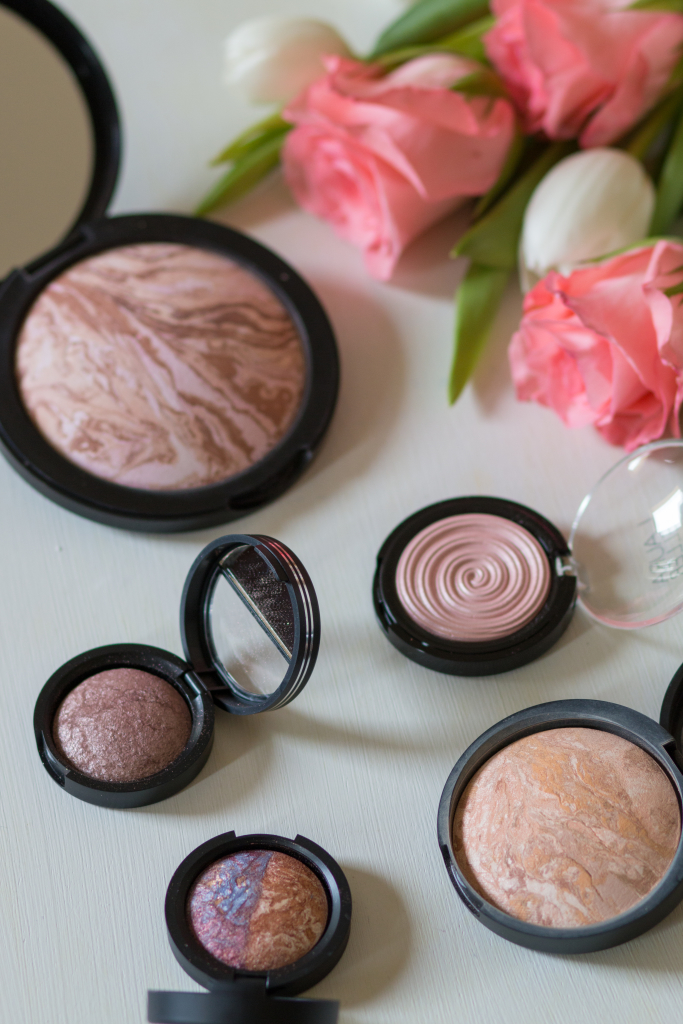 Have you ever been flipping through a magazine (or scrolling through Instagram), looked at a photo, and wistfully thought: 'I wish my skin had a healthy glow like that…' Well, wishes can come true because I've discovered several beauty products that will help you achieve the same luminance (promise!)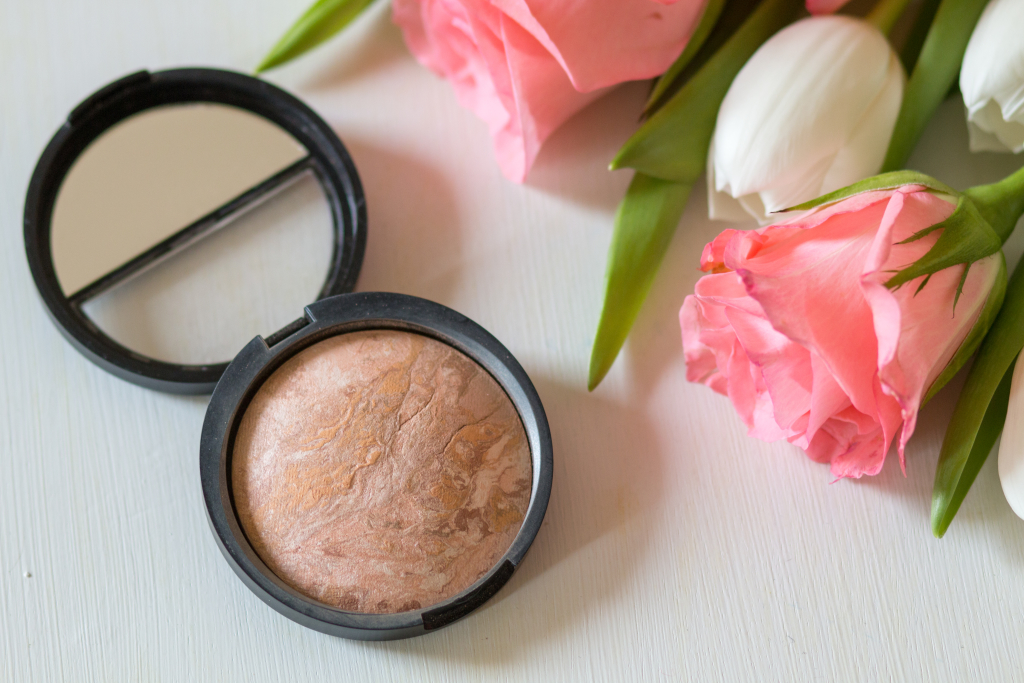 Balance 'n Glow Foundation in 'Fair' (currently only available on QVC)
If you're familiar with Laura Geller, you may already know the story behind her baked beauty formula. If not, here it is in a nutshell: all of Laura's baked products start their lives as a cream, which are formed by hand and baked on terracotta tiles in Italy before making their way to beauty stores. The latest in her baked creations is the Balance 'n Glow foundation, which promises a youthful, non-shiny glow. It may sound like her Balance ' Brighten foundation, but it's definitely different; that formula never really worked well for me as I always thought the color was off and didn't provide enough coverage. But this…love at first application! Here's a funny story: I showed my husband a photo of my face after applying this and asked him to describe how my skin looked. After looking at me like I was crazy, then studying the photo for a moment, he said, 'it has a non-greasy luminance.' I couldn't believe it; this is coming from a man who doesn't know a thing about makeup, ladies–all the proof you need that this stuff works!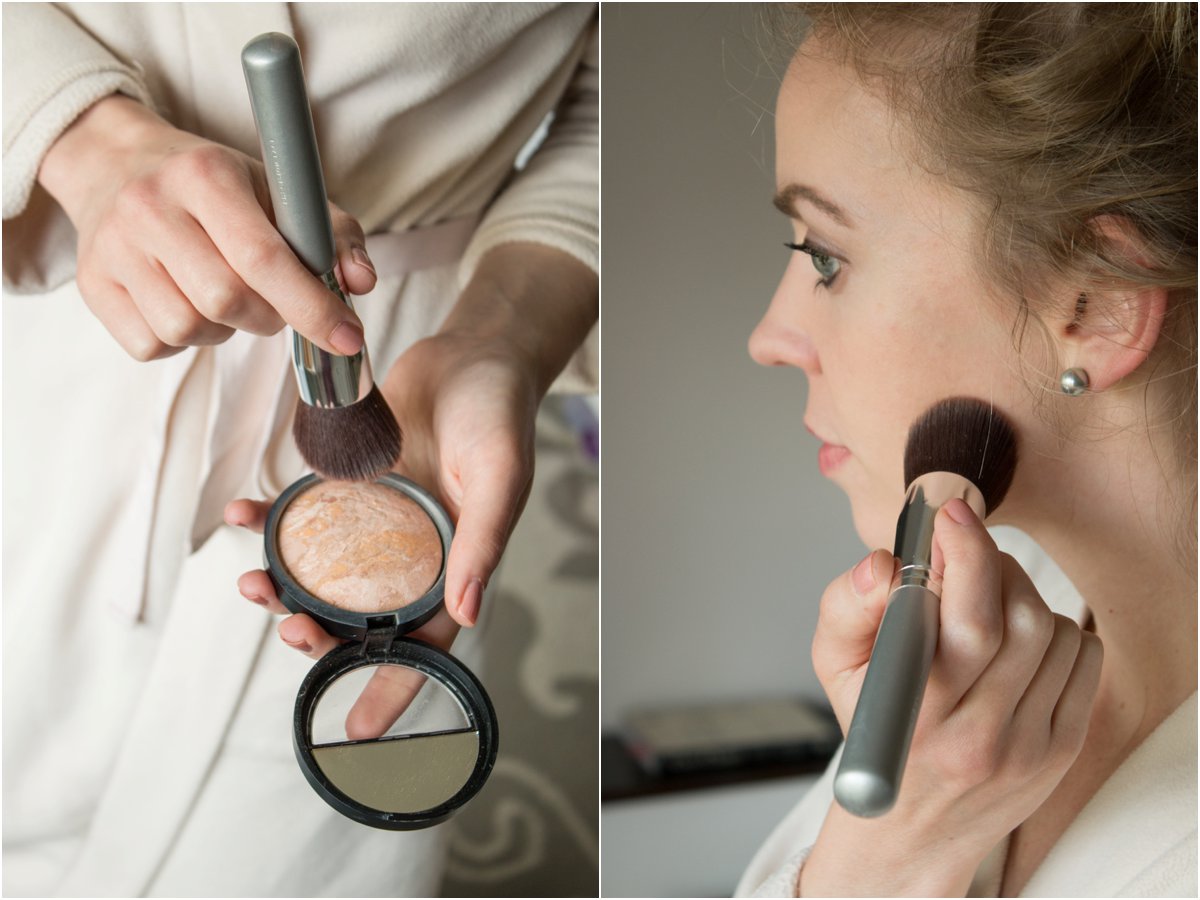 First off, please excuse my bathrobe; I completely forgot to put on something cute before we started taking photos. Oh well, this is the real deal and what I wear getting ready every morning! Before applying foundation, I always use this primer to ensure my makeup lasts all day. The brush I am using is this one from Bare Minerals–it was created for pressed powder foundation and it works really well for my Laura Geller baked foundation. While this formula is buildable, sometimes I still find that it works better as a finisher over my favorite liquid foundation, especially if I want it to really last all day.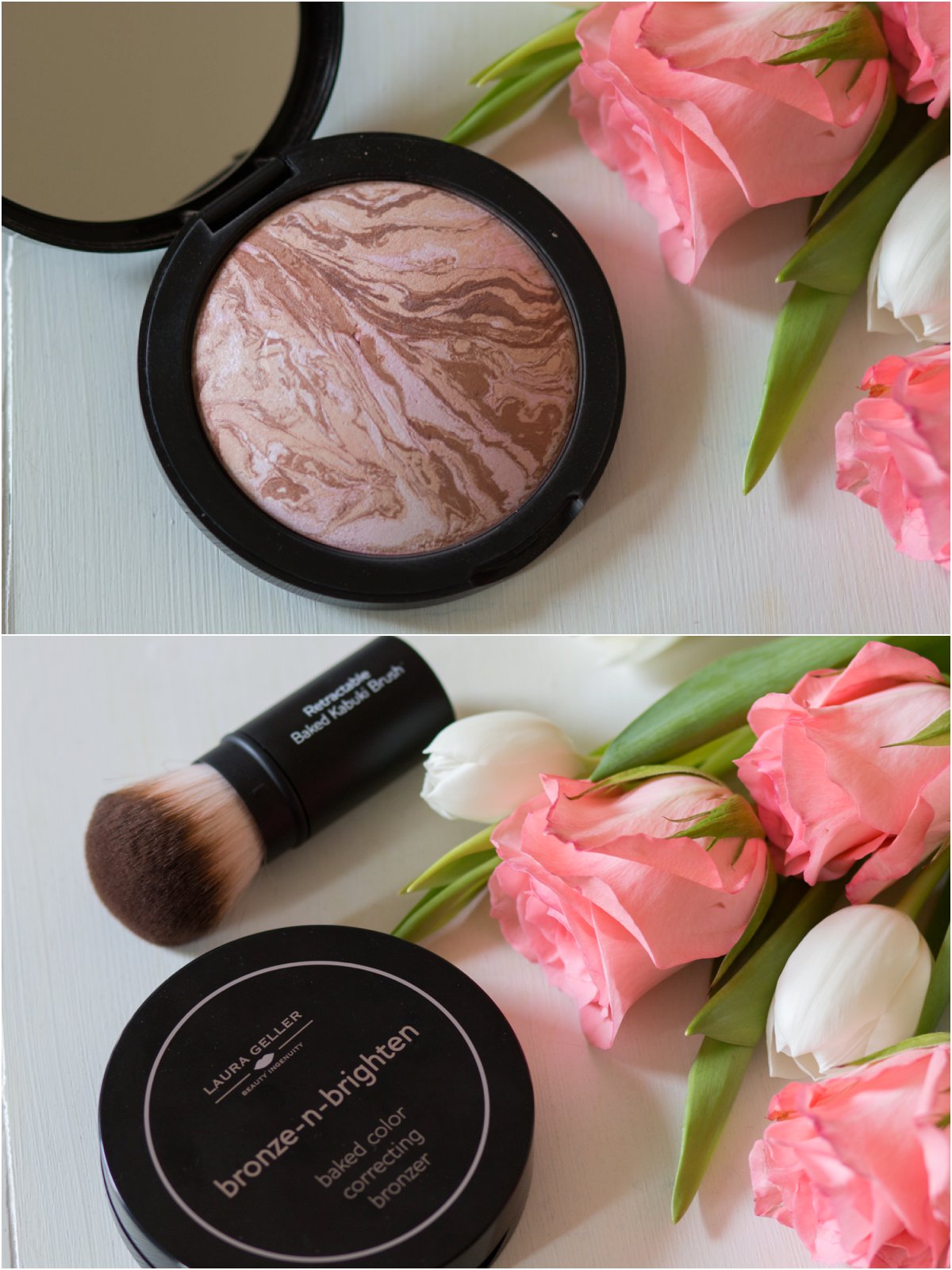 Laura Geller Bronze 'n Brighten baked color correcting bronzer in 'Fair'  (super-size currently sold out)
Oh, QVC, you got me again: do I need a bronzer that's half the size of my face? No. But could I resist your one-time only offer? No. Now that I've tried it, it's a good thing this oversized baby is going to last me a long time since I just L.O.V.E. it! Many times, bronzers leave an orangey hue on skin, but not this formula: Laura Geller swirled subtle shades of brown and pink together for a beautifully natural glow. Oh, and did I mention this bronzer can multi-task? I've even used the pink and brown shades separately as eyeshadow! Unfortunately, the retractable kabuki brush came with this super-size bronzer as part of a set, which is now sold out, but you can purchase it here.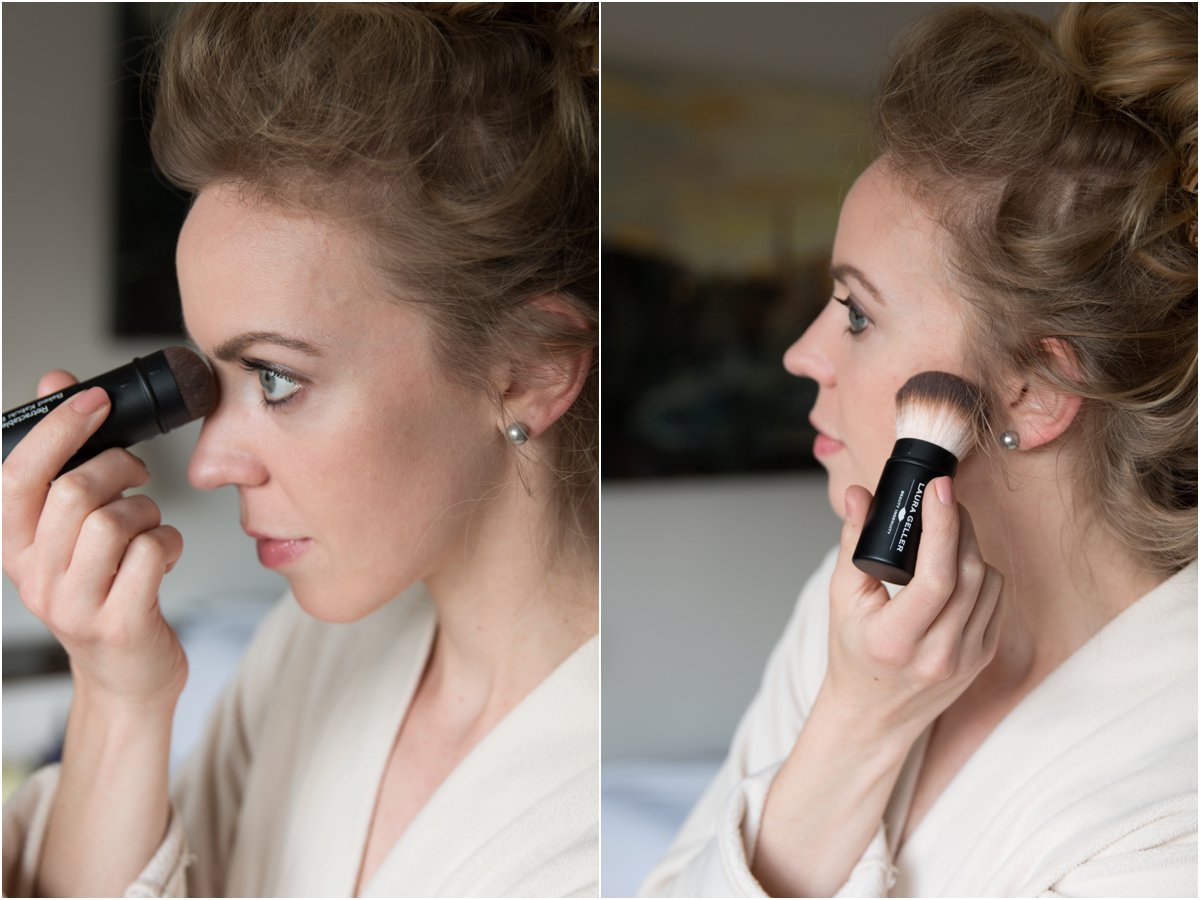 The magic with this brush lies in how you use it: open all the way for light, fluffy distribution, or tighten it up for targeted application in places like cheekbones and the bridge of your nose. I love using it with my foundation, too! I apply it once my foundation has had a few minutes to set.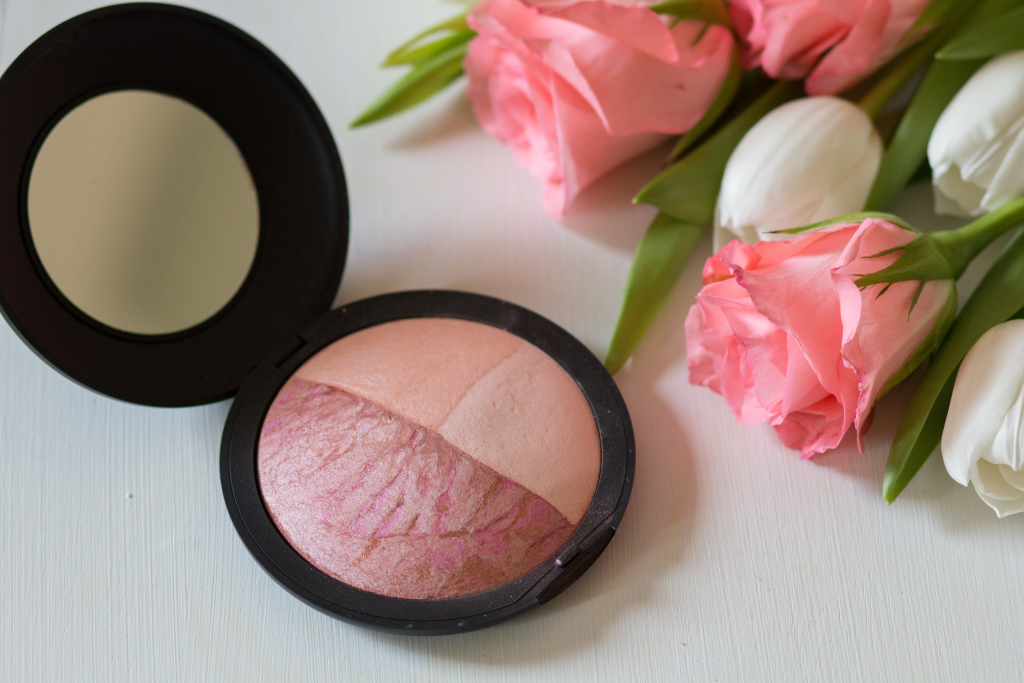 Laura Geller Baked Color & Highlight Palette (QVC exclusive)
This is probably my absolute favorite find for spring, and one that I now use every day. The blush is 'Pink Buttercream', a rosy pink with hints of gold, while both highlighters are absolutely gorgeous (the peach is 'French Rose', which is shimmery and the light pink is 'Amalfi', with a sateen finish).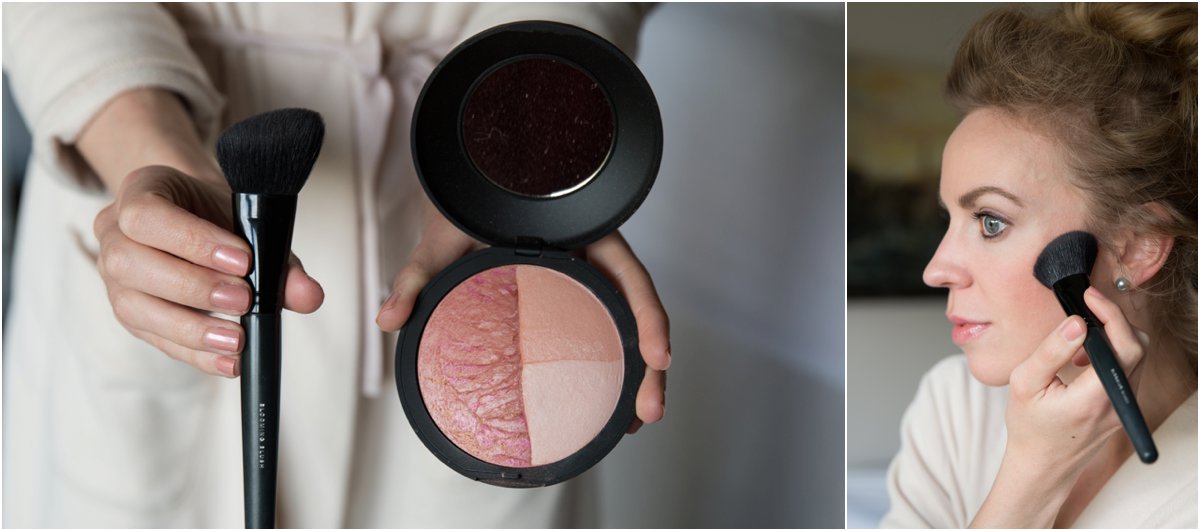 First foundation, then bronzer, and finally, blush and highlight. The brush I am using to apply my blush is here: it's so soft and applies just the right amount of product, plus the shape is perfect for achieving the look of a professional application.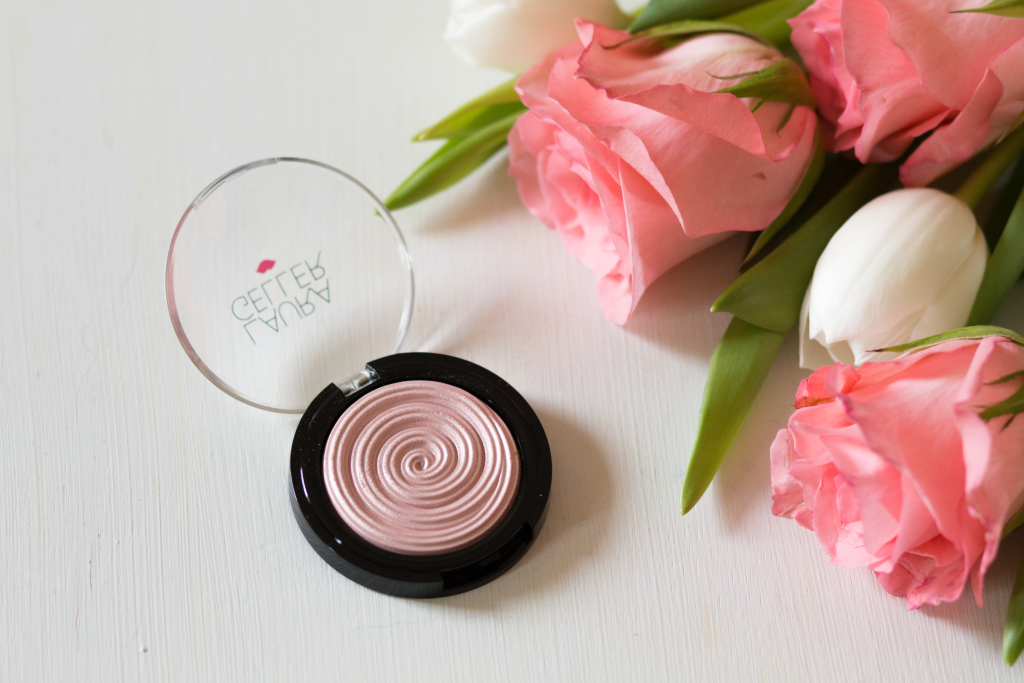 Laura Geller Baked Gelato Swirl Illuminator in 'Charming Pink'
I'm a sucker for the packaging of all Laura Geller products: we're talking hook, line and sinker. So when I saw this pretty pink highlighter, I knew I had to try it. It definitely packs more punch than the blush/highlight palette above, leaving a noticeable, yet natural-looking shimmer.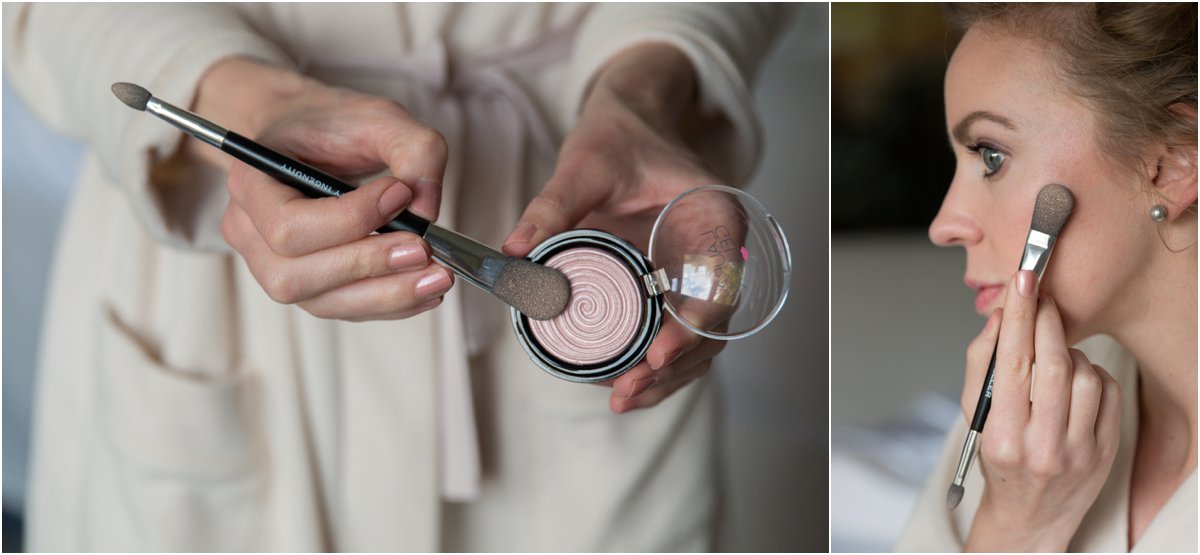 To apply, I use this brush from Laura Geller, which is made specifically for use with her highlighters. I apply with the larger end on cheekbones and down the bridge of my nose, while the smaller end is perfect for brow bone and corners of the eyes.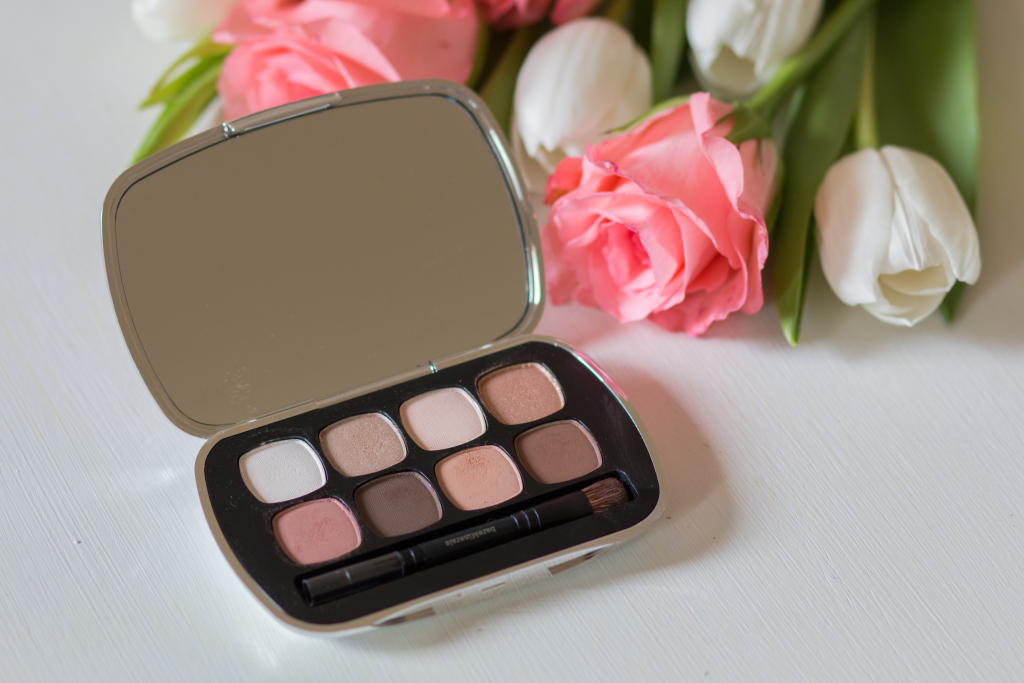 Bare Minerals 'The Suede Neutrals' eyeshadow palette (currently only available on QVC)
Bare Minerals makes some of my favorite eyeshadow, and this new 8-shadow palette features some beautiful all-year neutral shades. I am wearing the four colors on the left side of the palette in these photos.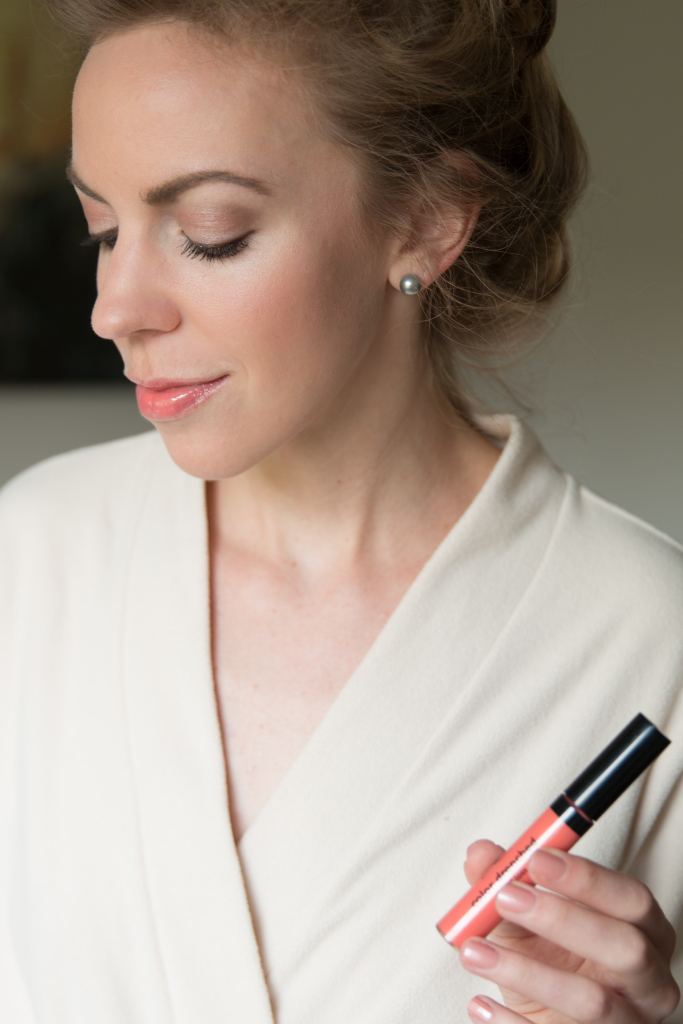 My makeup routine is never complete without lip color, so I finished the look with Laura Geller Color Drenched gloss in Melon Infusion, a pretty peach shade for spring and summer.
Additional New Products (not shown in makeup routine)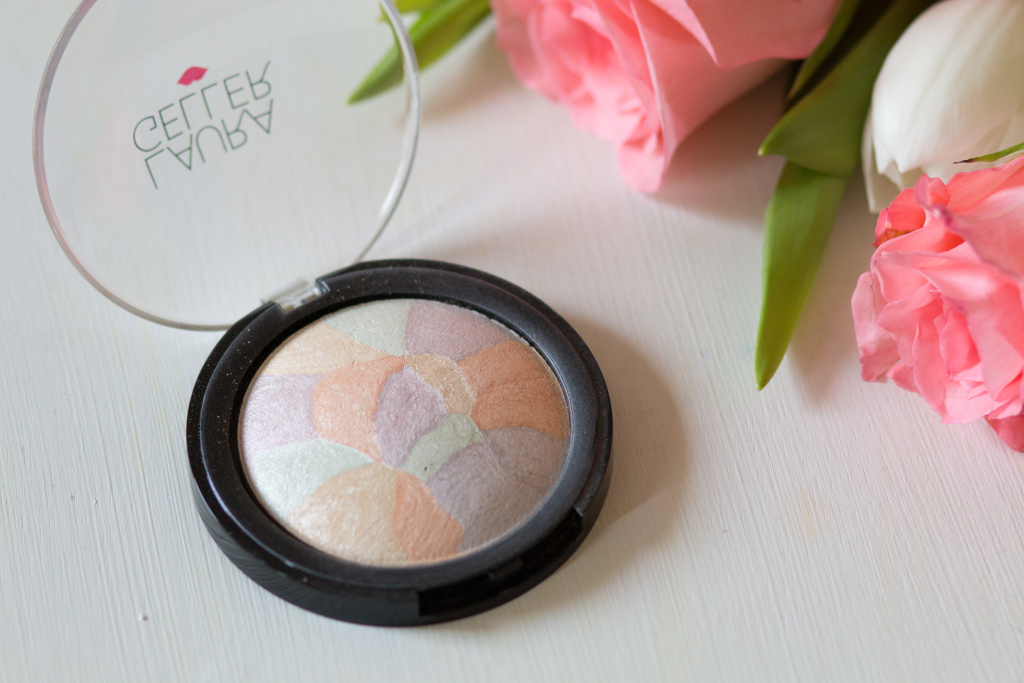 Laura Geller Filter Finish powder
If you follow what's hot in the beauty world, you know it's all about color correcting right now. But, since not many of us aren't sure which color is used for which skin issue, Laura Geller created this product to take the guesswork out of it for us (genius!) This is definitely not meant to be used in place of foundation, but rather as a finishing powder. While I did find it gave my skin a glow, it's definitely best to use a light hand when applying because the shimmer can get overboard and settle into fine lines if you aren't careful: for light application, a fan brush is ideal. I think I will use this more during winter, when my skin needs an extra brightening boost. Everyone else must love it because it's sold out on nearly every website, but honestly, I prefer my Balance 'n Glow formula because it looks more natural.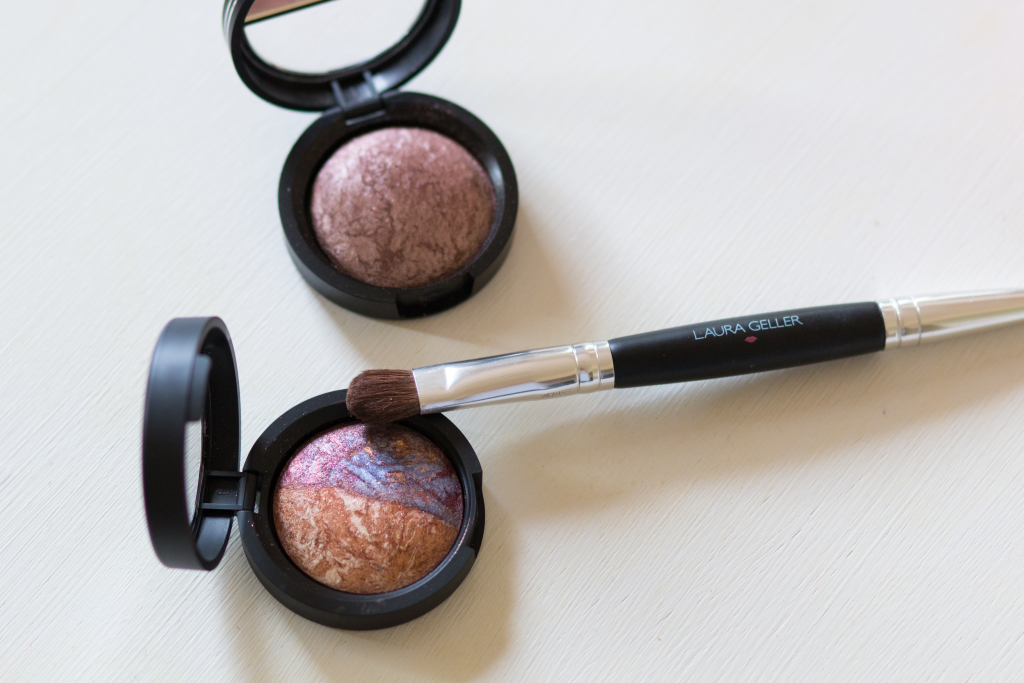 Laura Geller single eyeshadow in 'Hyacinth' and eyeshadow duo in Rome/Milan 
I'm loving purple eyeshadows for spring, and these two don't disappoint. 'Hyacinth' is a lilac with gold shimmer, and 'Rome/Milan' is a gold/aubergine duo.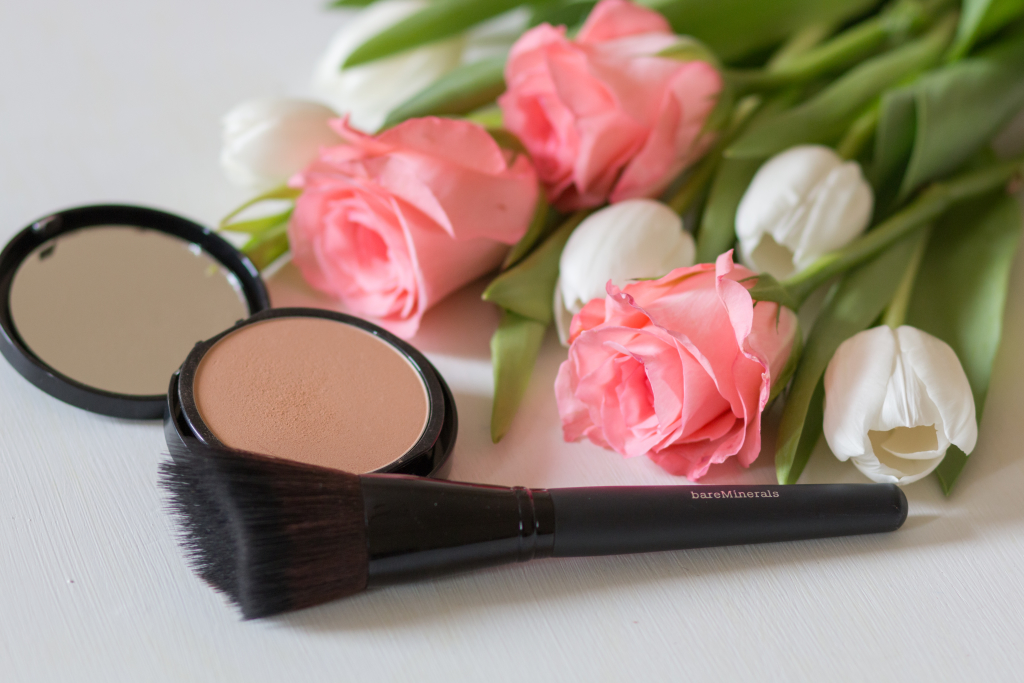 Bare Minerals Bronzing Perfecting Veil
This bronzer/brush duo is exclusive to QVC and I picked it up to compare with my Laura Geller bronzer. Most of the customer reviews state that there isn't enough color, but I actually found that to be the opposite–if you're fair-skinned, this will definitely make you look bronzed! I love the brush, but I'm not sure it's the best one to use with this because it tends to pick up too much product unless you're very light-handed. I suggest using this brush, which picks up less and distributes the bronzer more evenly. I will probably use this as a darker contour on cheekbones in addition to my Laura Geller Bronze 'n Brighten, which is more subtle.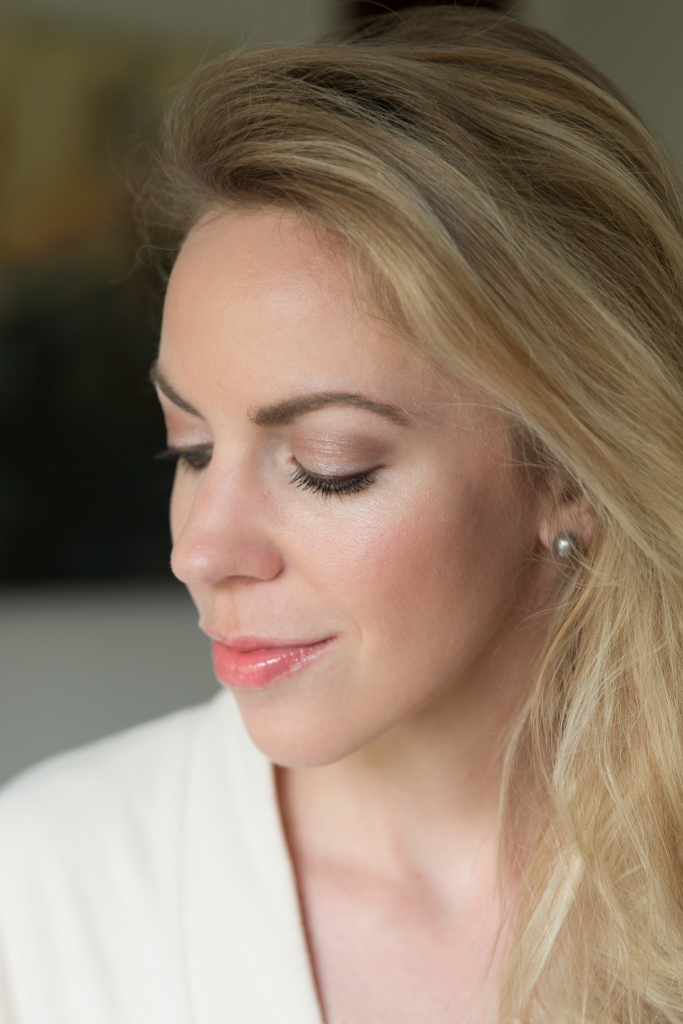 Here is the final look: fresh, glowing skin in a few easy steps! I can't say enough good things about these new products, especially the Balance 'n Glow foundation–I know you'll love it, too. Thanks for hanging in there for this lengthy post! Leave me a comment with your favorite new beauty products–I always love hearing what other people find!