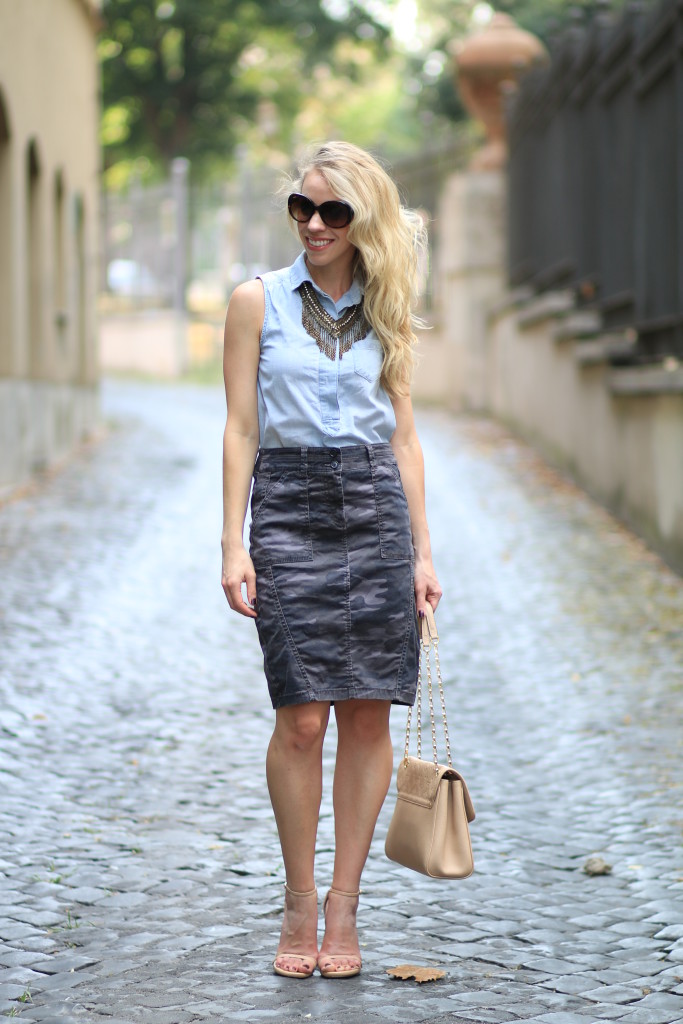 Happy Thursday, everyone! Despite the fact that summer is still in full force, I am SO excited because I checked the weather forecast and after tomorrow it isn't supposed to reach over 85 degrees for the next ten days! With all of the fall arrivals in stores, I have been craving cool weather, mainly so I can wear my boots and sweaters again.  The other day, I tried to put out my fall patterned coffee mugs, but my husband protested it was too early. I couldn't resist my autumnal cravings anymore, so yesterday I dragged out my supply of various Bath & Body Works pumpkin-scented products–my hubby just shook his head (ha!) Anyone who knows me well is aware of my obsession with all things autumn.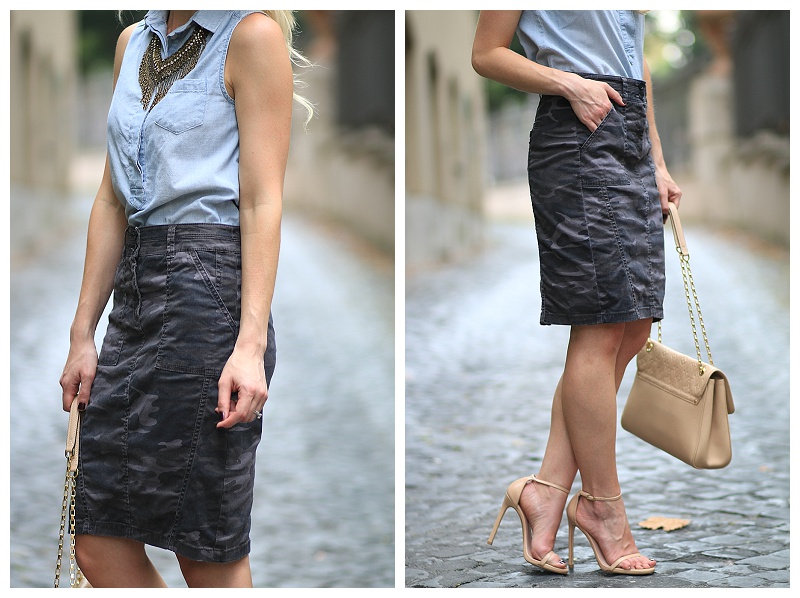 With its shades of gray and olive, camo print is always reminiscent of fall to me, and I'm glad to see it making a reappearance this year. Much like leopard, the neutral color scheme actually makes it quite wearable.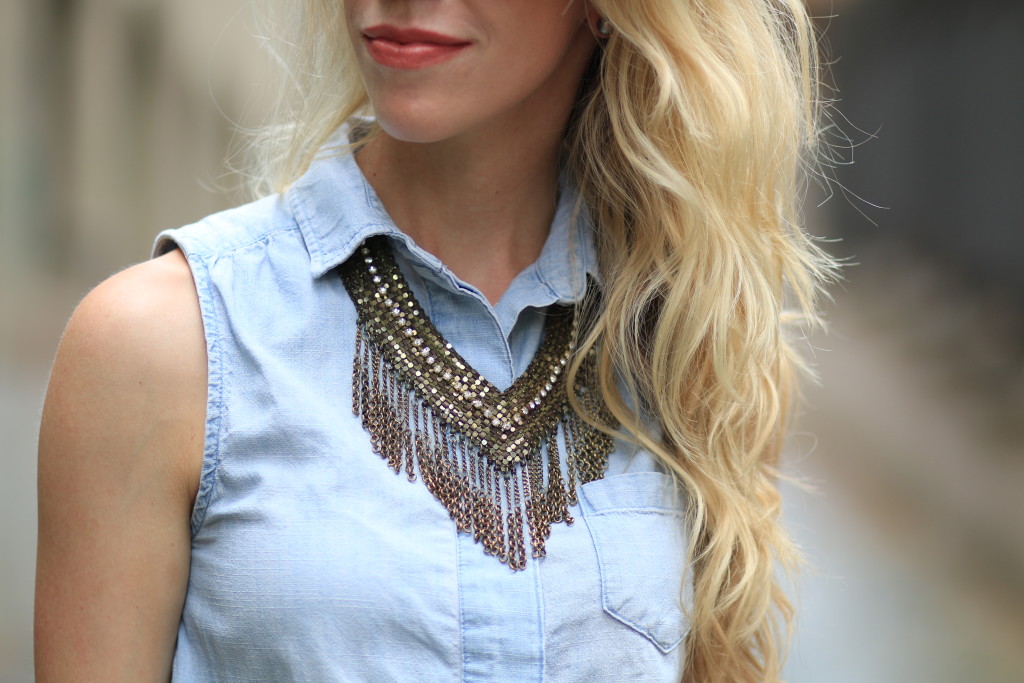 I'm really loving this statement necklace and its versatility for both casual and sophisticated outfits (see how I dressed it up here).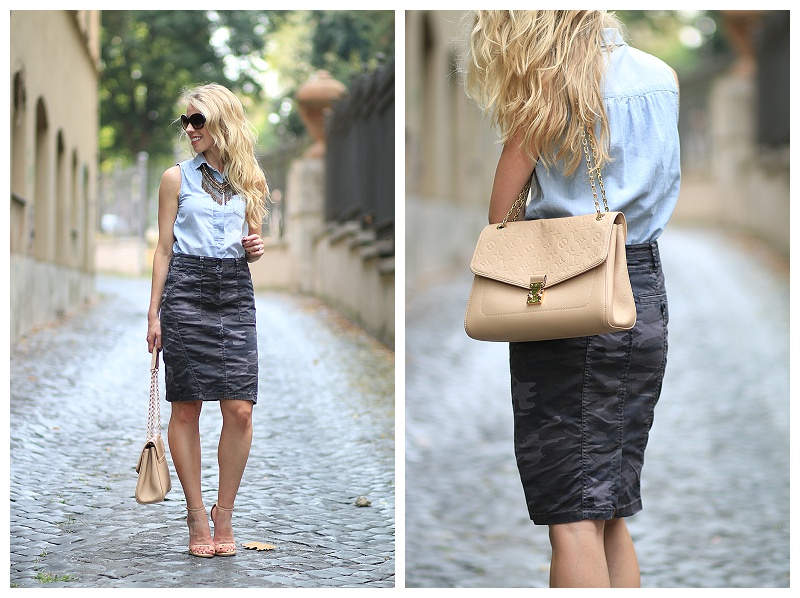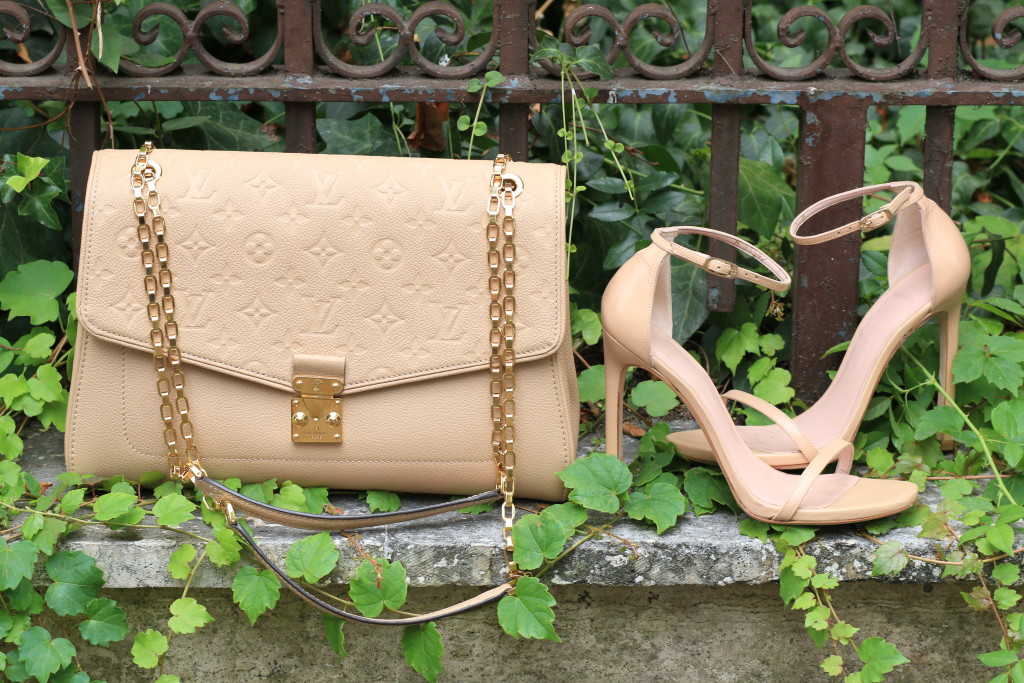 Sometimes my husband likes to get creative with detail shots, and they tend to be some of my favorites!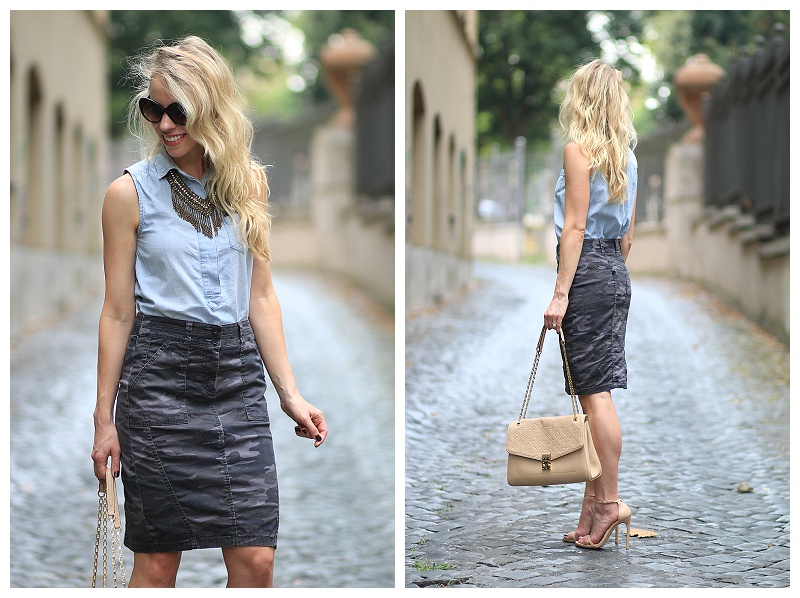 And now for a SALE ALERT! LOFT is having their friends and family sale with everything 40% off online and in stores through this weekend (online code is SHAREIT). I placed my order earlier this morning and wanted to share my picks with you in the links below, as well as how I plan on styling them.
-this plaid shirtdress will be adorable with booties during the fall; add tights and a fur vest to take it into winter
-an olive utility dress is the perfect transitional piece–wear now with sandals (I'm thinking leopard print!) and later with booties and a leather jacket
-this dolman-sleeve tee works for warm weather with denim shorts and sneakers and will be great in the fall with a scarf, jeans, and boots–the relaxed fit makes it a winner for casual days
-a crewneck sweater is always a great basic for any wardrobe; I'm picturing this one with dark high-waist denim flares and a wool hat
Outfit Details
Top (J. Crew Factory; similar)
Sunglasses (Chanel)
Necklace (purchased in Italian boutique; love this beautiful style)
Skirt (LOFT–old; another camo option)
Sandals (Stuart Weitzman; another budget-friendly pair)
Bag (Louis Vuitton)
Linking with Living in Color Style, Stylin' in St. Louis, Happiness at Mid-Life & Rachel the Hat