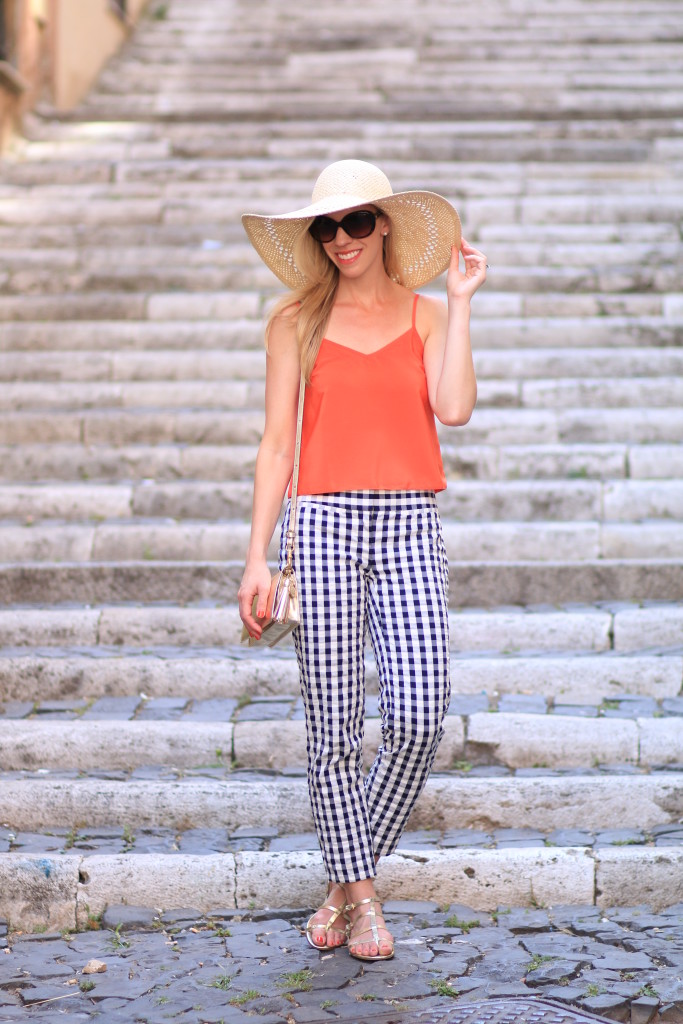 Happy Thursday! We've almost made it to the weekend, and I don't know about you all, but I'm ready to relax. I have to say, I've been a bit homesick for the states the past few days, and I excitedly opened a package from Amazon yesterday for the pumpkin-pie Pop-Tarts I recently ordered (yes, I'm one of those people who's crazy about pumpkin-flavored everything!) only to find them looking like a dog had used the box as a chew toy. I gave Amazon a call to see about a refund and ended up having a funny conversation with a man who had one of the most southern voices I've ever heard. We chatted for a few minutes about all the pumpkin-flavored things we love to buy, as well as the ones we bake at home, and I don't know if it's because we are both from the South or we have a shared love for pumpkin, but as silly as it sounds, I felt a lot better after that phone call. While I feel so very fortunate to be living in Italy, sometimes it's difficult to be an Expat living in another country (and not just because it's hard to find those special treats!)
Last week we headed to Centro for a little more Saldi shopping and a cappuccino freddo (my new favorite summer drink, because the idea of hot coffee in the afternoon just does not appeal to me!) and I wore this cropped camisole and gingham pants for a casual summer look.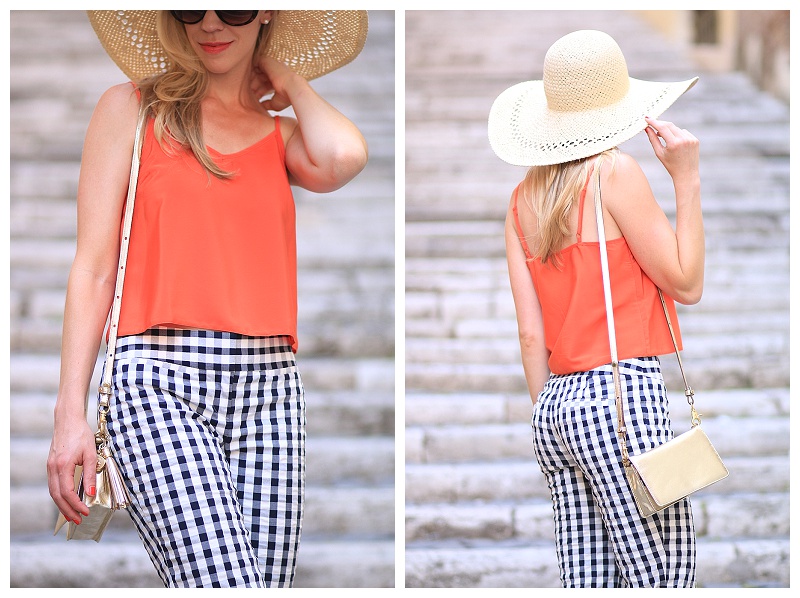 With the extreme heat we've been experiencing, I've pretty much only been wearing sleeveless tops/dresses. This camisole is one of my favorite tops because its swingy shape is loose and breathable, the silky material makes it easy to dress up or down, and the punchy orange color pairs well with navy and white. I usually don't wear longer pants when it's this hot, but the fabric of this gingham pair is actually very light and comfortable.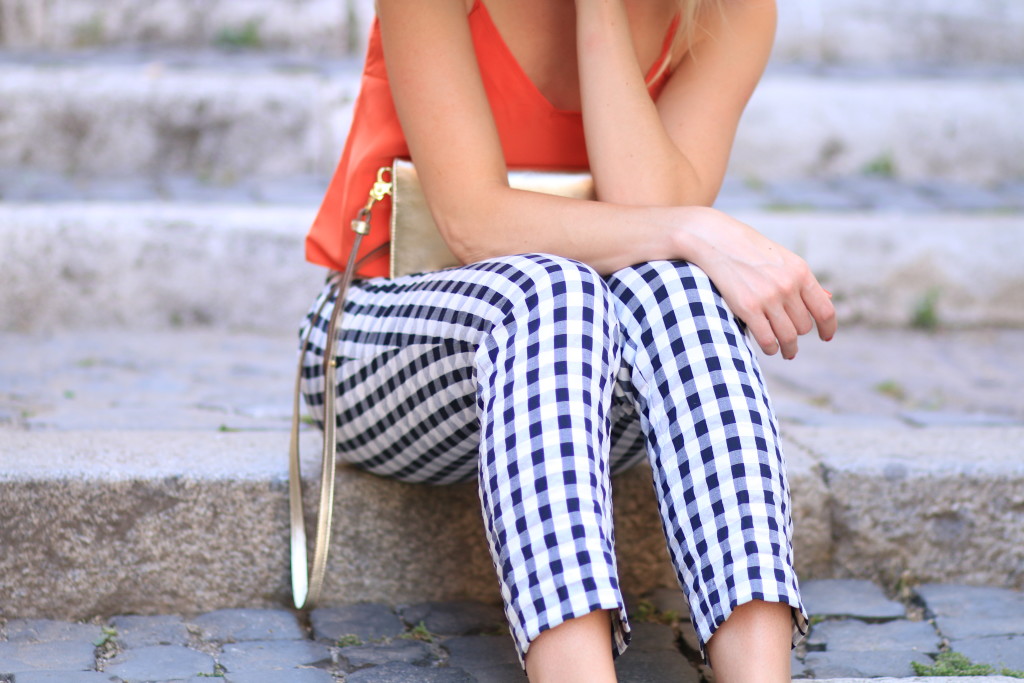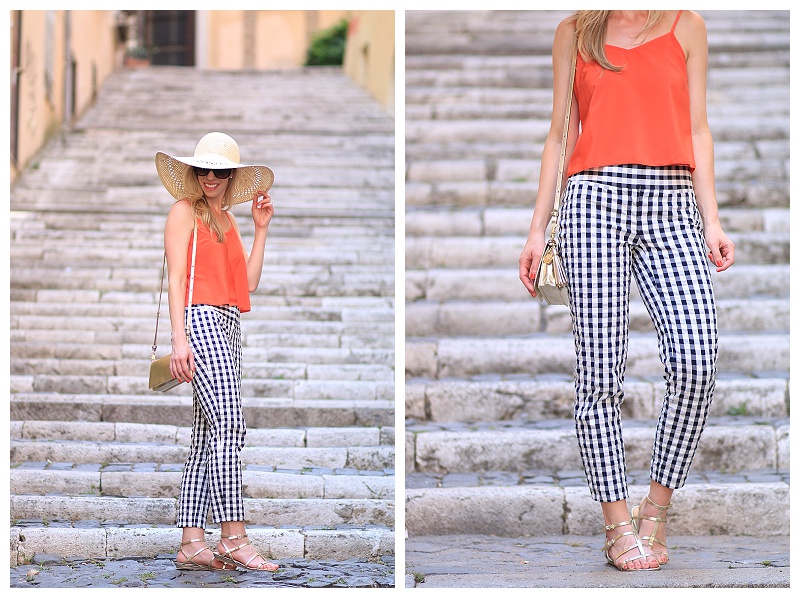 Despite the busy pattern, gingham print pants are very easy to wear when you stick to the basics for the rest of your outfit. Other styling options I've tried include pairing them with a chambray shirt or V-neck tee topped with a blazer or denim jacket, and wedges or sneakers for footwear.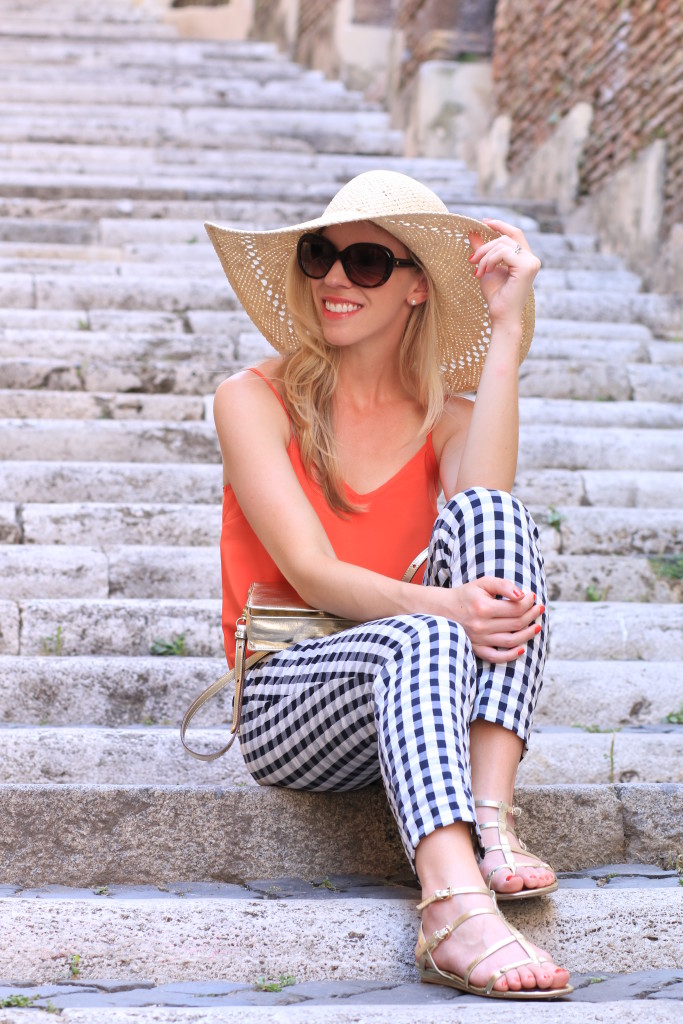 Gleaming gold accessories lend polish to this otherwise casual outfit, and an oversized straw hat speaks to the summer season. Although I love to wear hats to protect my face from the sun, they definitely get a little toasty unless I'm on the beach catching an ocean breeze!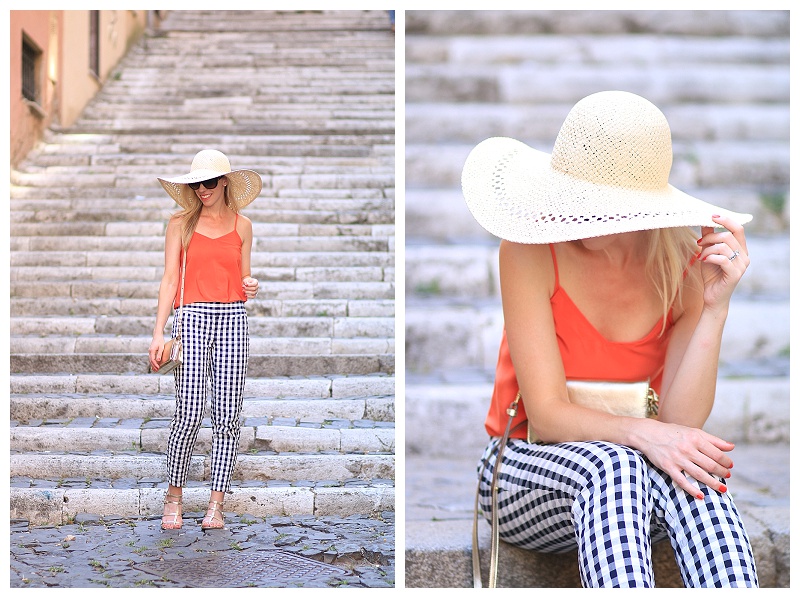 We are about to head south to Naples for a quick trip, and I'm looking forward to the (slightly) cooler temps on the coast, as well as the opportunity to check out a different city in Italy! Have a wonderful weekend and thanks so much for reading!
Linking with Living in Color Style, Stylin' in St. Louis & Happiness at Mid-Life