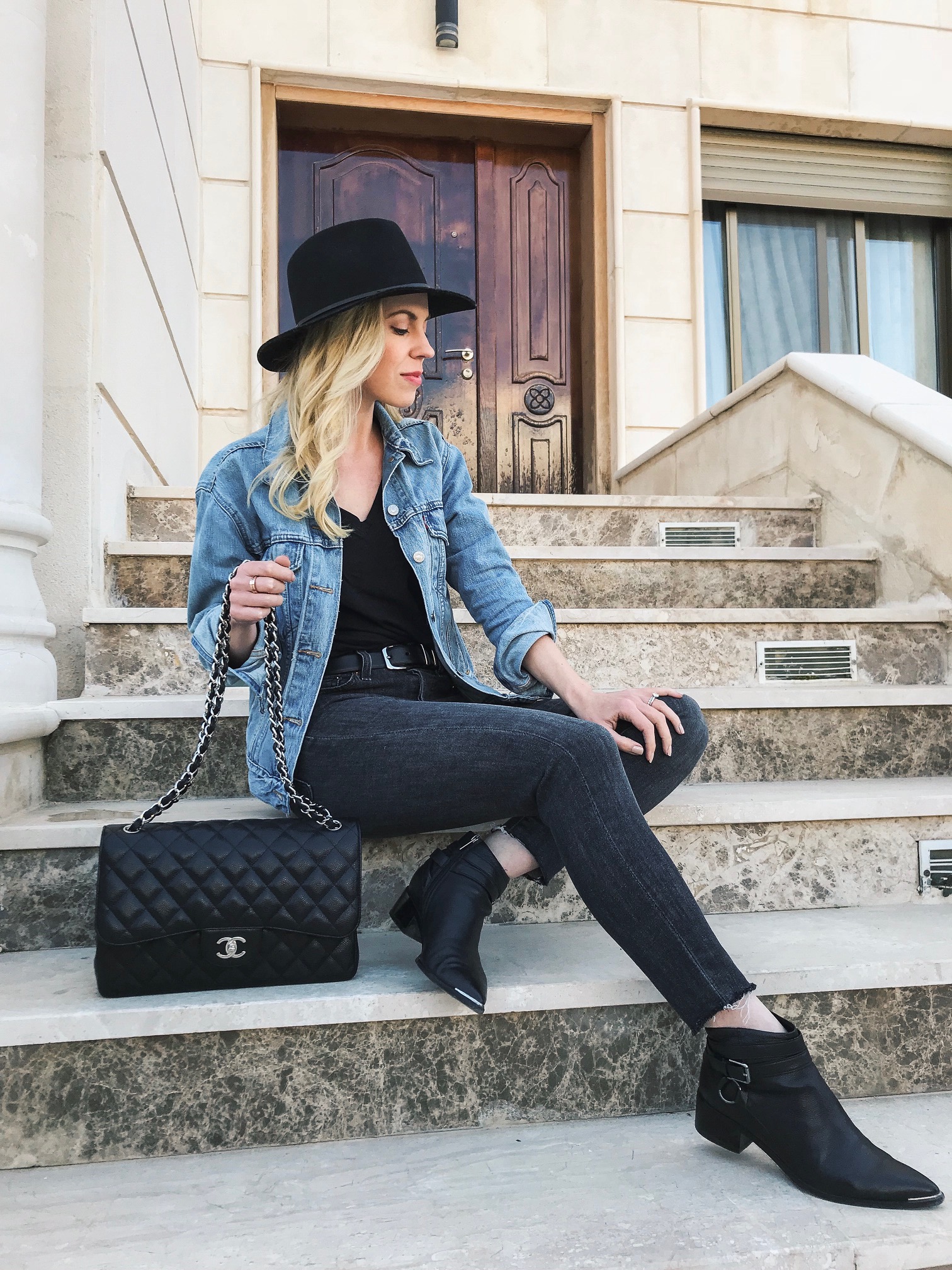 When it comes to my wardrobe these days, I tend to invest in quality over quality. That said, there are a few closet essentials that I keep on heavy rotation which are ALL under $75 each. I wanted to share this photo because I am wearing four out of the five essentials I'm going to talk about below—that's how easy they are to mix and match!
---
1. Madewell Tees & Tanks
Madewell is my go-to brand for basic tees and tanks. Whether I wear them alone during the summer or layer them under jackets or cardigans in cooler weather, they get year-round use. And the best part is that each one is $25 or less! Now that I've been collecting them for years, I have quite a few colors and styles, but my favorite is the basic Whisper v-neck tee.
Shop Madewell Tees & Tanks

---
2. H&M Lace Camisoles
When it comes to lace camisoles, H&M is my go-to source. Since they're less than $20 each, I like to pick up new colors and prints every season (I actually just grabbed this pretty beige one for spring!) I love wearing mine with blazers to add a feminine touch and also under cozy cardigans for fall and winter.
Shop H&M Lace Camisoles

---
3. Brixton Hats
Brixton is the first brand of hats I fell in love with because they're offered in actual sizes. I have a hard time finding hats to fit my small head but their XS is perfect. Their hats also don't break the bank since most of them are under $70 each. The hats in these photos probably look familiar because I wear them ALL the time during summer. The style I'm wearing is the 'Joanna,' which I love so much I bought it in four colors.
Shop Brixton Hats

---
4. Levi's Wedgie Skinny Jeans
This denim style from Levi's, you guys: it's seriously my holy grail skinny jean. I own lots of designer denim but this jean is the one I reach for most (and it's under $70!) The 'Wedgie Skinny' has a super high waist, lots of stretch, and the perfect ankle length. I'm 5′ 4″ and most of the time, "ankle fit" jeans still have to be rolled, but this style has an ideal 26 inch inseam. I swear these jeans make you look five pounds lighter, too. I just love them and now I wish Levi's would start offering more colors since I basically bought all of them!
Shop Levi's Wedgie Skinny Jeans

---
5. Levi's Denim Trucker Jackets
I love a good denim jacket, and who else does it better than Levi's? The classic Trucker jacket is under $70 and comes in an array of colors. This is definitely a closet staple I wear year-round because you can throw on a denim jacket with basically any outfit.
Shop Levi's Denim Trucker Jackets