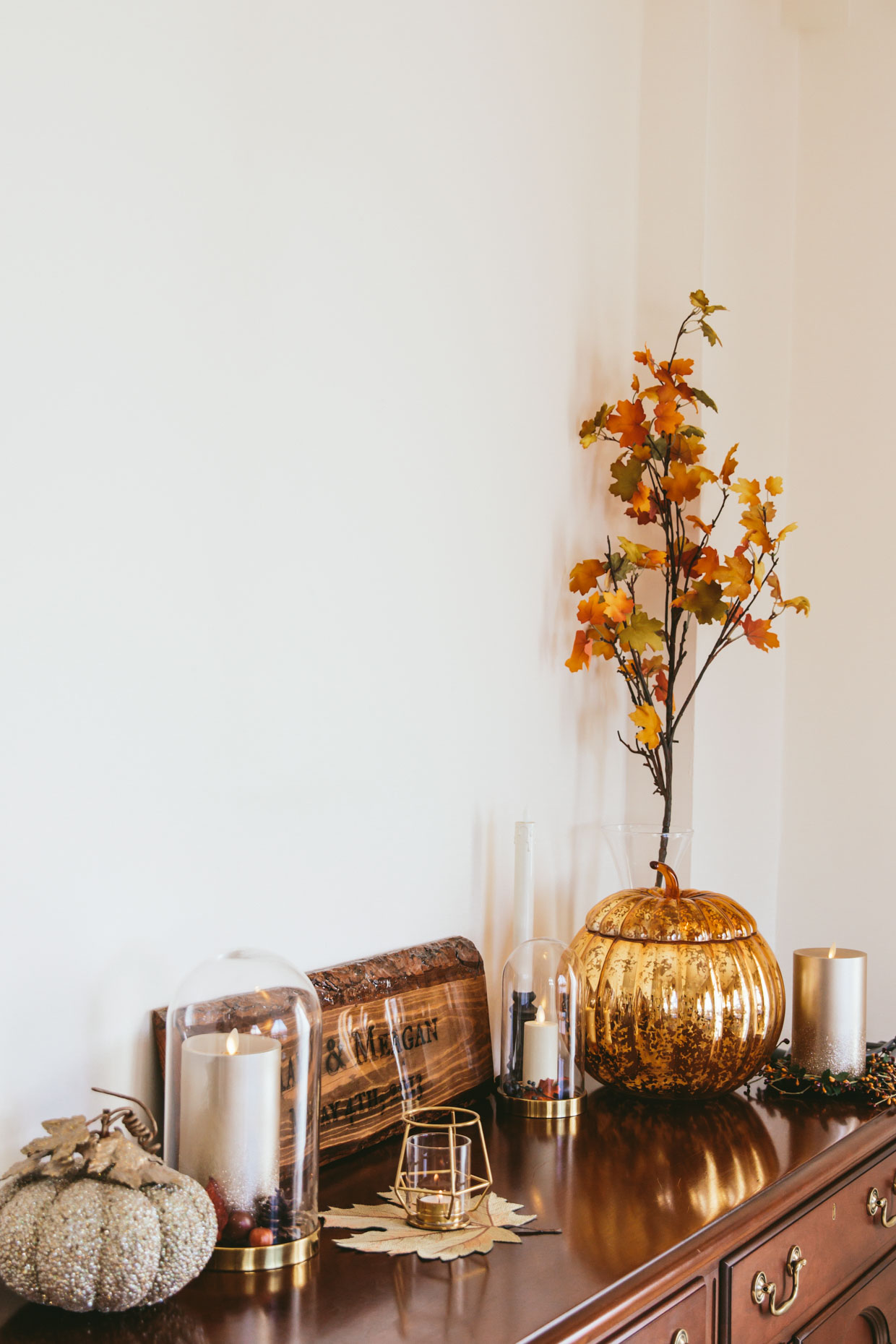 Today I thought I'd do a little something different on the blog and share how I decorated our apartment for fall. I'm a homebody at heart, so creating a cozy living space is really important to me no matter where we live. We've been in rented apartments for almost four years now while living overseas and decorating a temporary space can be tricky sometimes since a lot of our furniture is borrowed. Keep reading to see what I did for the fall season!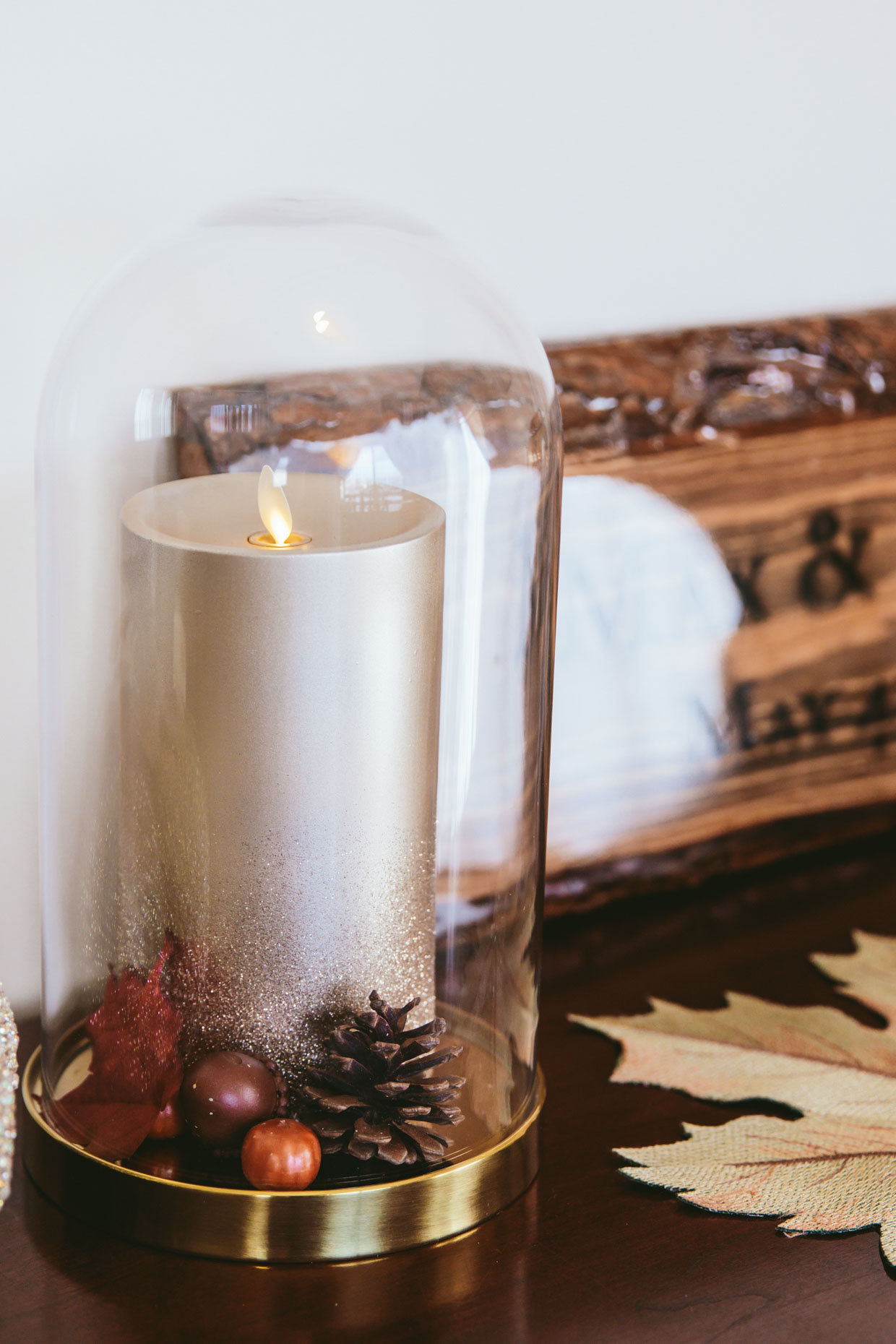 I'm a huge fan of candles since they add an instant cozy vibe to any room and these gold glitter ones really spoke to me. Luminara is my favorite brand of flameless candles because they're incredibly realistic with their moving 'flame' (and also super convenient because they come with a remote for easy on/off or you can set them on a daily 5-hour timer!) I put one of them in a cloche jar from IKEA and added a few fall vase fillers inside to give it a seasonal touch. I definitely plan on using these for the holiday season as well since I like to decorate with red and gold.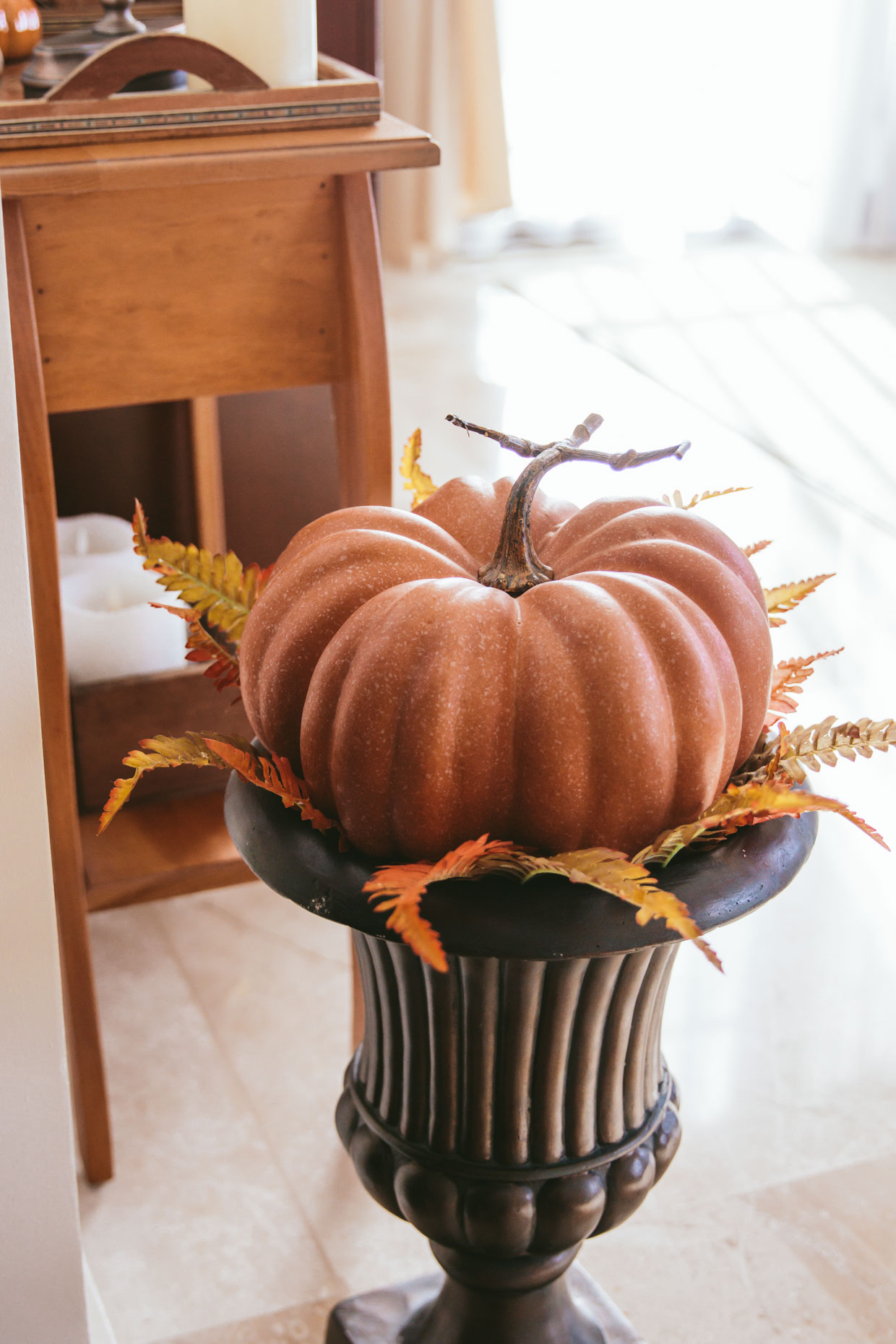 I've had this faux pumpkin from Pottery Barn for years now and it's still one of my absolute favorite things to pull out each fall. I put it in an urn from Michael's and tucked some faux ferns around it to add dimension. Speaking of ferns, I really love these new gold fern stems–so chic and also perfect for Christmas! I may have to snag a few for myself.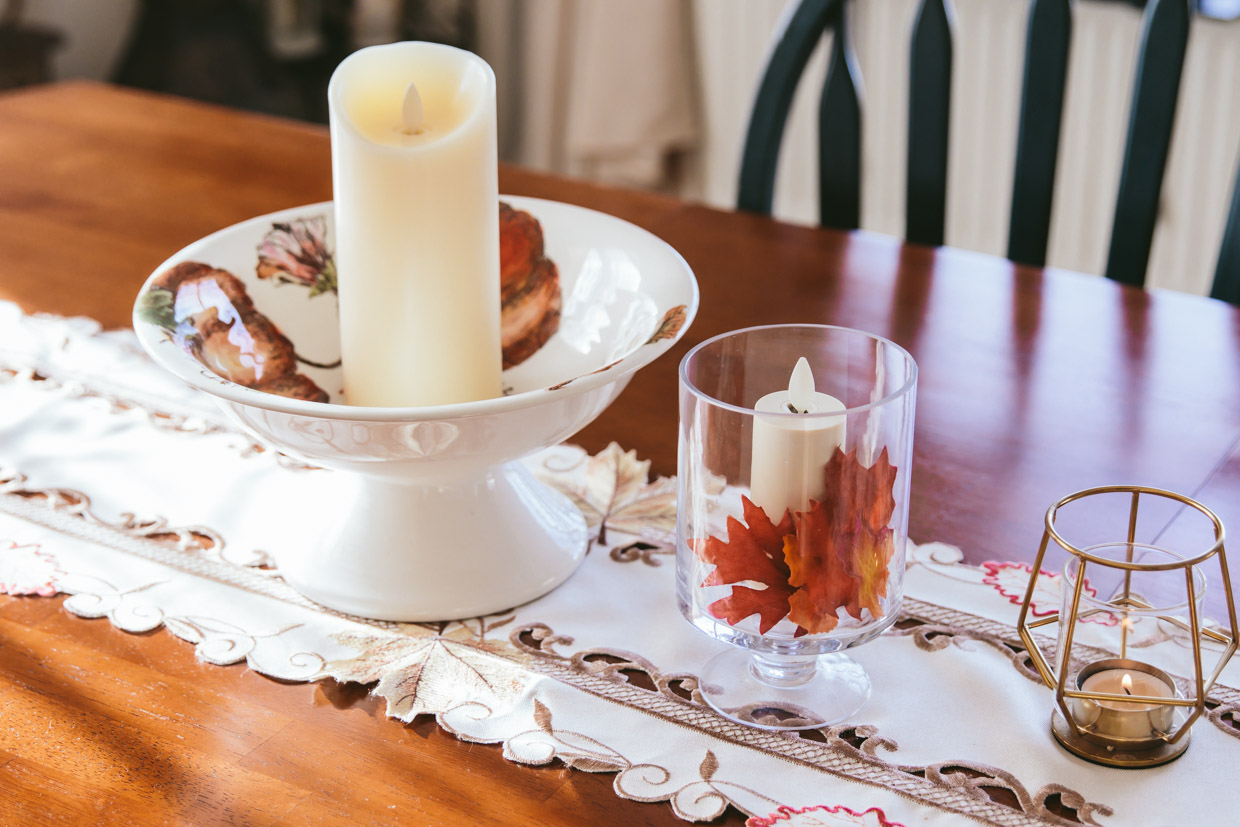 I always love to decorate our dining room table and daydream about having a farmhouse style table in our final home someday. I purchased the pumpkin bowl from Home Goods a few years ago and placed another Luminara flameless candle inside. The little gold votive holder was only a few dollars from IKEA. We found these embroidered leaf linens on a trip to Germany but this table runner is also so pretty for fall. I'm just like my mom—we can never resist new table linens or seasonal dishes!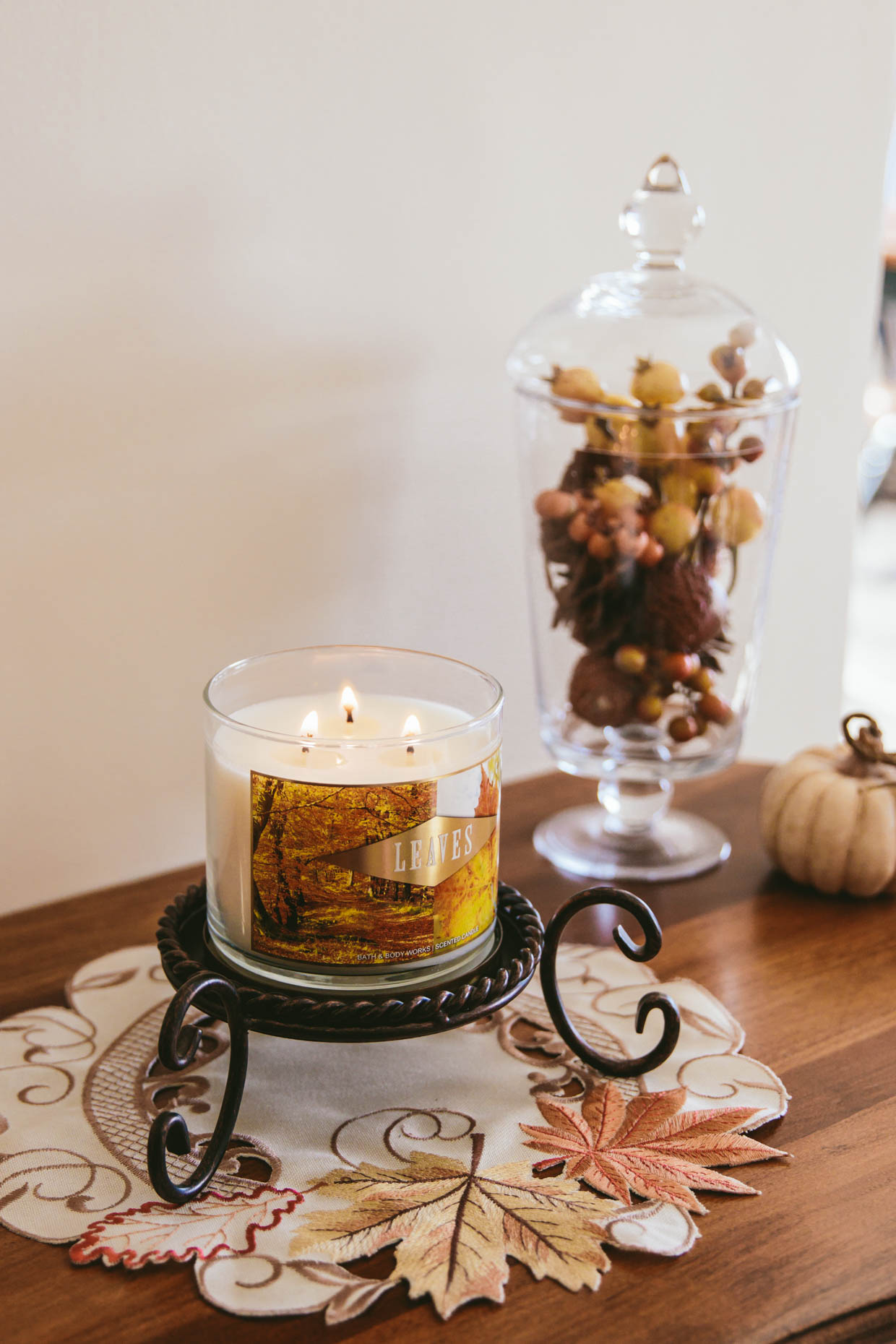 What's fall without some scented candles, am I right? I always stock up when they're on sale at Bath & Body Works. My all-time favorite scents are Leaves, Pumpkin Patch, and Autumn. I love to light them every evening when I wind down after Lila goes to bed (usually with a glass of vino!)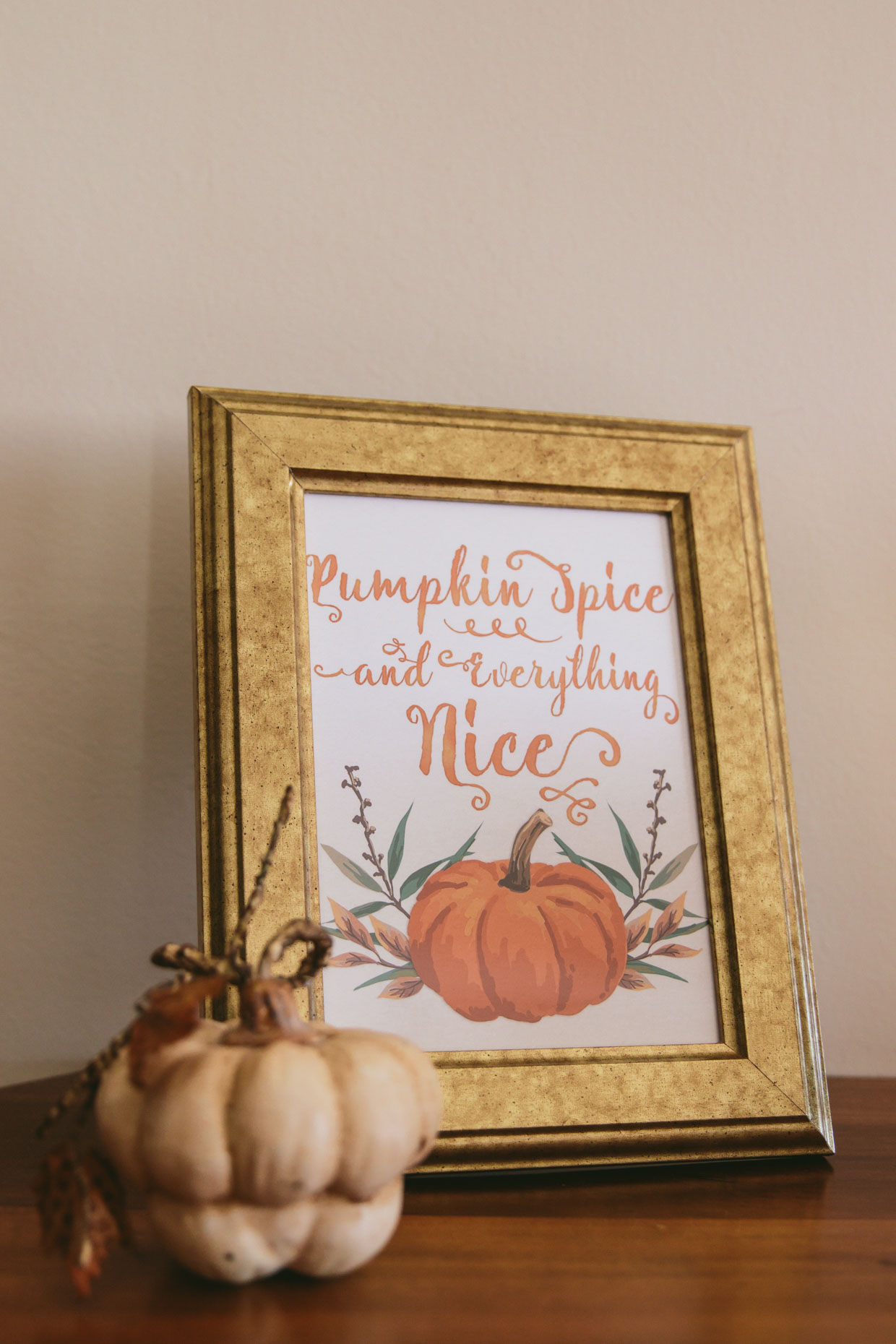 My sweet hubby gets all the credit for finding this pumpkin spice print (and anyone who knows me knows my love for all things pumpkin runs deep). I put mine in an inexpensive gold frame from IKEA which I like to replace with a different print every season. It's a cheap and easy way to add a festive touch to a side table or bookshelf.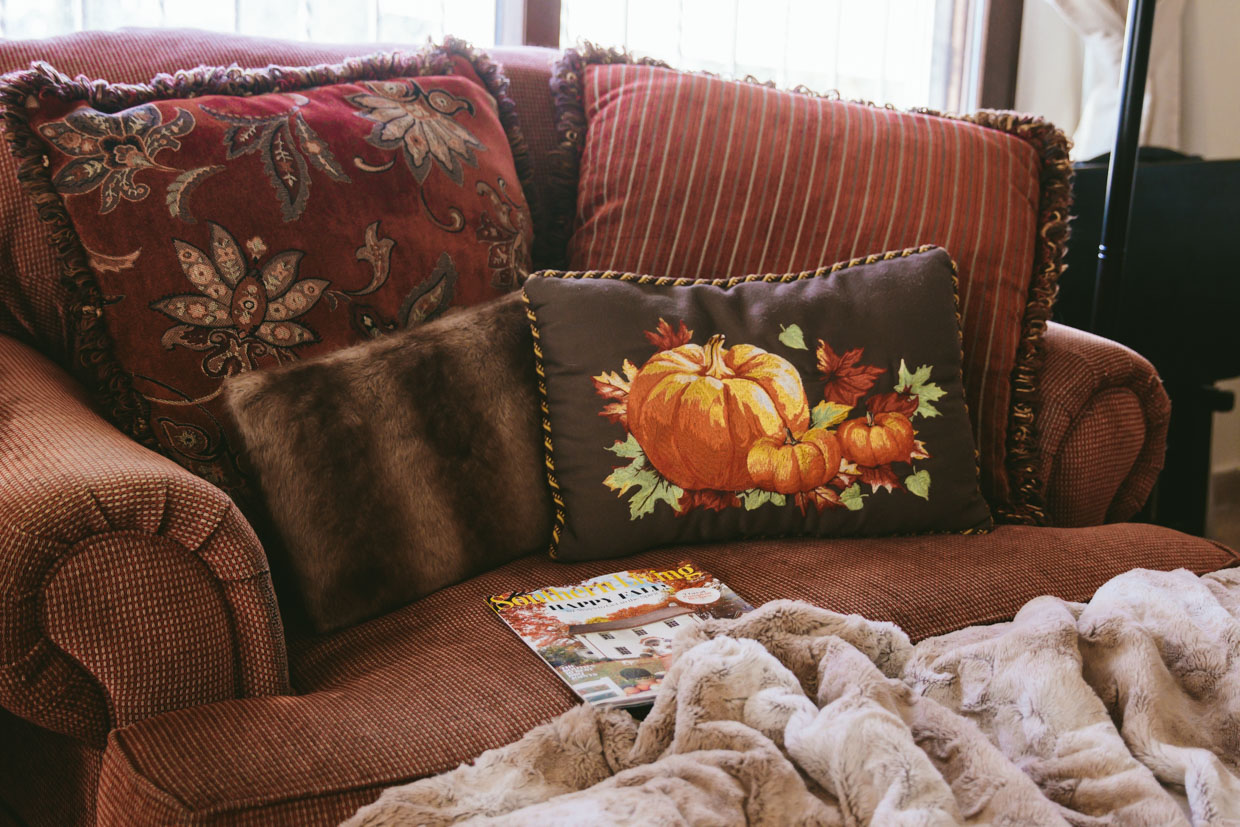 Another easy way to usher in a new season is by switching out the pillows on your furniture. I bought this pumpkin one from Pier 1 Imports and I also love the pillow covers from Pottery Barn (one of them shown below). Add a cuddly faux fur throw and you won't want to leave the couch—or in my case, oversized chair!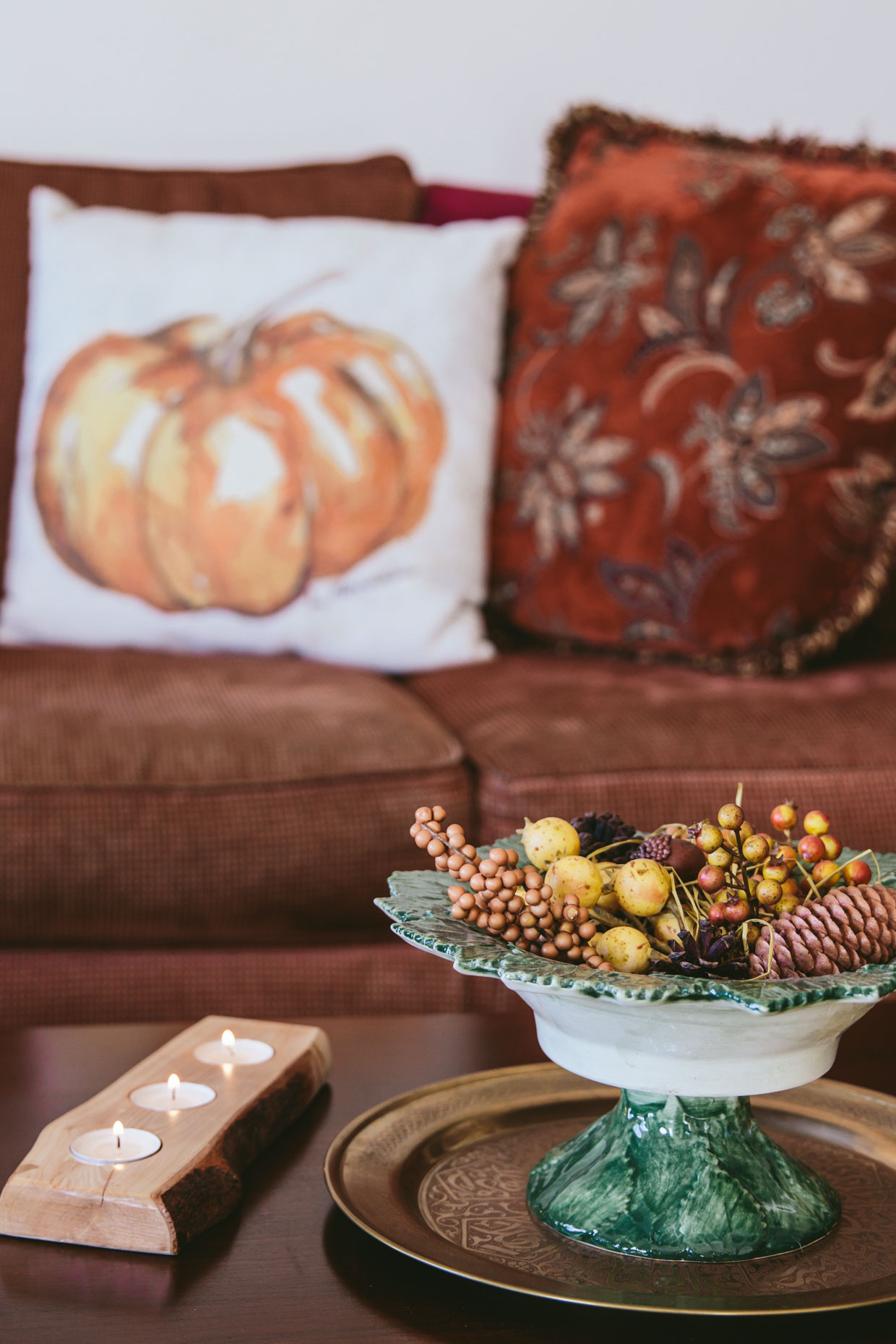 Here's our coffee table in the living area. This leaf bowl was gifted to me years ago and I use it every season in some way. For fall, I arranged some seasonal vase fillers inside and placed it on a Syrian tray we purchased here in Amman. The votive holder is also a local find, handmade from olive wood. It's been fun finding ways to incorporate different pieces we pick up along our travels into our home decor. So now I'd love to know who else loves to decorate and if you enjoyed this post—it would mean so much to me to hear your feedback! I'd love to do more home-type posts in the future if you all want to see them. Have a wonderful weekend and thanks so much for visiting!
Shop the Post