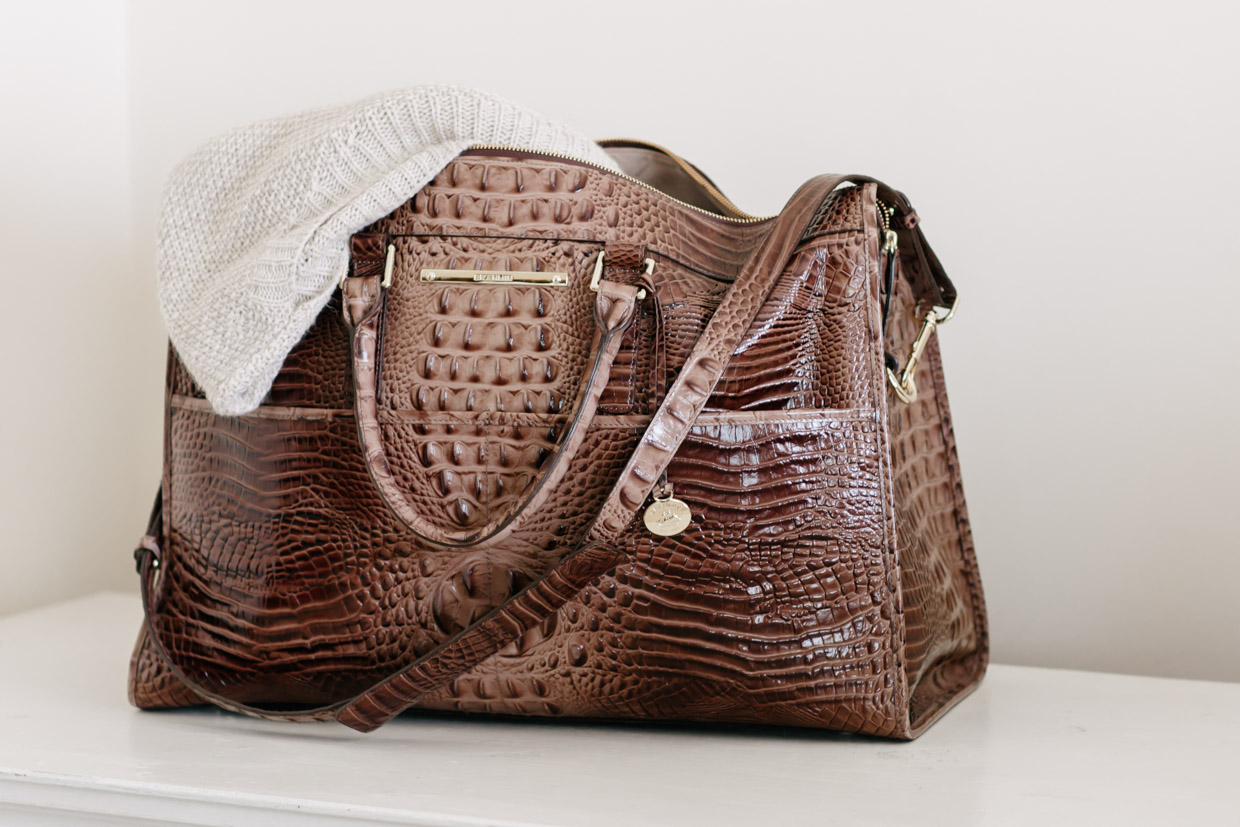 So this post is long overdue considering Lila just celebrated her two month birthday (!), but I've been meaning to share my tips for packing a hospital bag. There are a lot of things that books or websites might convince you are necessary to bring, but I've narrowed it down to the must-haves that you'll actually use. First things, first, I packed two bags: one for me and one for Lila. I originally tried to cram everything into one bag, but keeping our stuff separate made it so much more organized.
Pictured:
Brahmin Weekender Tote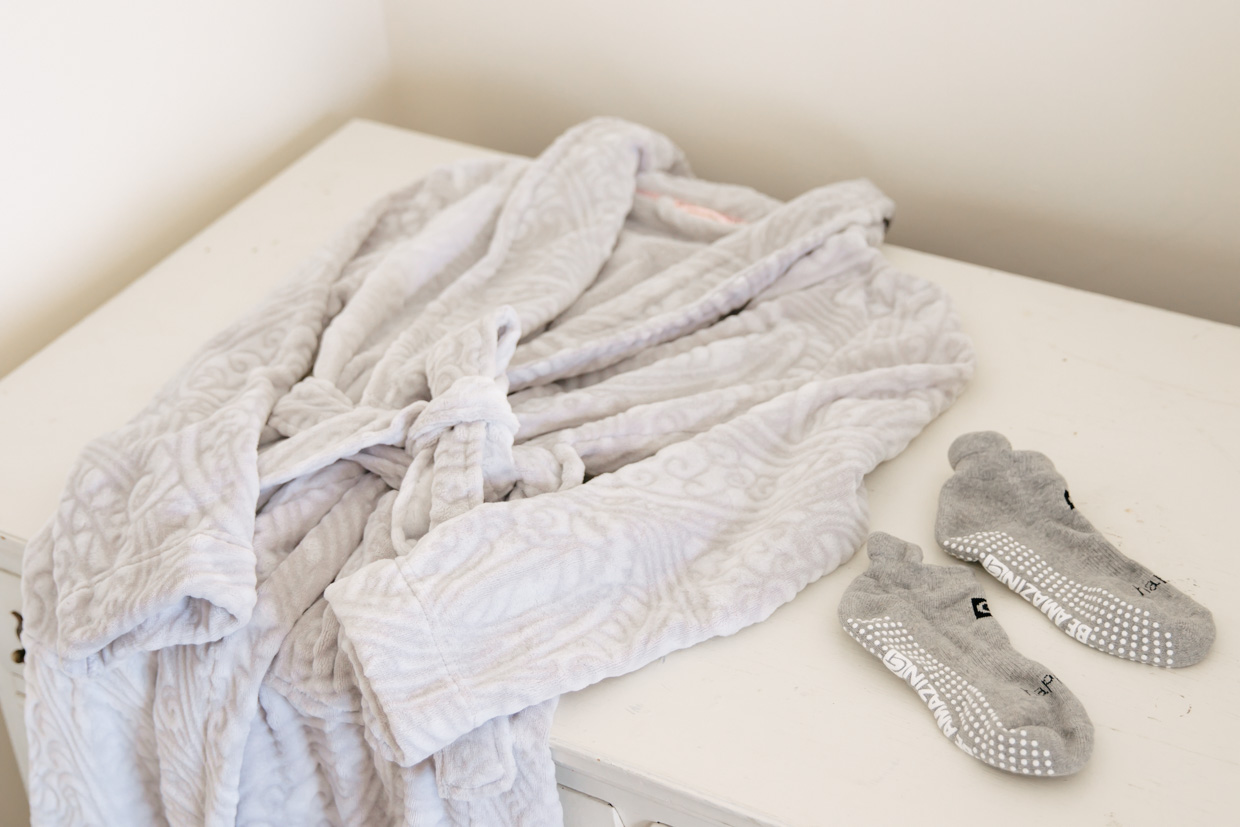 A soft bathrobe that provides ample coverage is a must, especially if you know you'll be breastfeeding. I still wear mine every day—it's so cozy, sometimes I have a hard time getting dressed! I also packed these no-skid socks for pushing in the delivery room because who wants their feet in cold stirrups? Not this girl. Bonus: they can be worn for yoga, too.
Pictured: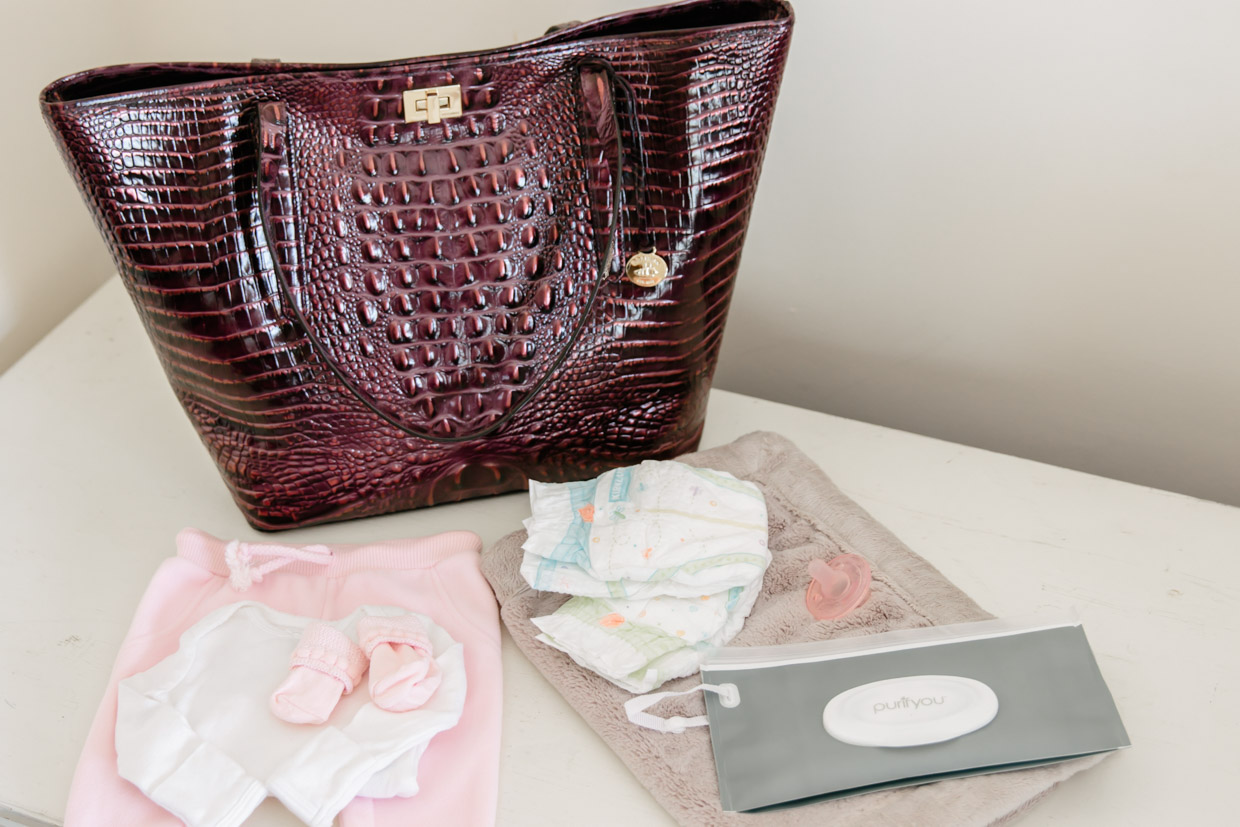 My friends at Brahmin sent this oversized tote as a baby gift and it's been perfect for Lila. I packed all of her hospital essentials in it with plenty of room to spare (see more on this post along with an outfit idea). This included one outfit with socks, a few diapers and wipes (although the hospital will provide those), a pacifier, and a small blanket. The reusable baby wipe holder is definitely a momma must-have: they come in a pack of three so I have one in my tote, one in the stroller and one in our car.
Pictured: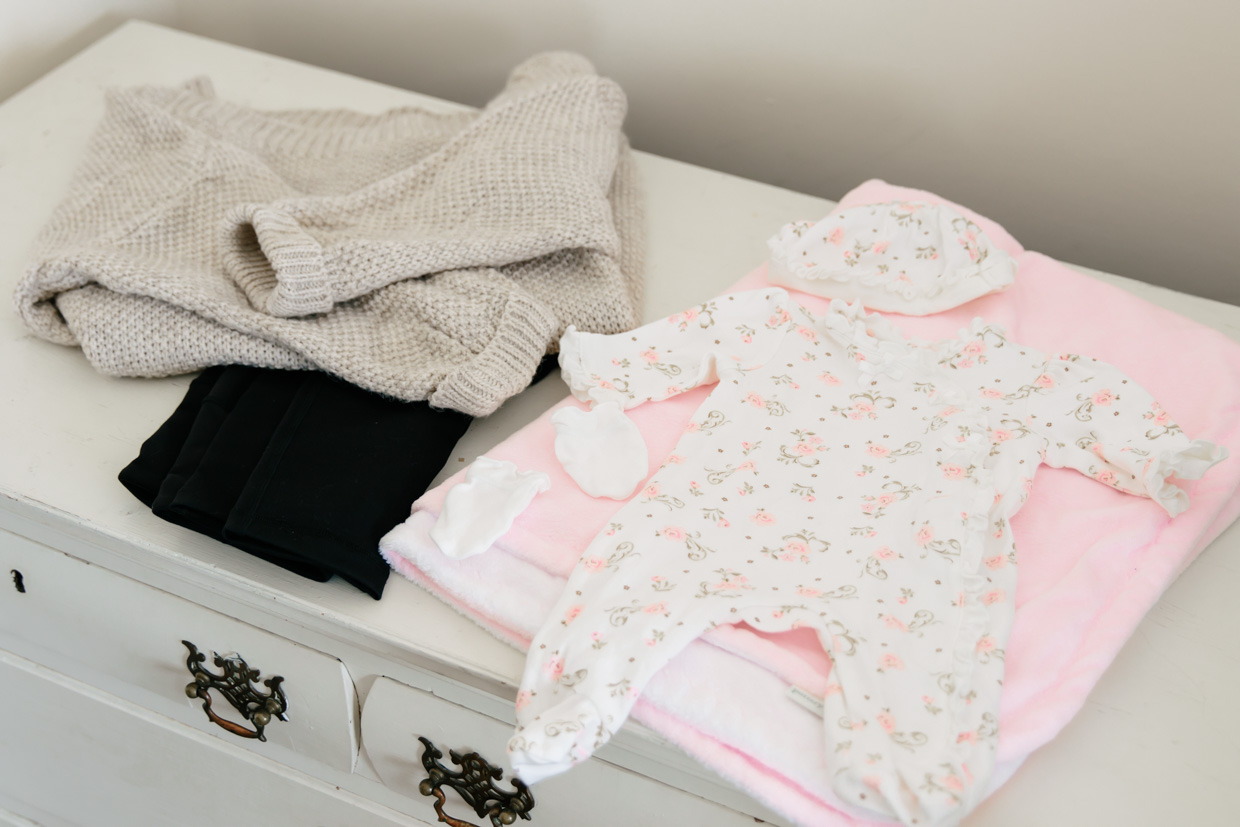 I packed a going-home outfit in each of our hospital bags. Mine consisted of post-partum compression leggings and an oversized sweater (because let's be honest, your stomach won't be flat immediately after giving birth). For Lila, I packed a cute matching set so we could snap some photos.
My Outfit:
Lila's Outfit: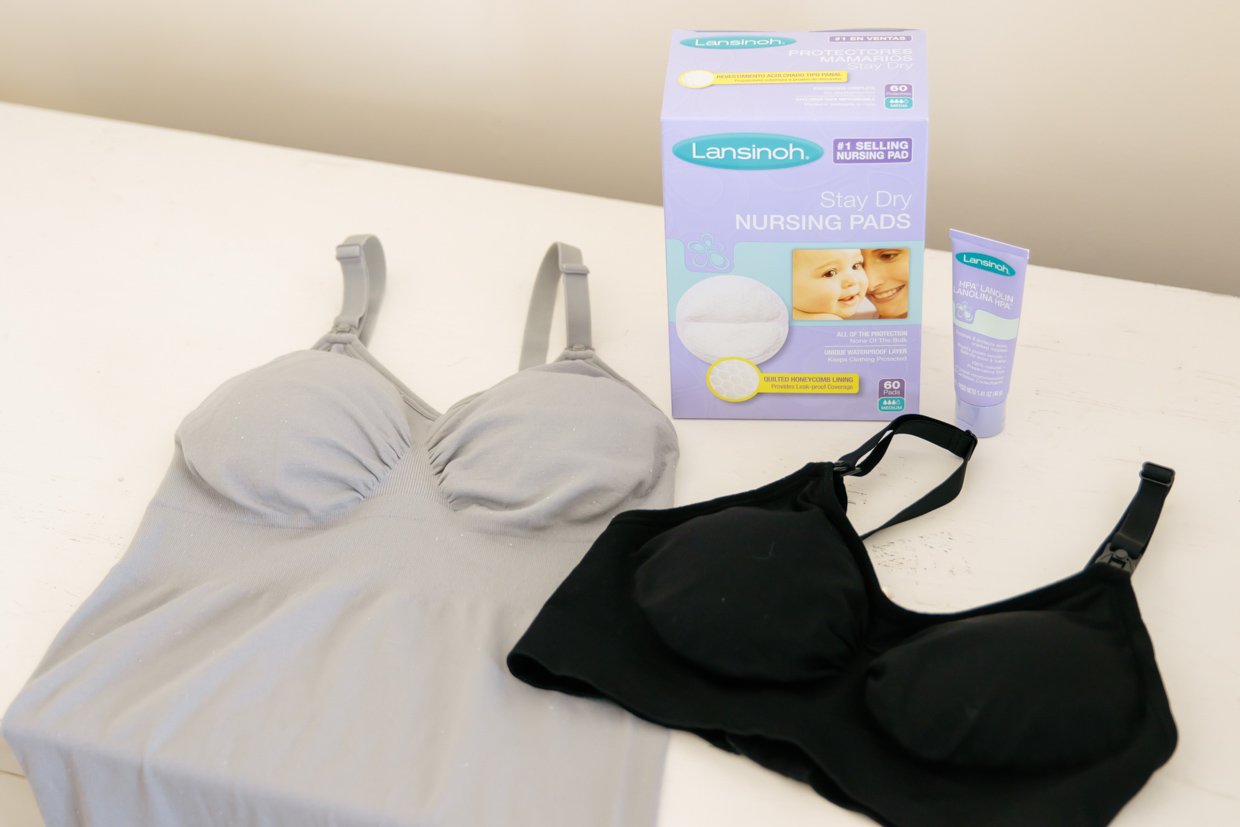 If you're planning to breastfeed, packing a few nursing tops and/or bras is a definite must. I've tried a few brands of nursing camis and this one is the highest quality for under $30. You'll definitely want to bring along some nipple cream, too—breastfeeding is really uncomfortable until your body gets used to it and this lanolin salve really helps. The nursing pads aren't totally necessary unless you plan to wear a regular bra following delivery, but they're good to have on hand in case of leaking.
Pictured: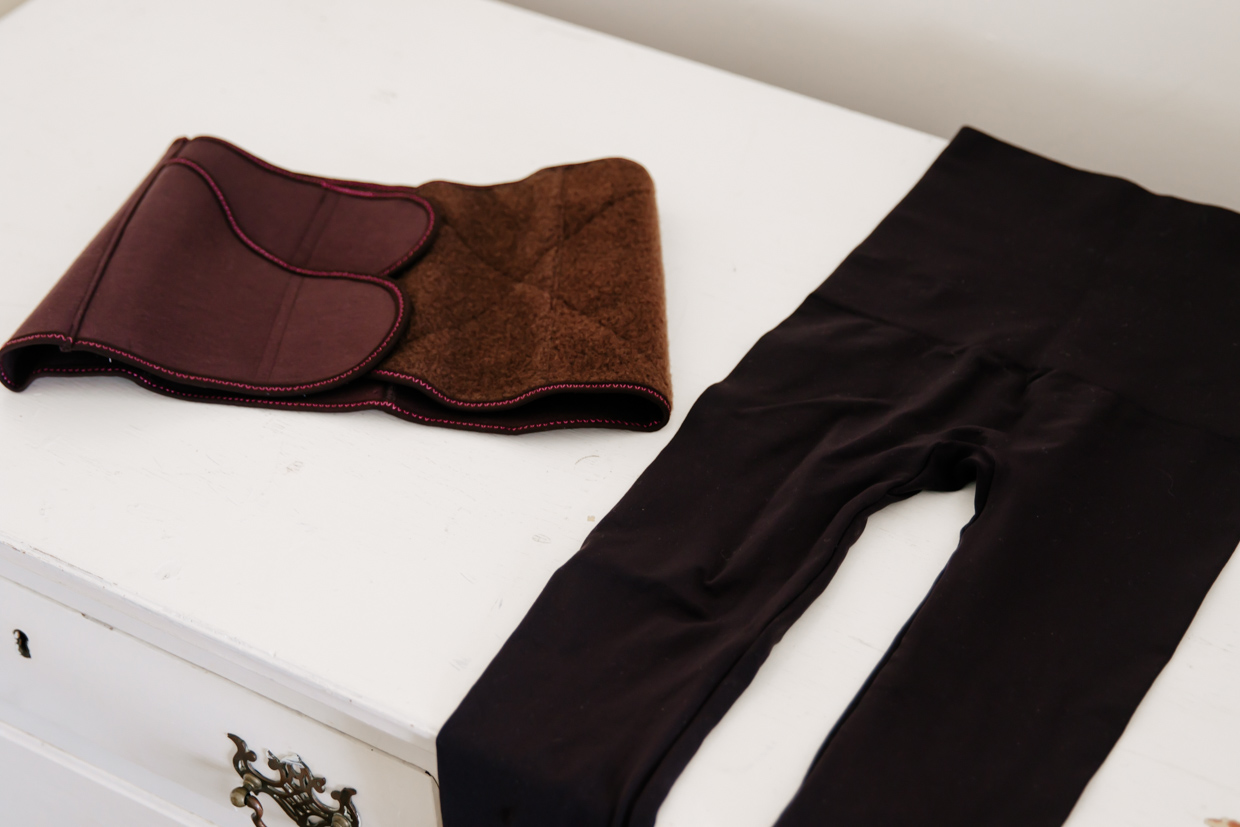 I started wearing these high waist compression leggings the day after giving birth and then daily for the first month (no kidding!) They are SO comfy and the high waist really helps slim your waistline during the awkward postpartum phase. I also packed this belly compression wrap although it didn't fit around me until about one week post-partum. I'll be posting a full review on both of these in a separate blog post, so stay tuned!
Pictured:
Shop the Post