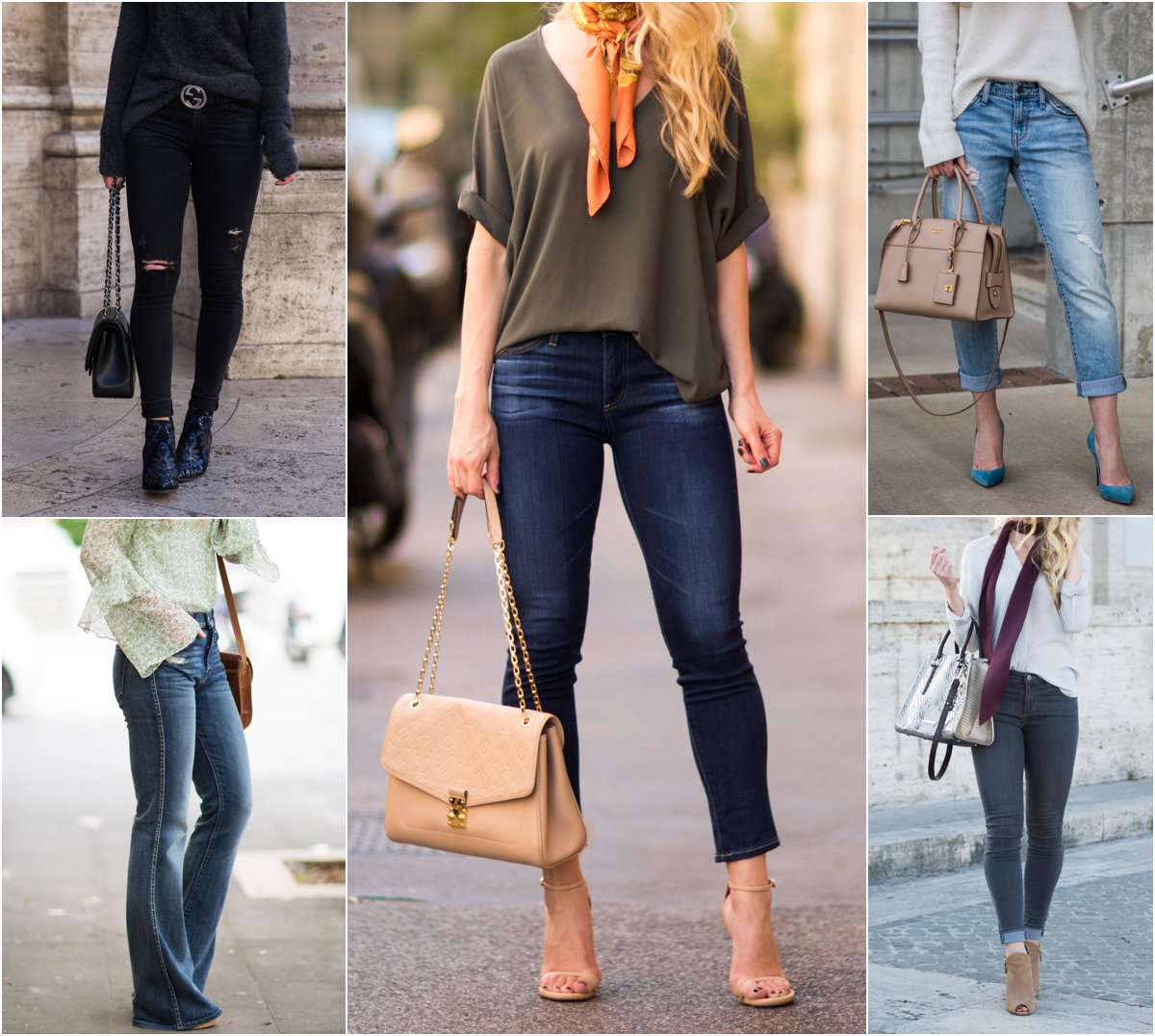 The one item I collect more than anything else in my wardrobe is denim. There are so many options available that I truly believe there's no such thing as owning too many pairs of jeans. Keep reading to find out more about the top ten types of denim to have in your closet, as well as my favorite styling tips for endless outfit ideas.
1. Minimal Dark Wash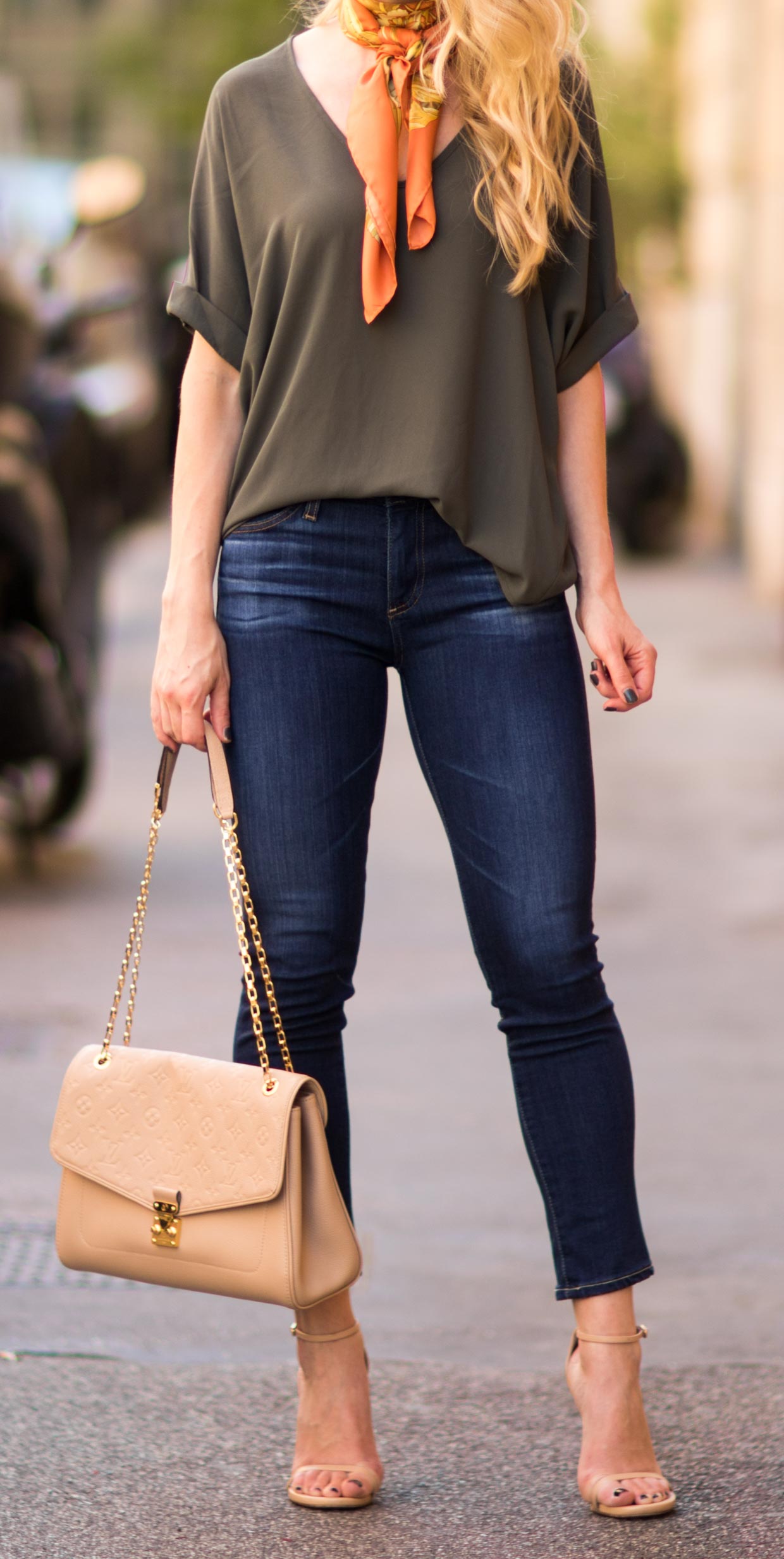 Pictured: AG Jeans Prima Crop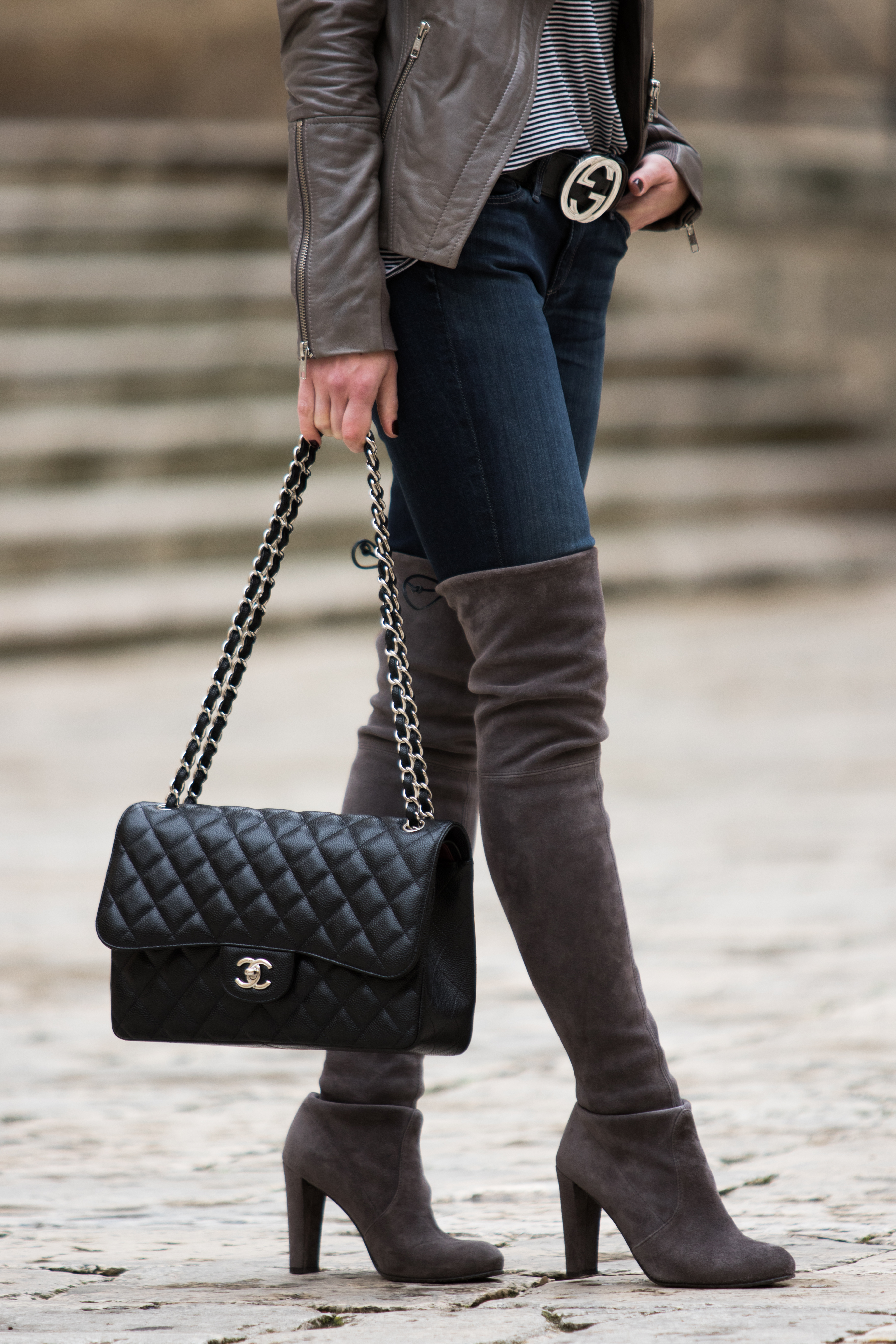 Pictured: AG Jeans Legging Ankle
First and foremost, I want to start with the type of jean I think is the most classic, and one you should most definitely own at least a few pairs of: a minimal dark wash jean with no distressing. Jeans with a dark wash always look the most flattering, plus they go with absolutely everything in your closet. I like to have a cropped pair for warm weather and longer pair to wear with tall boots in fall/winter.
Shop Minimal Dark Wash Jeans
---
2. Boyfriend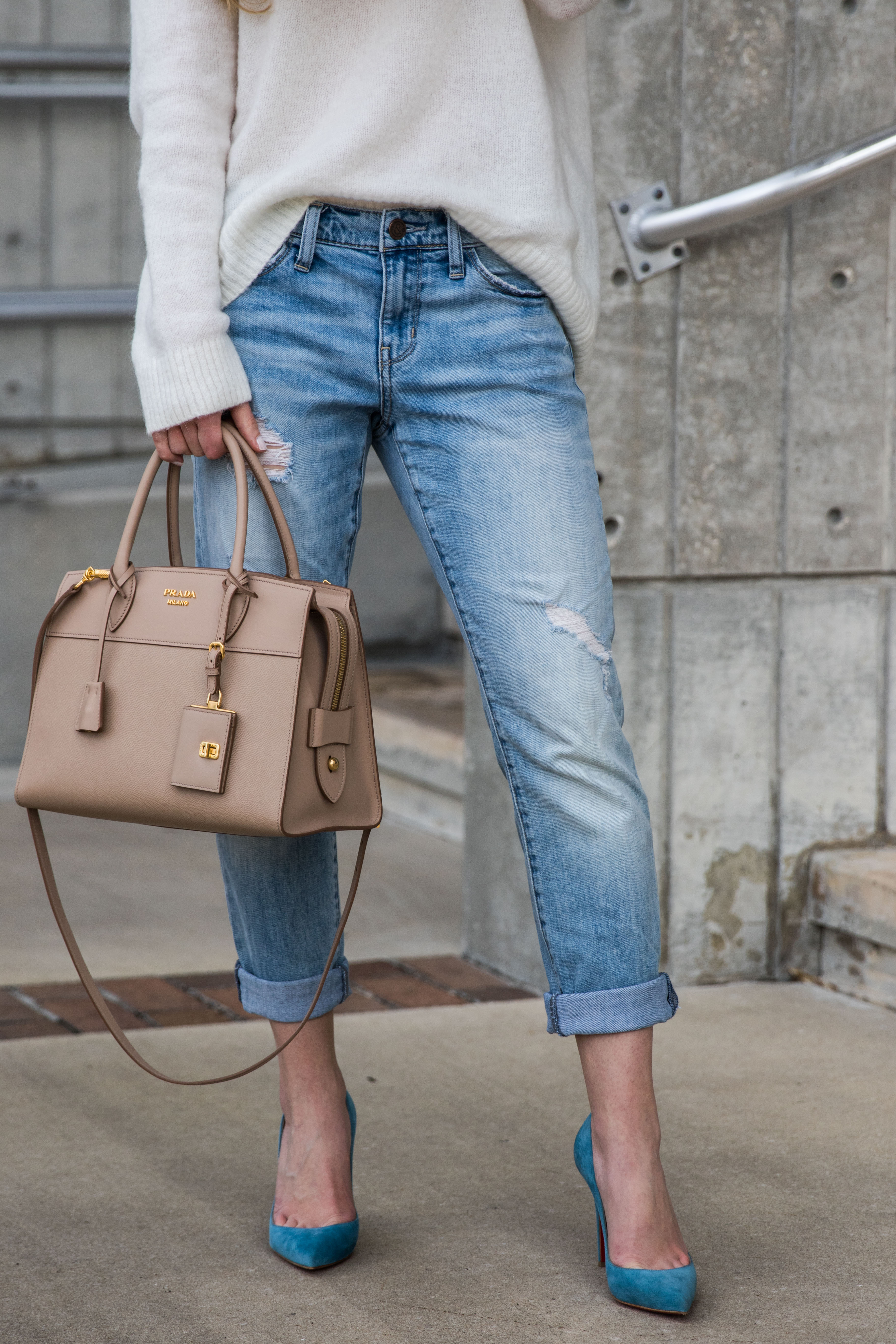 Pictured: Treasure & Bond Boyfriend (old); similar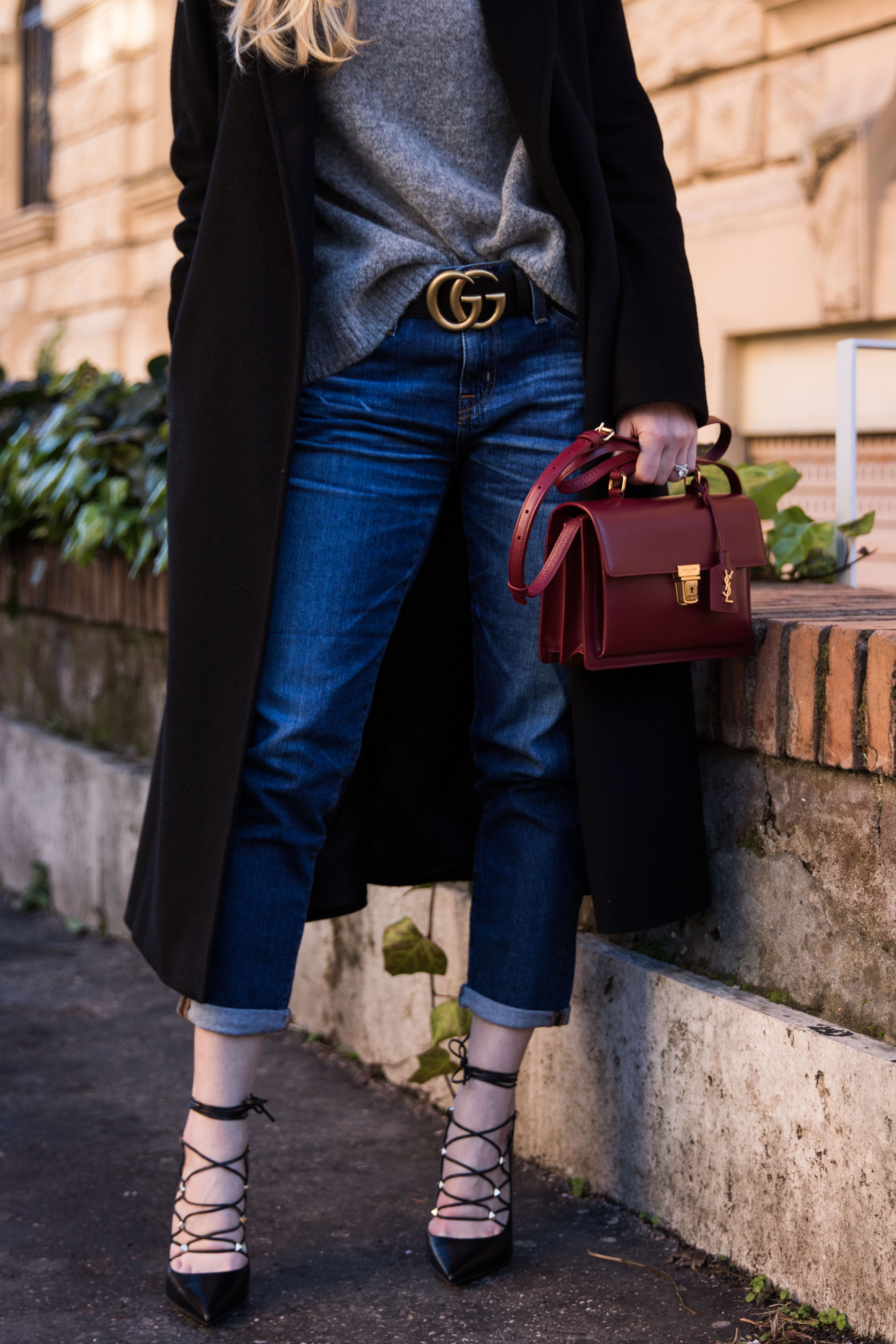 Pictured: AG 'Ex Boyfriend'
Boyfriend jeans are your best friend on weekends and those days when you don't feel like squeezing yourself into anything too tight. While most boyfriend jeans have distressing, it's a good idea to invest in a minimal pair as well for the option to create a more polished look. My favorite way to wear them is with heels for a more flattering silhouette, but if you happen to be taller, flats will also look great.
Shop Boyfriend Jeans
---
 3. Distressed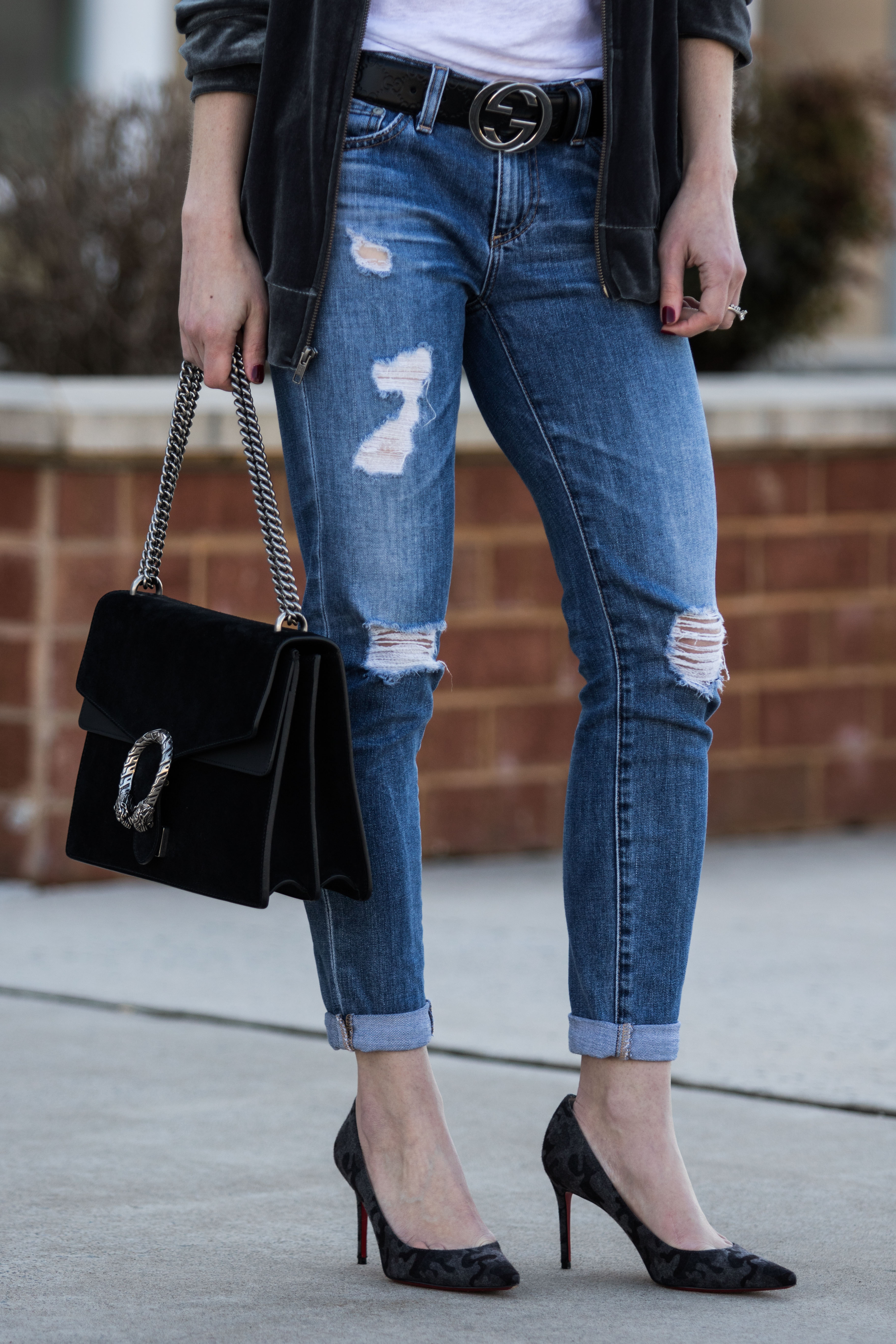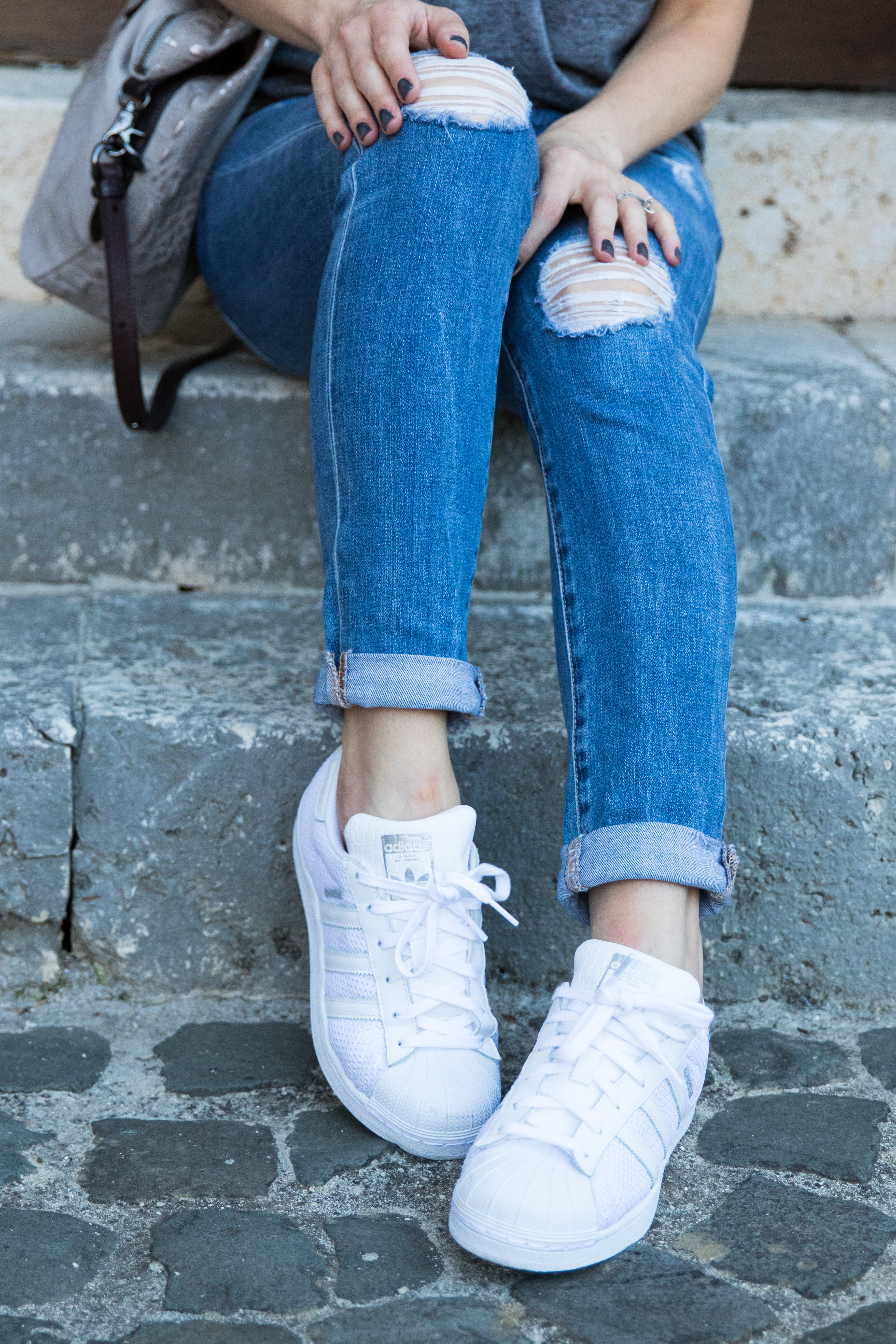 Pictured: AG 'Stilt Crop Roll-Up'
Over the last few years, ripped jeans have become a staple in most women's wardrobes, and their popularity doesn't show any sign of slowing down. Because the rips make them stand out, you don't have to add much to achieve a cool-girl look: a simple white tee will often do the trick. Distressed denim is the best for casual outfits, but you can always add heels for more polish.
Shop Distressed Jeans
---
4. Cropped Straight Leg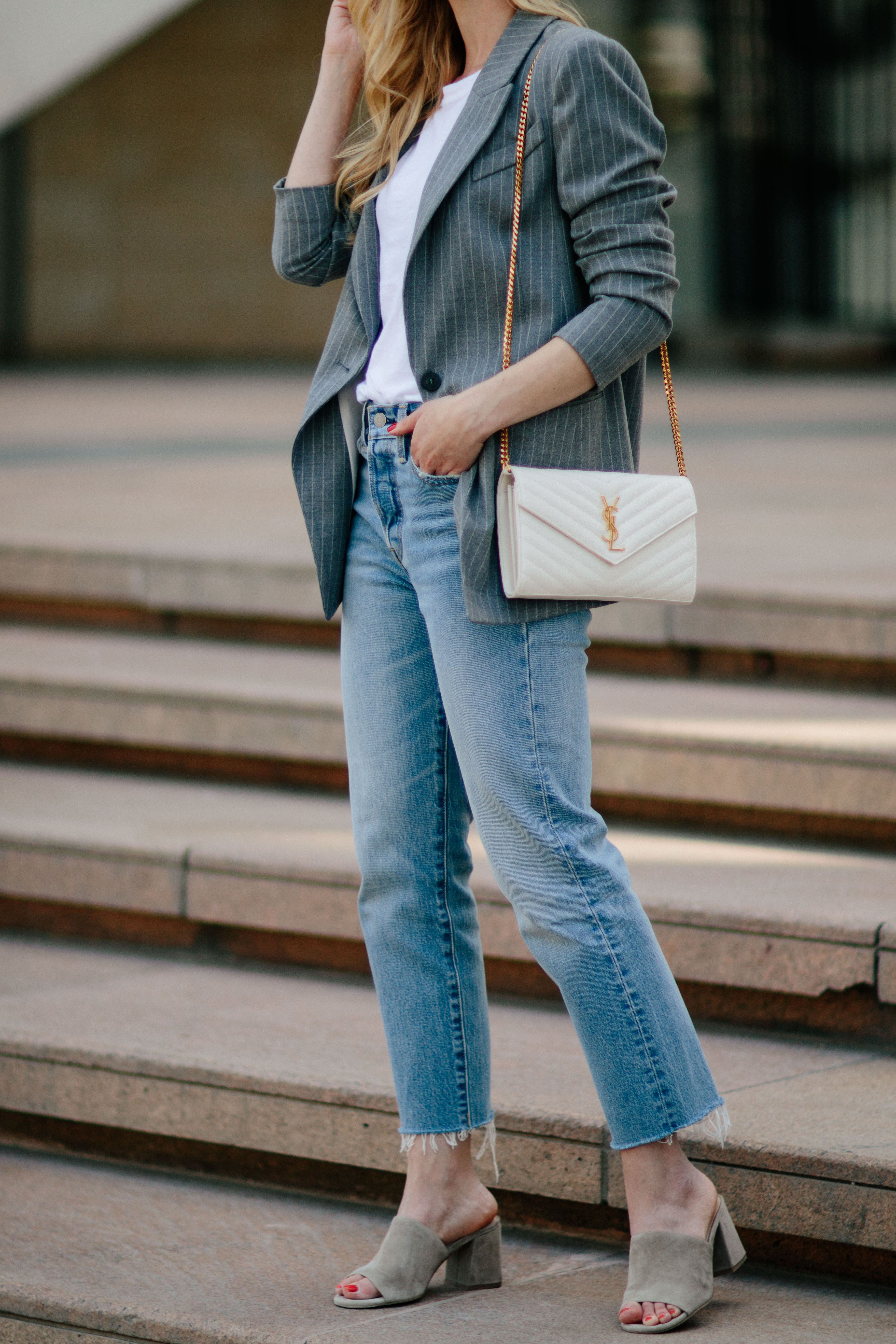 Pictured: Levi's 'Wedgie' Straight
Pictured: 7 For All Mankind Cropped Straight (old); similar
Cropped straight leg jeans have become very popular over the last few years and it's easy to see why. The ankle length is perfect for wearing with everything from slides to pumps or ankle boots. I've found that high-rise styles look the most flattering, especially if you're petite. If they seem to be too 'mom-like' for you, try a pair with a raw hem for an updated look.
Shop Straight Leg Jeans
---
5. High-Waist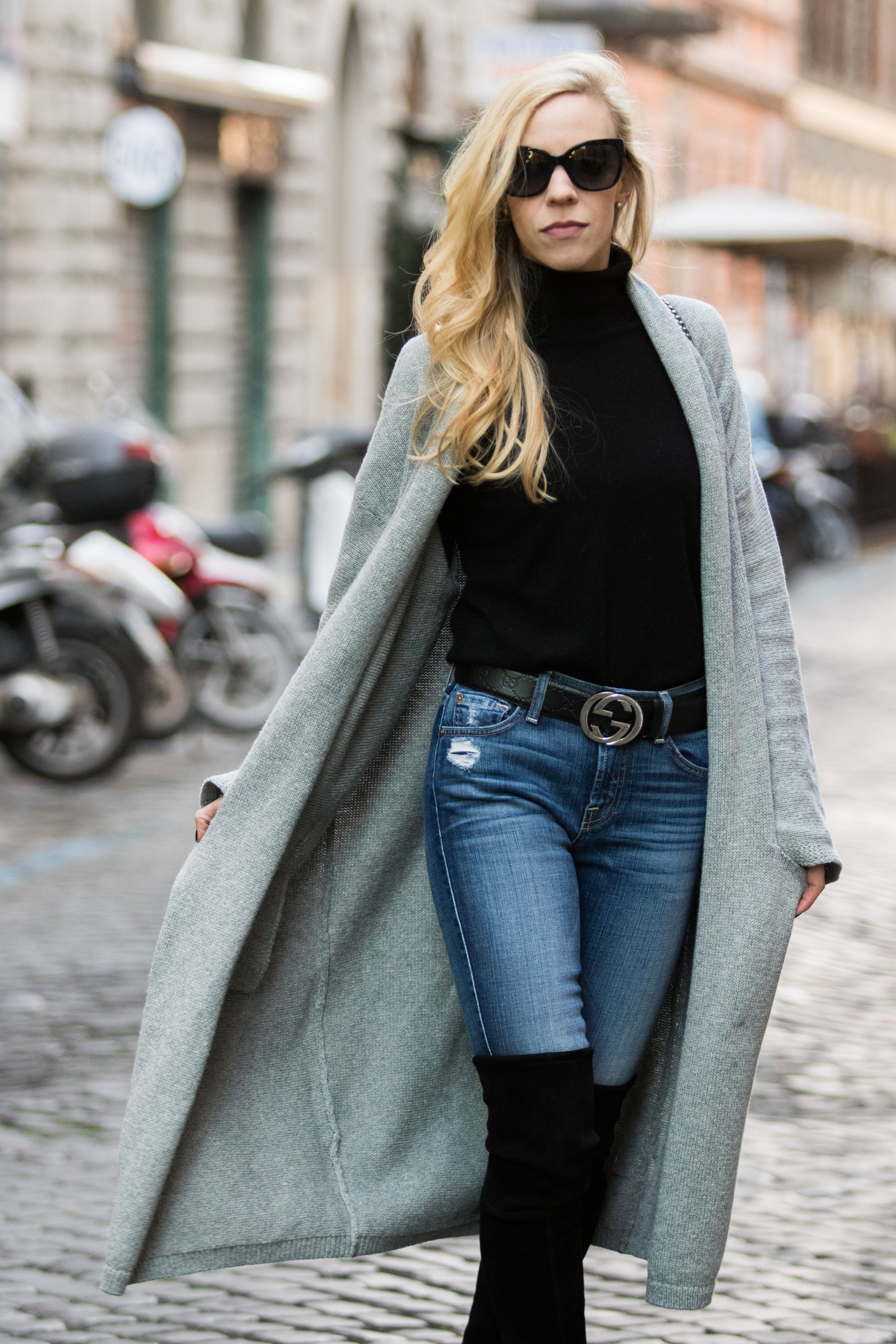 Pictured: 7 For All Mankind High Waist Ankle Skinny (old); similar
High waist jeans are one of my very favorite styles and I miss wearing them terribly now that I'm pregnant! Tuck in your top and add heels for the most flattering, leg-lengthening effect (I absolutely love them with over-the-knee boots).
Shop High Waist Jeans
---
6. Flare/Bootcut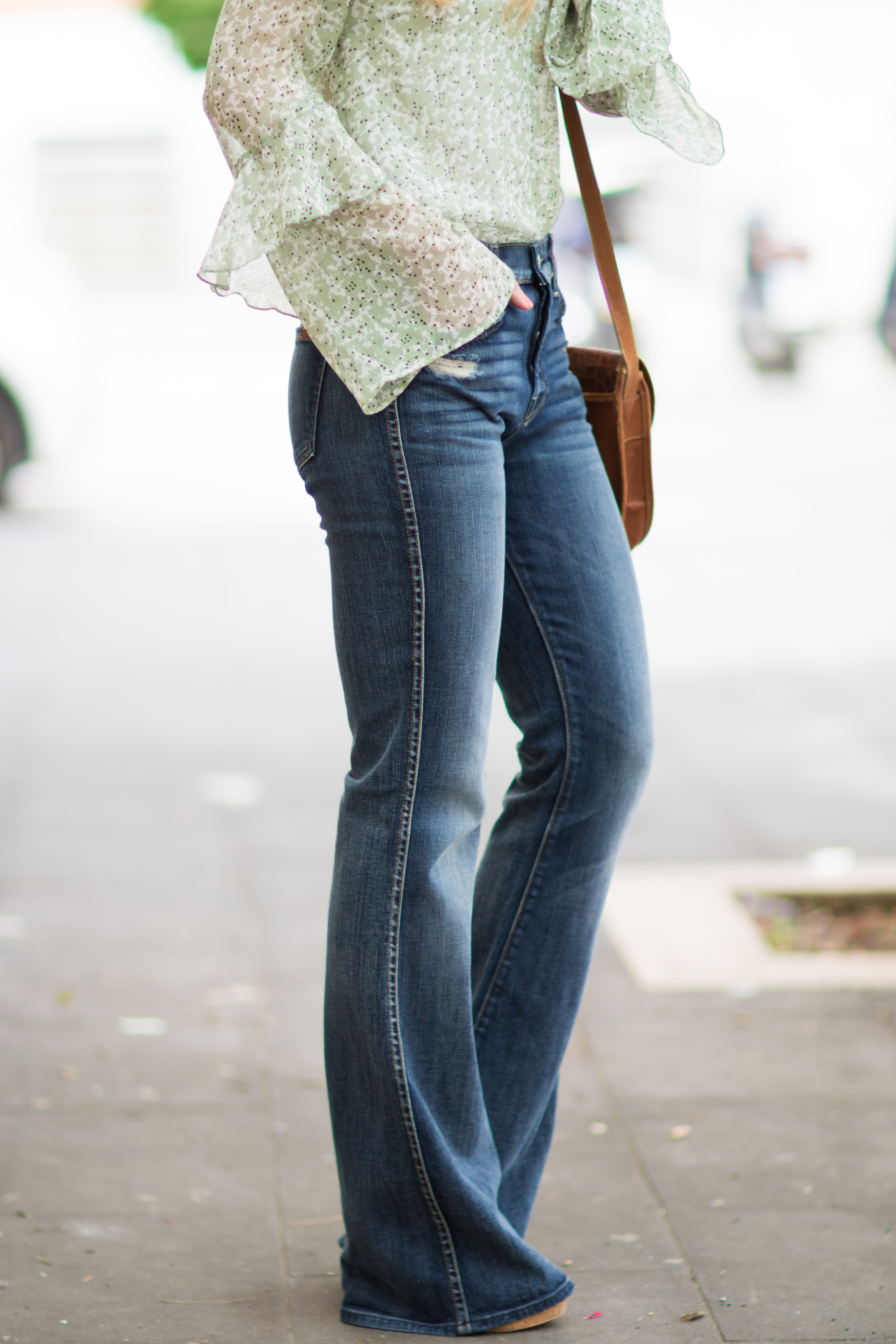 Pictured: 7 For All Mankind Vintage Bootcut (old); similar
If you want legs that look miles long, look no further than a pair of flare or bootcut jeans—just make sure the hem grazes the ground so that your shoes barely peek out. Flare and bootcut denim styles seem to come and go as far as popularity, but they'll always be timeless (why else would they keep coming back?)
Shop Flare/Bootcut Jeans
---
7. Black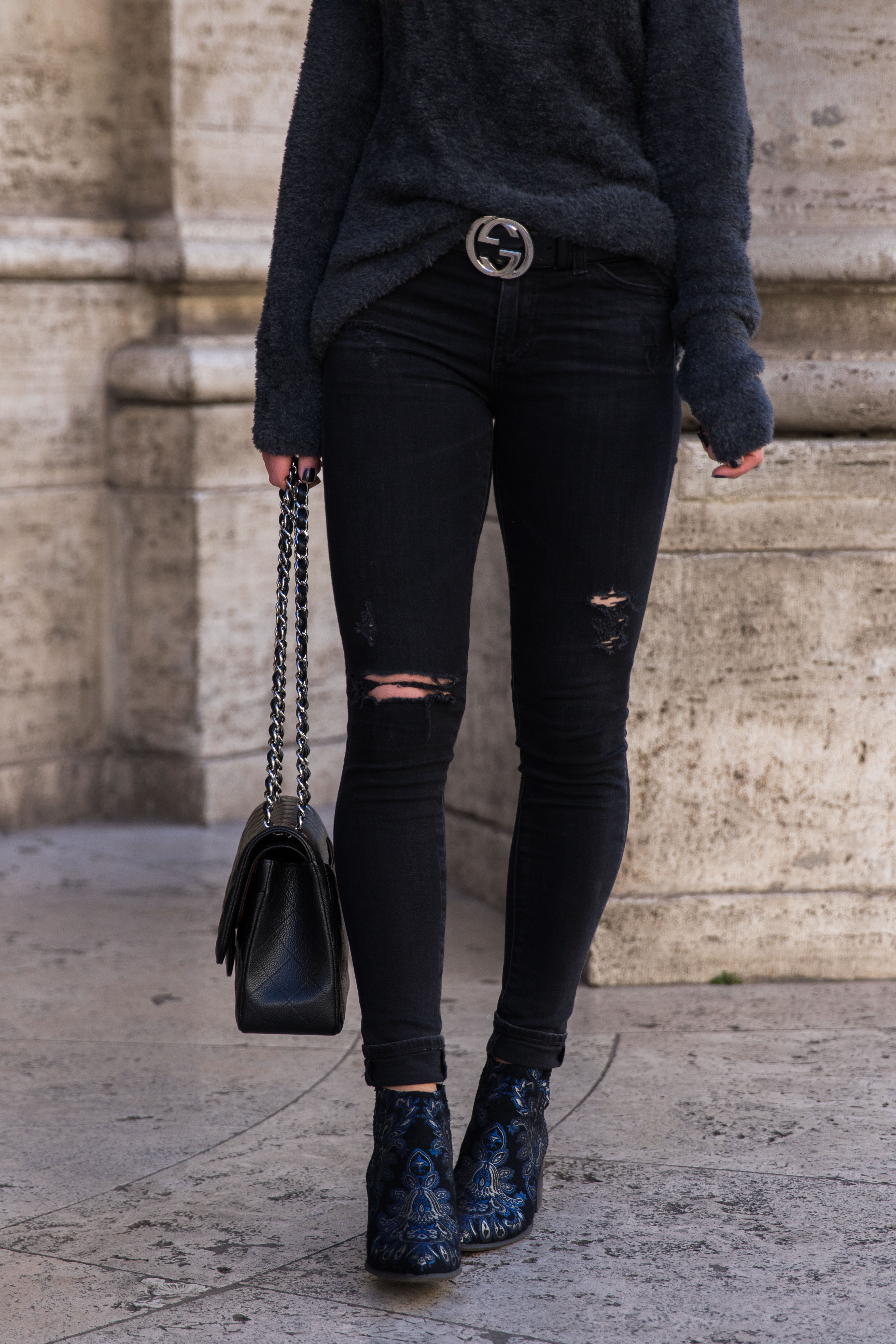 Pictured: AG Jeans Legging Ankle
Black jeans have become an essential in my denim collection, and one that I wear year round (I love them so much I bought this maternity pair to get me through the next few months!) They instantly add an edgy vibe to any outfit, especially a pair with distressing.
Shop Black Jeans
---
8. White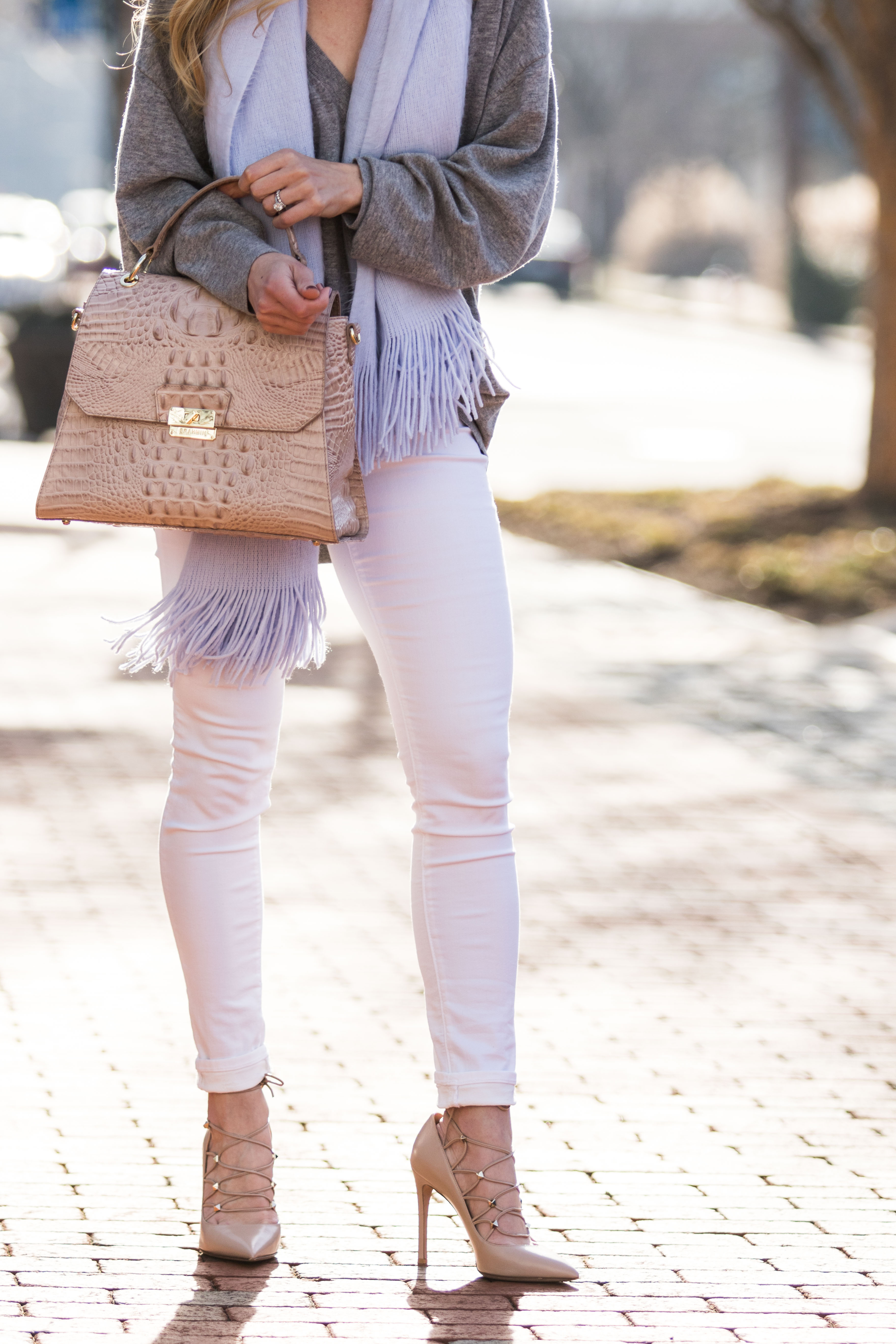 Pictured: AG Jeans Legging Ankle
Nothing will give your outfit a fresher look than a crisp pair of white denim. Of course they're perfect for spring and summer, but you don't have to reserve them for that time of the year only. I think they also look great in the fall with camel/cognac colored accessories (see this post).
Shop White Jeans
---
9. Gray
Pictured: AG Jeans Legging Ankle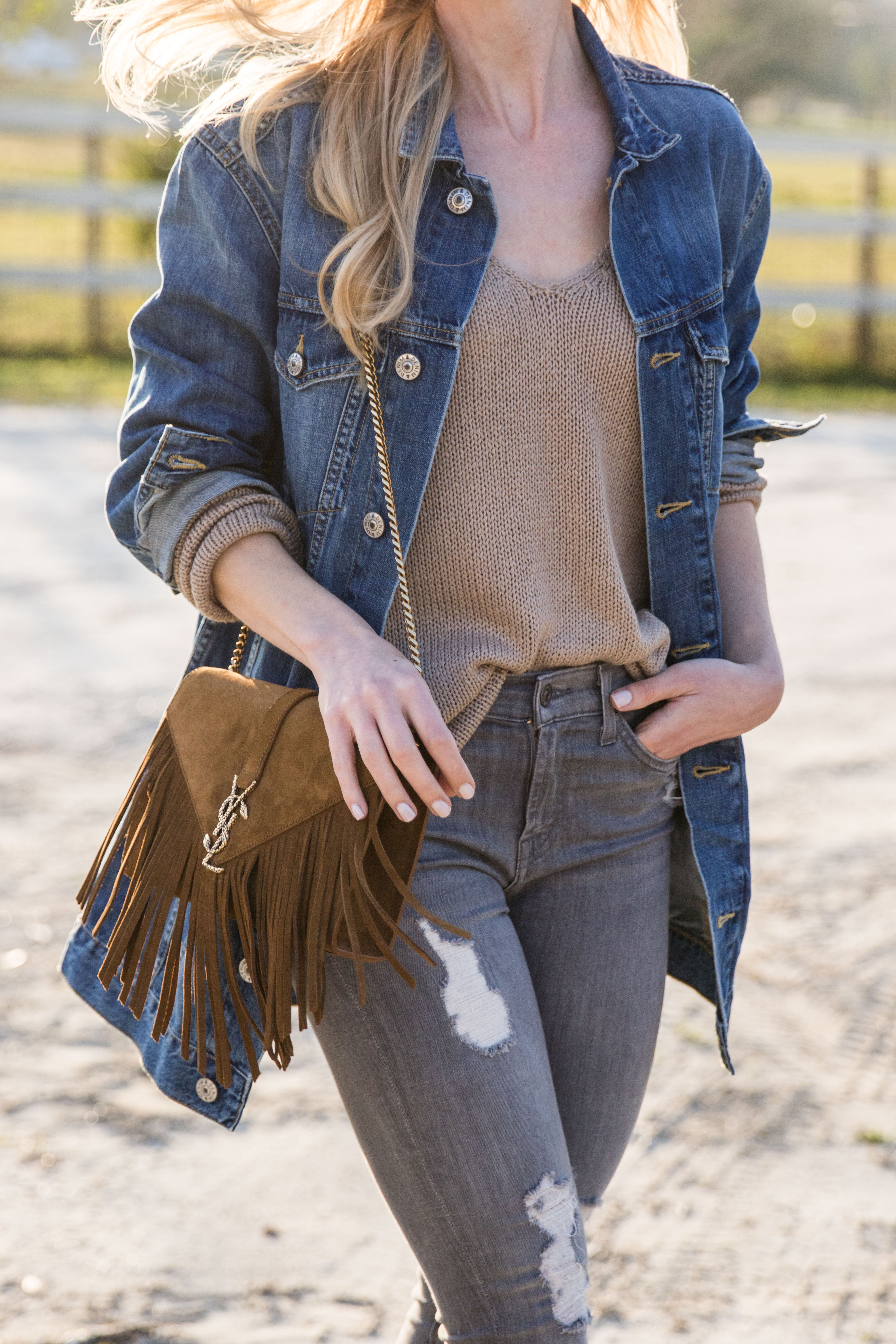 Pictured: 7 For All Mankind High Rise Skinny
One color of denim I've really grown to love over the last few years is gray. They're surprisingly versatile and I find myself reaching for mine all the time. Treat gray jeans like a neutral: they're perfect with basically any color.
Shop Gray Jeans
10. Leather-Coated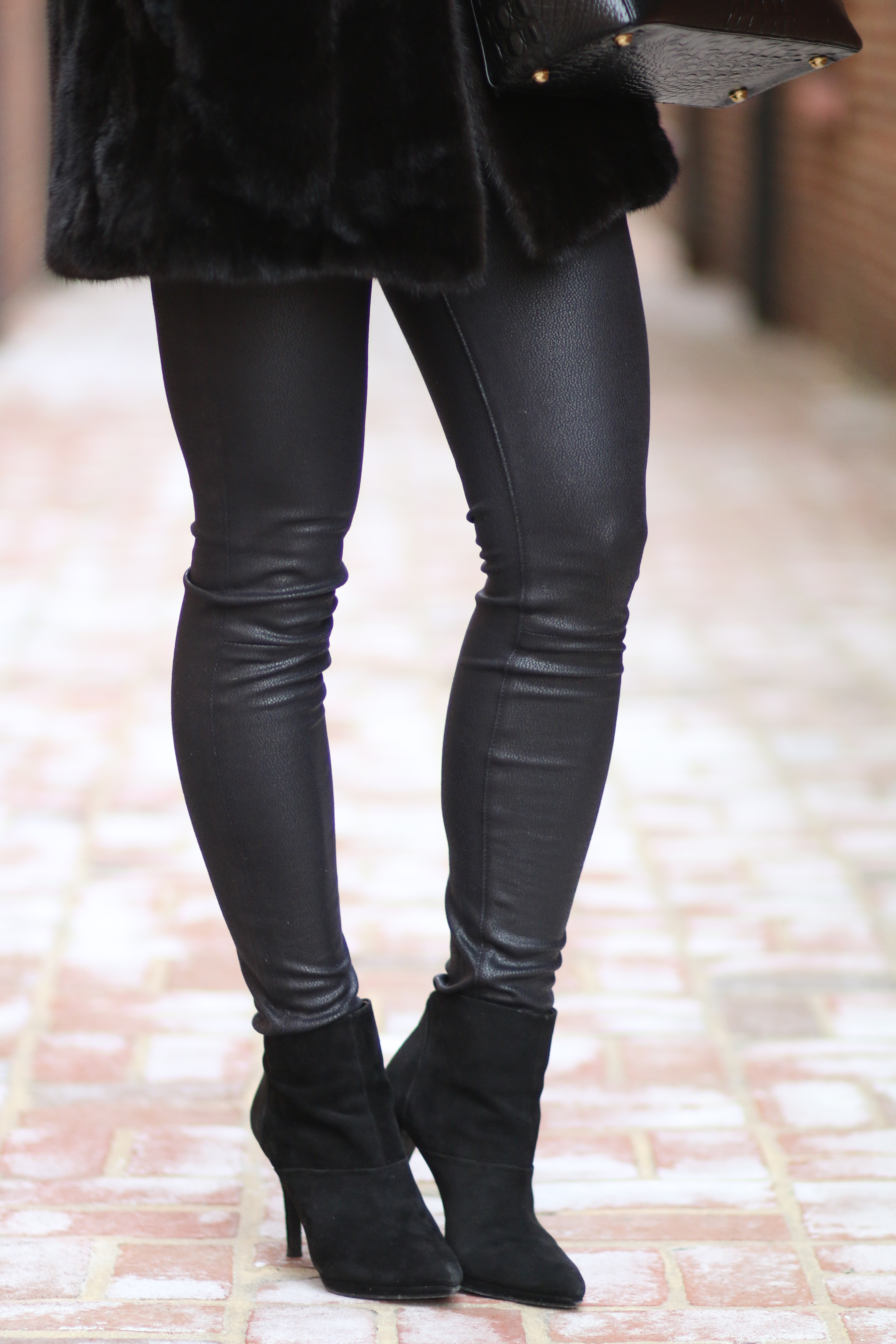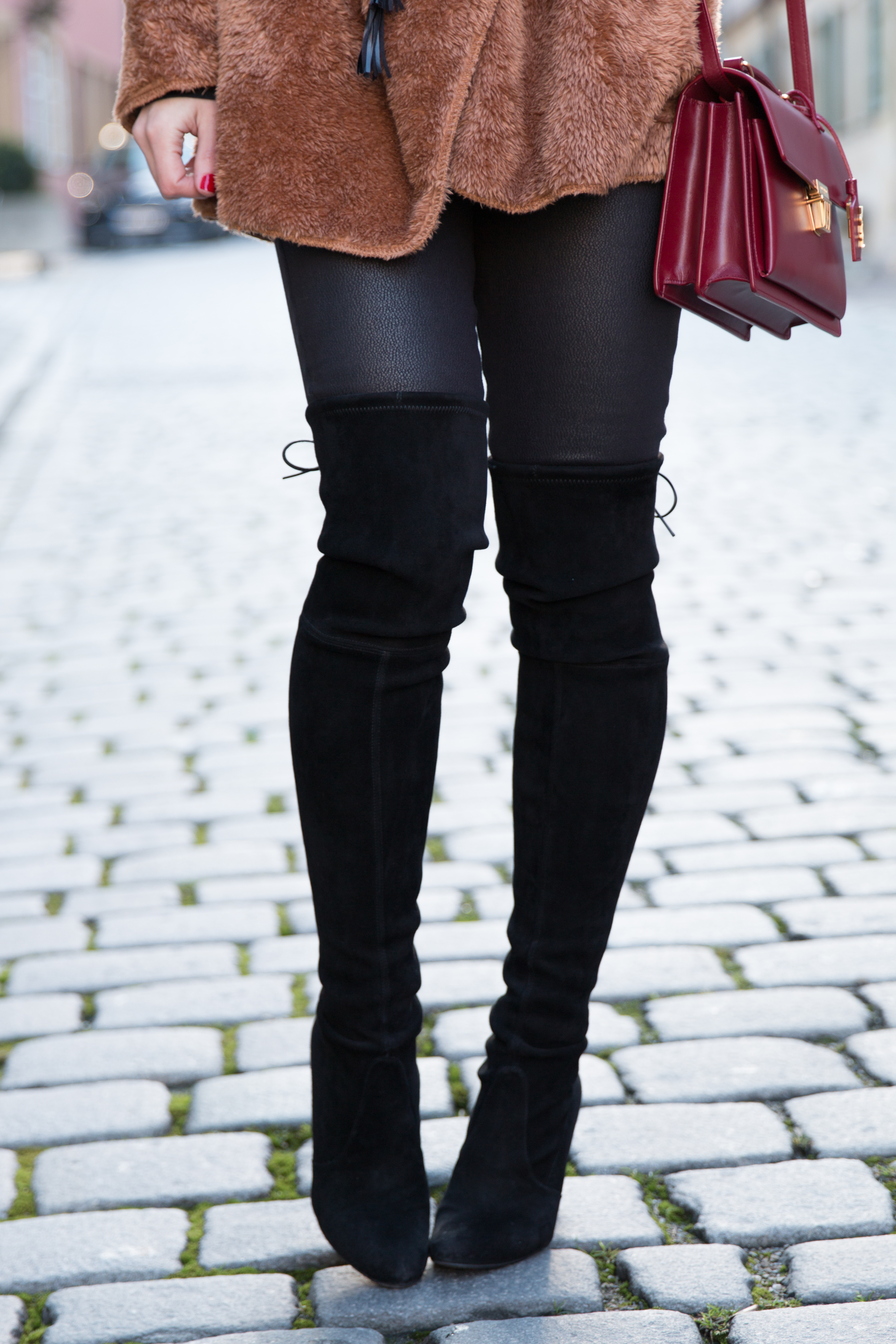 Pictured: 7 For All Mankind Leather-Like Skinny
Coated jeans are the best when you want the look of leather but need more structure than a legging can offer. Try them with basics like a denim jacket or slouchy sweater—they're guaranteed to become a staple in your fall/winter wardrobe.
Shop Leather-Coated Jeans
What's your favorite type of jean? As much as I love them all, I think I'd have to go with a classic, dark cropped jean. I'd love to know yours, so tell me in the comments! Also, if you're interested in finding out how I score all of my designer denim at a discount, be sure to check out this post.
---
Shop the Jeans I'm Wearing in this Post