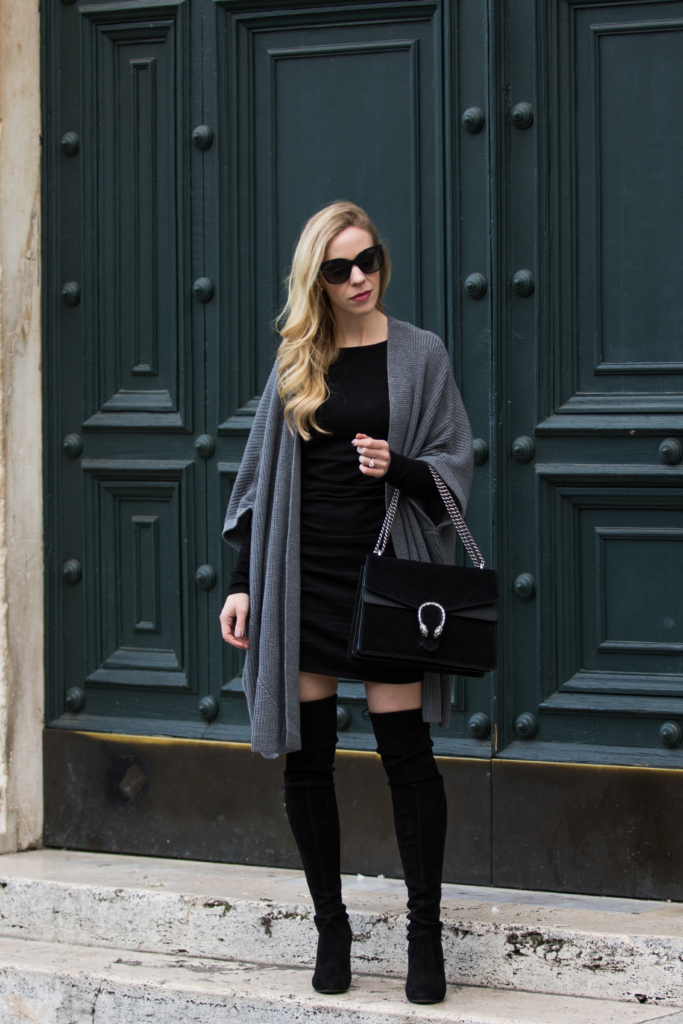 On a typical Wednesday morning, I'll begrudgingly drag myself out of bed to get ready for work when the alarm goes off. Not today, though—I hopped right out of bed without any hesitation because in a few hours, we're heading to the airport to catch our flight to Kraków, Poland. I couldn't be more excited since Poland has been on our travel bucket list for awhile. Although it's going to be really cold while we're there, the amazing Christmas markets we've heard about should definitely make up for it. The other day I googled 'most popular desserts in Poland' and let's just say the results practically had me salivating at my desk. My husband thinks we should pack workout gear for the hotel gym, but we'll see how motivated we are in the end—the urge to cozy up with a hot drink may win after battling the cold weather every day!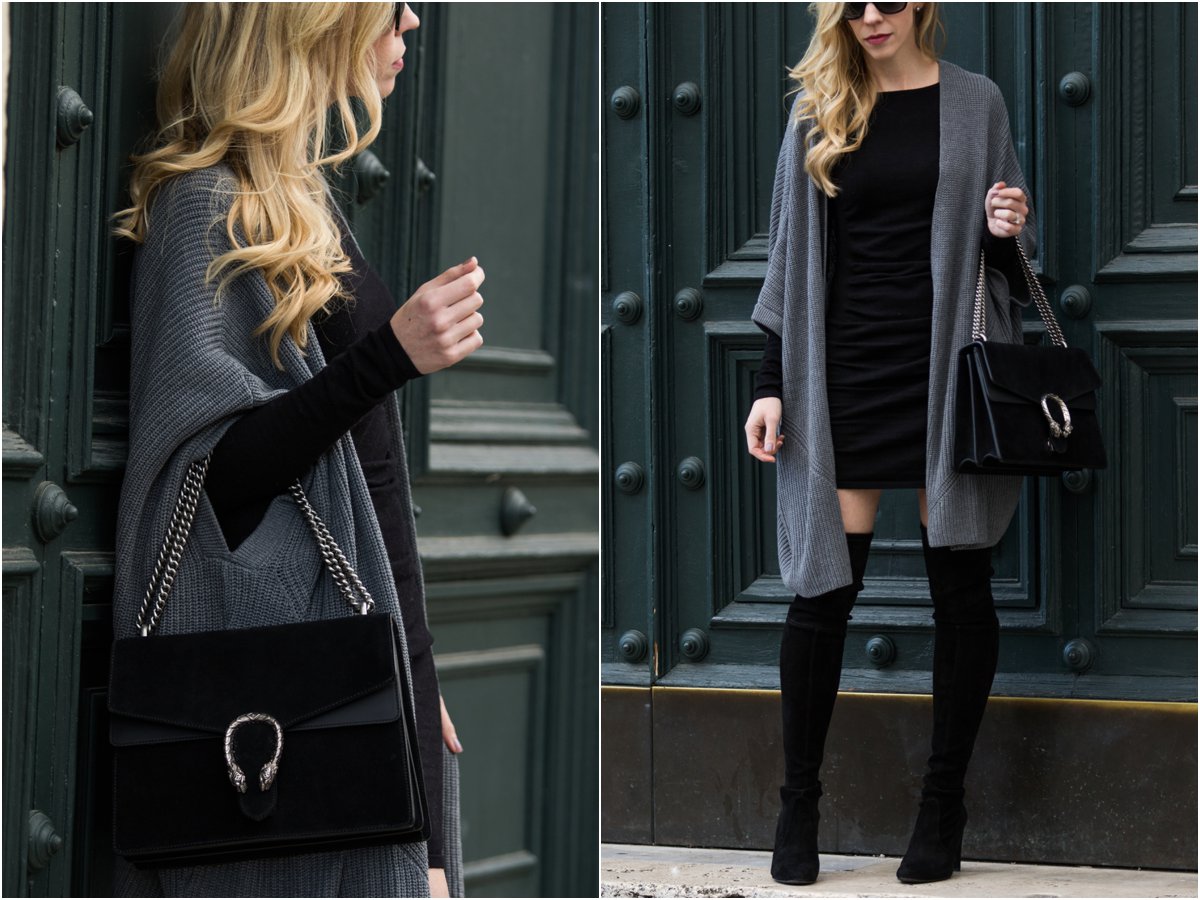 If you haven't already noticed, black and gray have easily become the two most dominant colors in my closet. I can't seem to stop adding more to my wardrobe, though, and for that reason I think living in Italy has been a large influence for me. Italian ladies LOVE their dark colors, especially black, and I have to agree that something about a moody palette always looks effortlessly chic.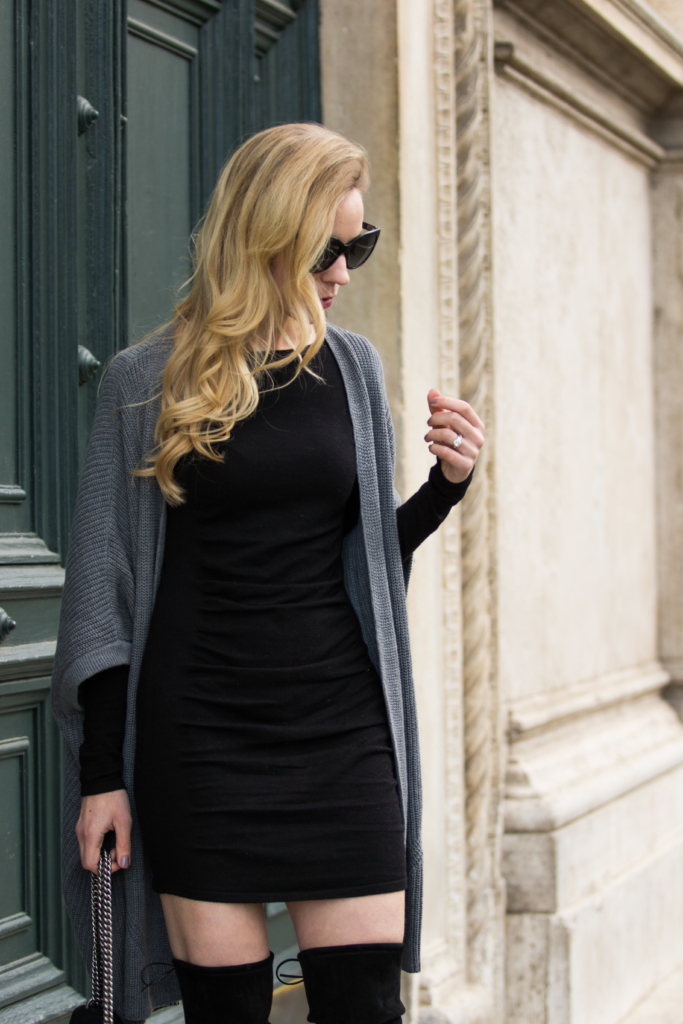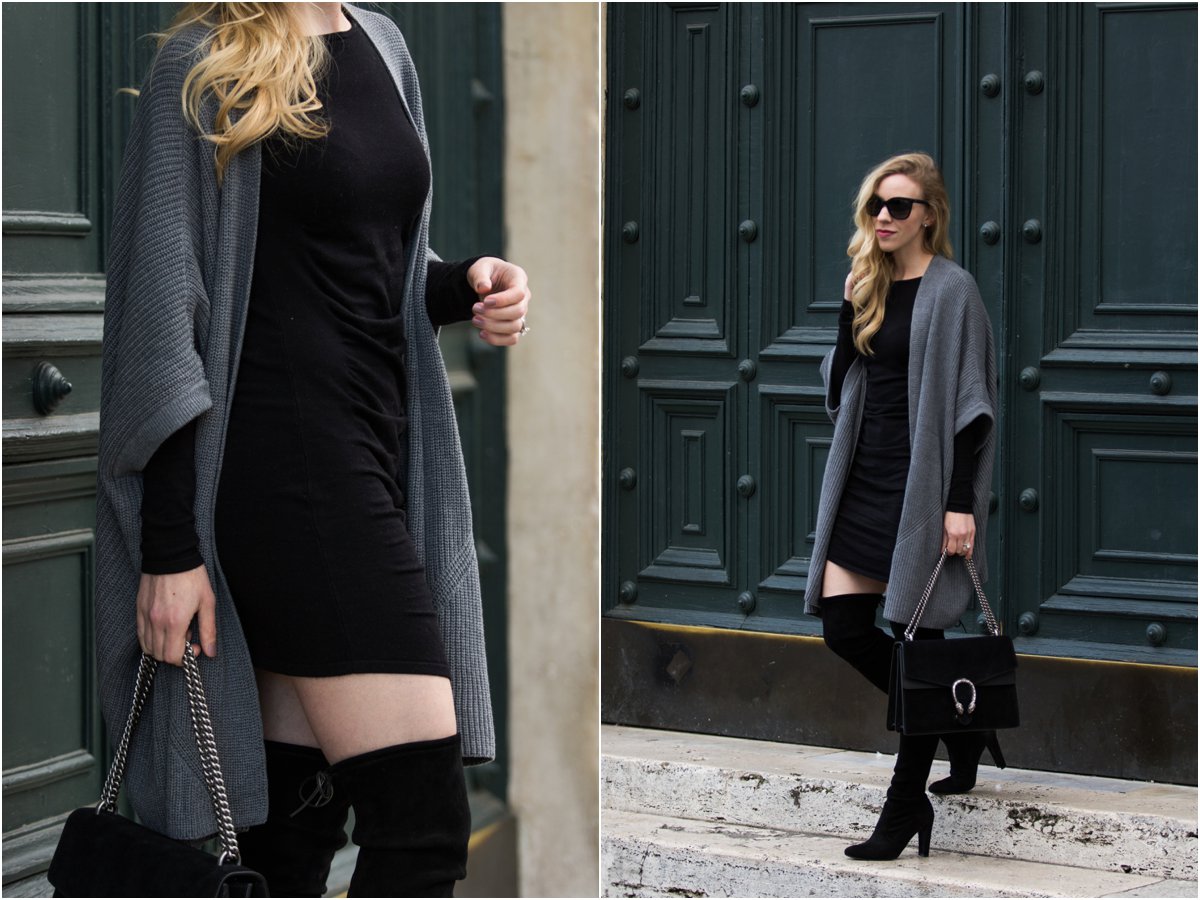 The best part about today's look? My dress and cardigan are each on sale for under $50 (insert praise hands emoji here!) I know I've mentioned it before, but this bodycon sweater dress from Express is a favorite of mine and I own it in three colors. Every year they restock it in more colors and I hope that trend continues. To give you idea of just how versatile this dress is, check out my other posts here, here and here. The form-fitting silhouette creates an ideal palette for oversized cardigans like this kimono style, and the length is just right for over-the-knee-boots.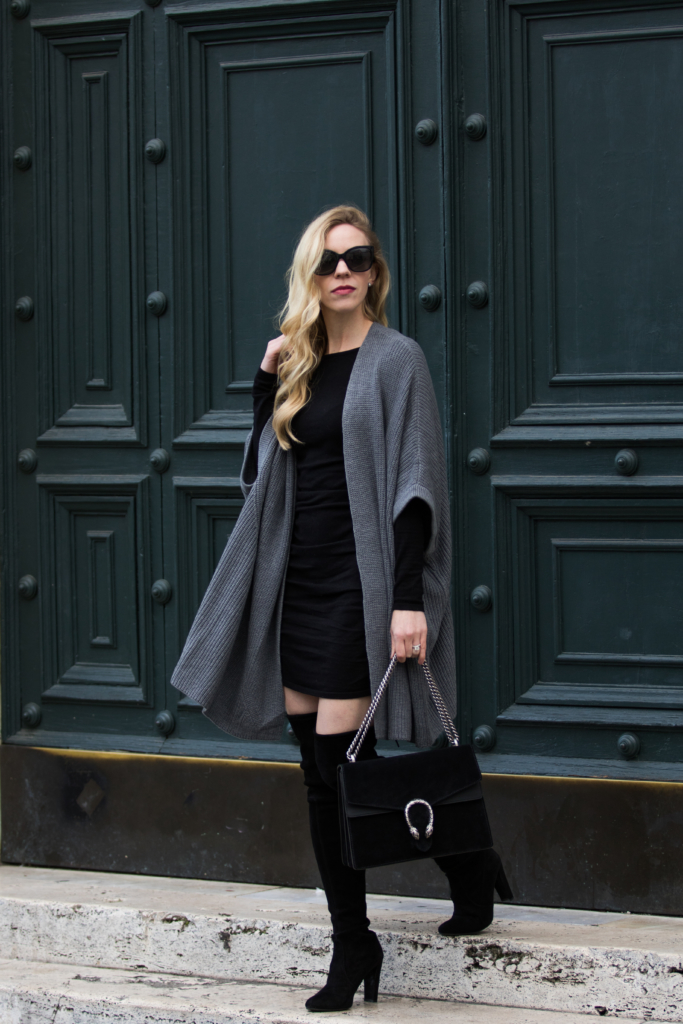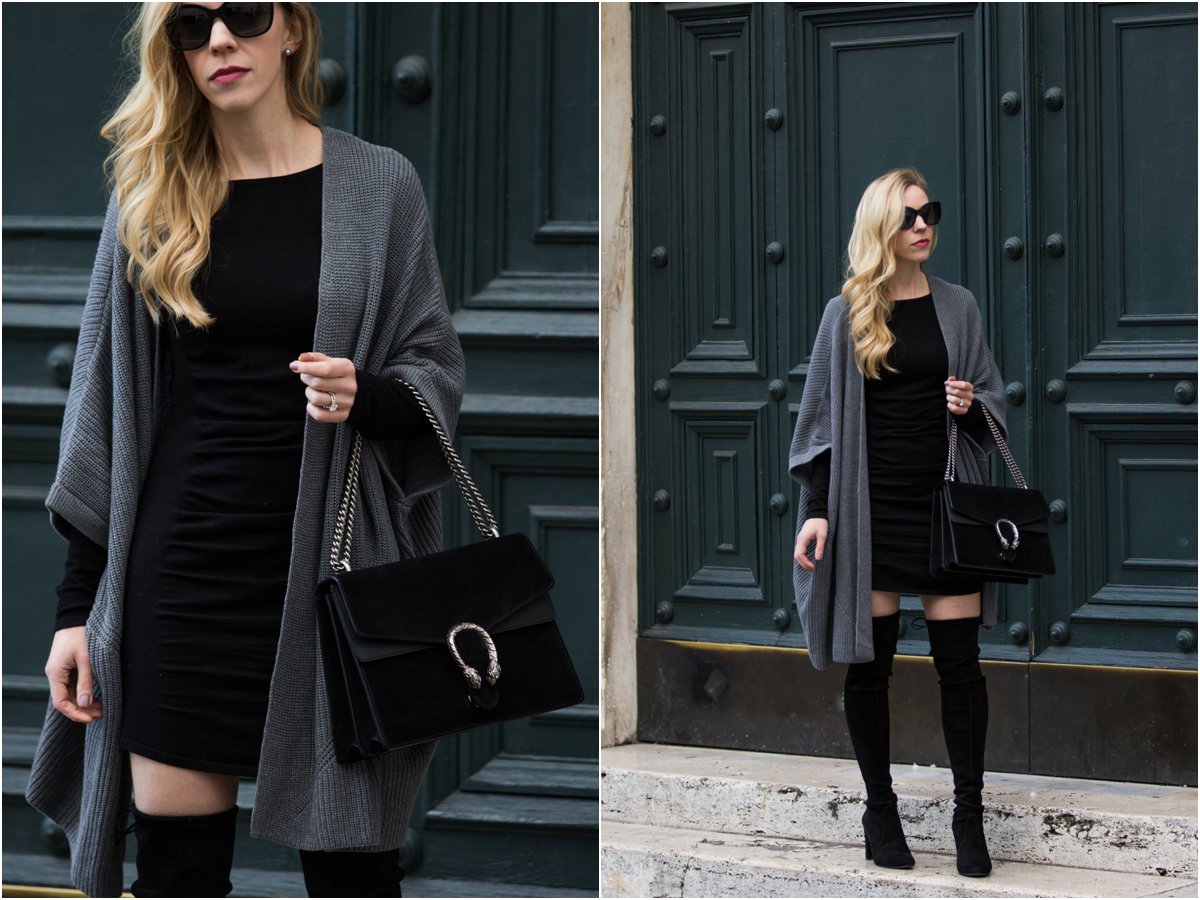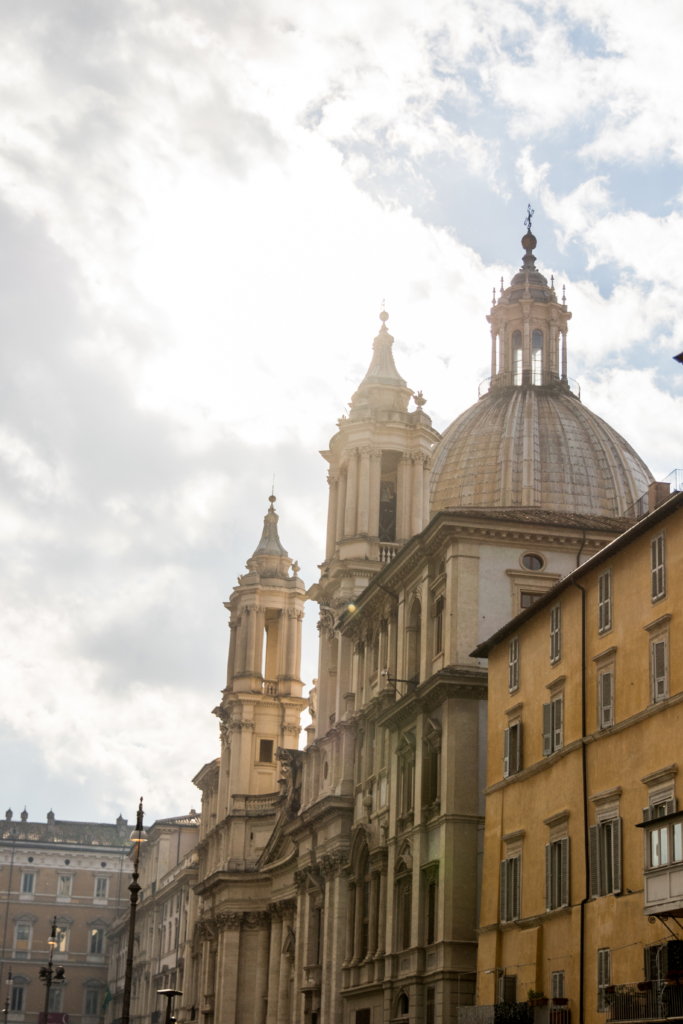 My husband snapped this shot of Piazza Navona as we were leaving and I wish I had remembered to get one of the carousel and Christmas markets that just opened up—saving that for a future post! To see what we're up to on our trip to Poland, follow me on Instagram @meagansmoda (I tend to get a little Insta-story happy when we travel!)
Shop the Post
Linking with Walking in Memphis in High Heels, Living in Color Style, Elegantly Dressed and Stylish, The Pleated Poppy & Color and Grace