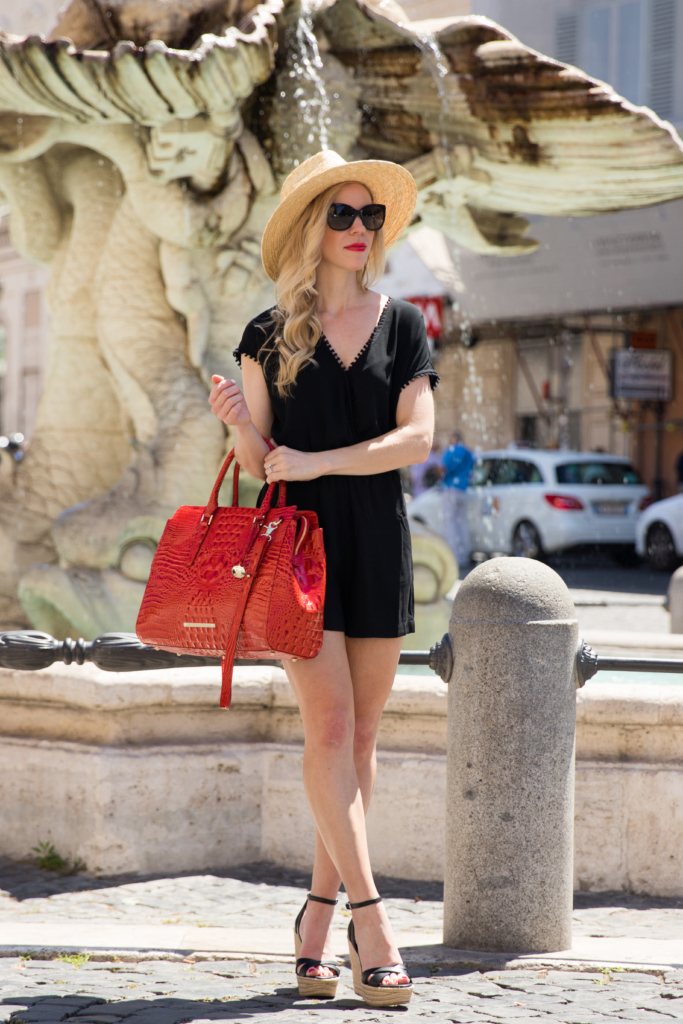 Happy Thursday, everyone! Last Saturday while we were out on the Vespa looking for a photo shoot location, we decided to stop by Piazza Barberini. I realized we'd been past it a hundred times but I had never posted any photos of the fountain, and it's a popular spot! Judging from my other posts this week, you may be thinking, 'She was all over the place last weekend,' and you would be absolutely right! Since my husband and I are only able to take blog photos on the weekends, most of the time we spend a good chunk zipping around Rome. It can be totally exhausting, but we try to break up the 'work' part by window shopping, trying new places to eat, getting gelato…you know, the fun stuff!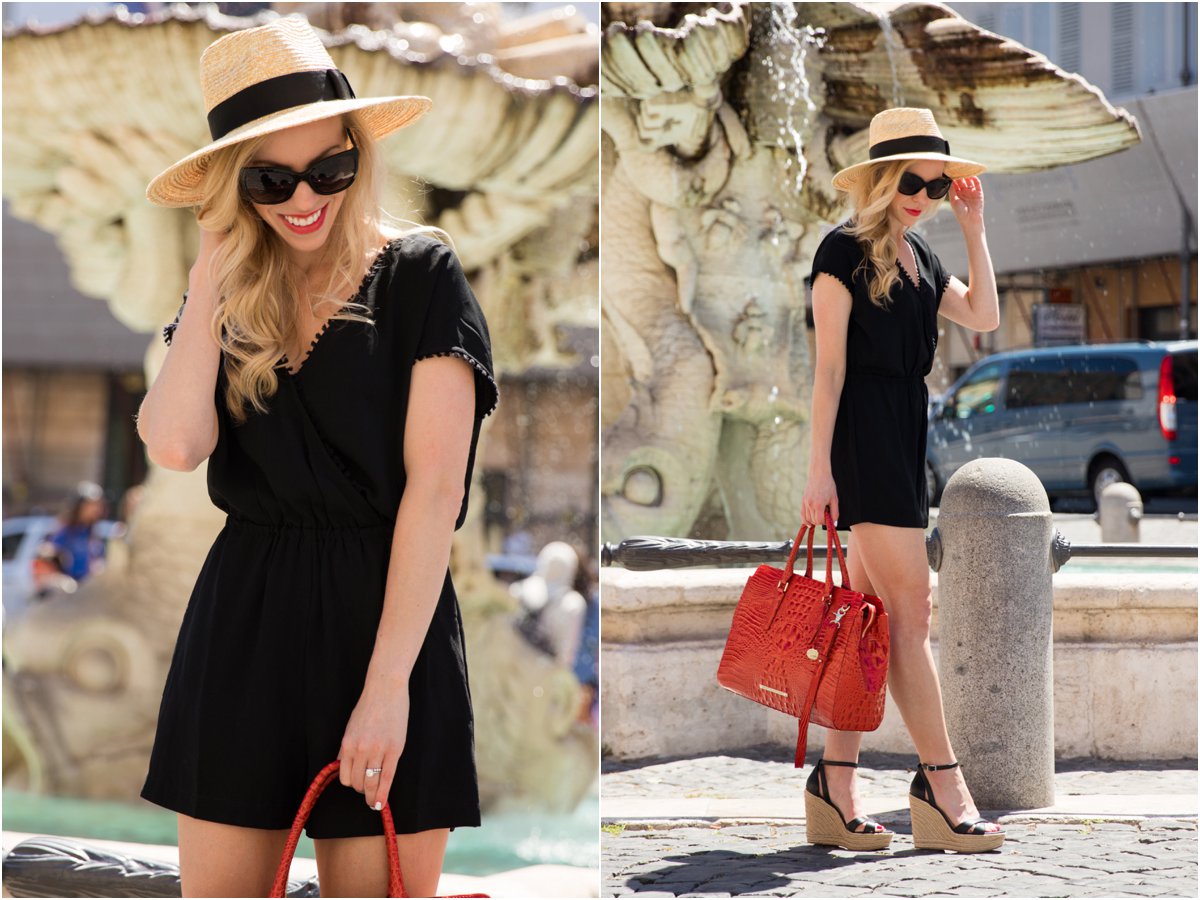 I was on the hunt for a new black romper and this style from LOFT caught my eye during one of their recent sales. The cut is classic and minimal, but the subtle fringe trim and tie back make it a little more unique than others. And the best part? It happens to be on major sale right now at only $39.50! Don't hesitate, though, because sizes are selling fast!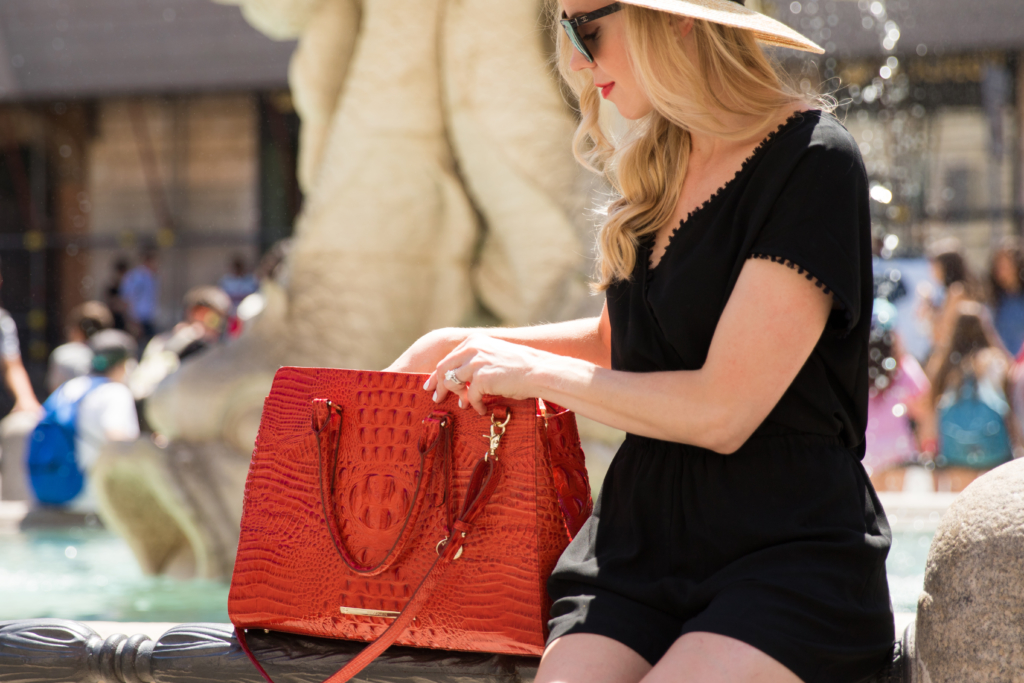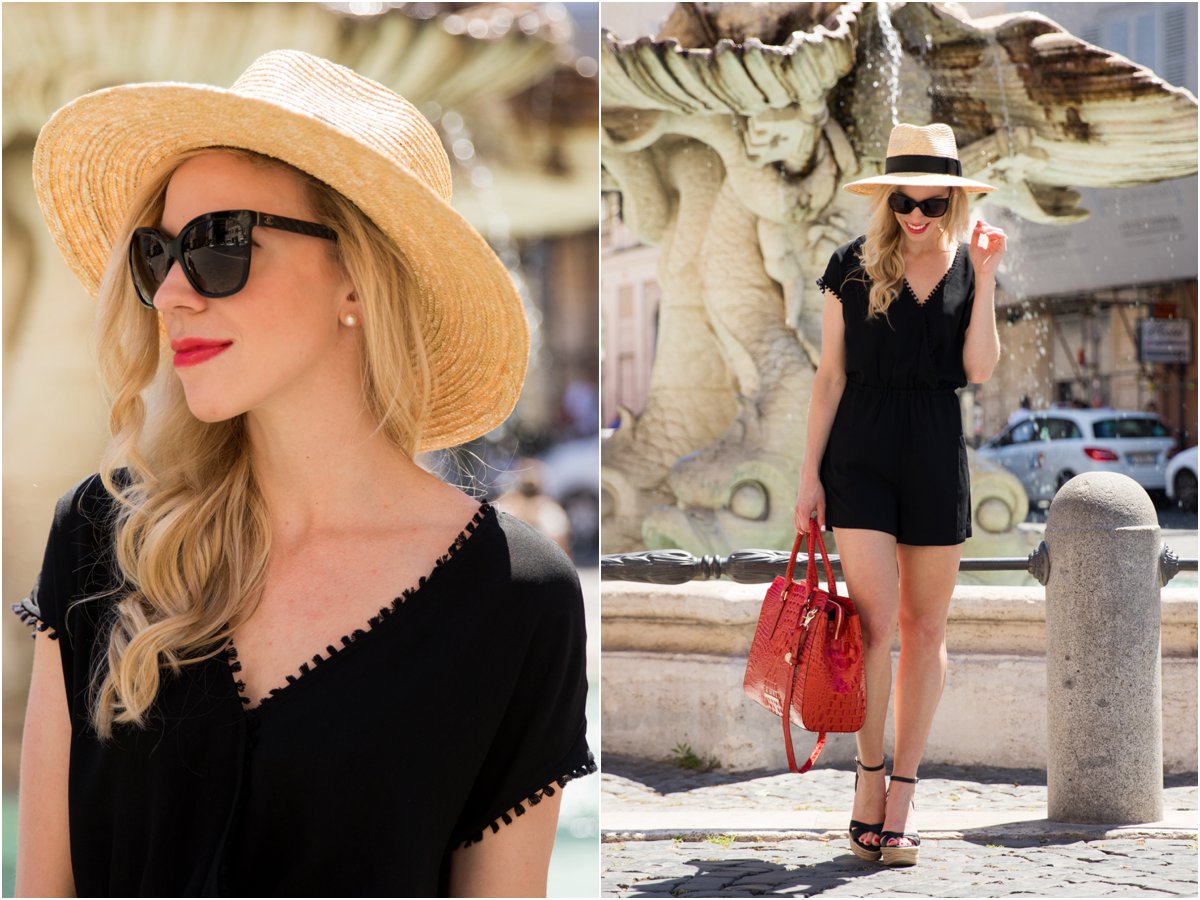 My favorite panama hat and vivid red handbag spice up this simple summer outfit. Speaking of my hat, it's sold out everywhere, but after doing some more research online, I happened to find it at one site in this color, as well as brown (the link is in my outfit details!)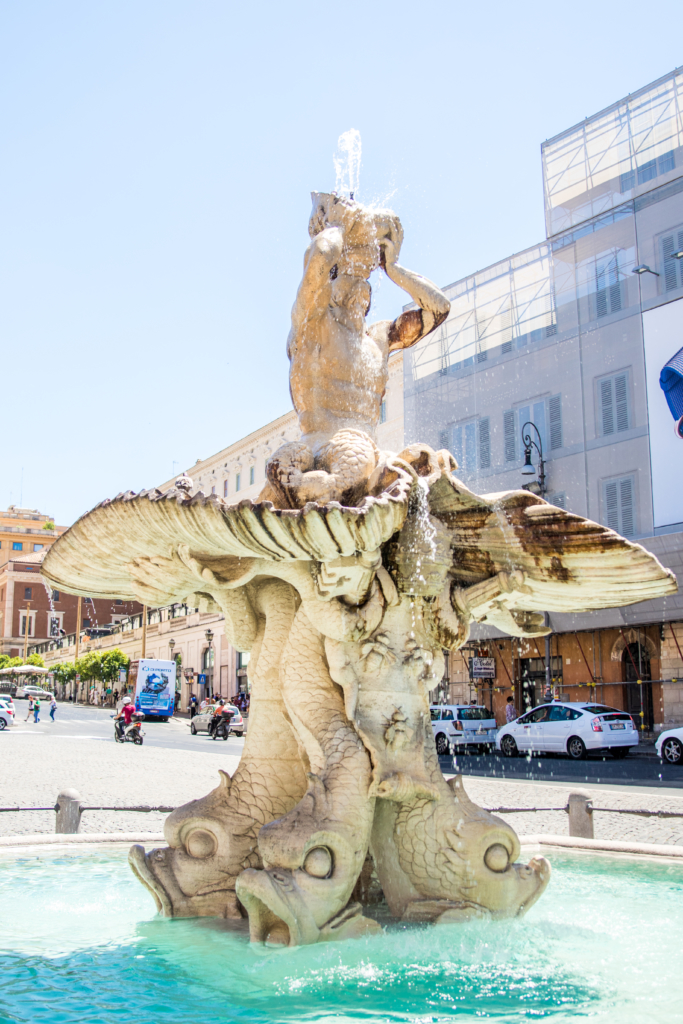 Although there are countless fountains in Rome, Fontana del Tritone (Triton Fountain) is one of the city's most famous. The Greek-Roman god, Triton, is depicted as a merman surrounded by four dolphins. Apparently the water spouting from his conch shell used to go much higher, but I guess time has taken its toll on the sculpture—not surprising since it was created in the 1600's!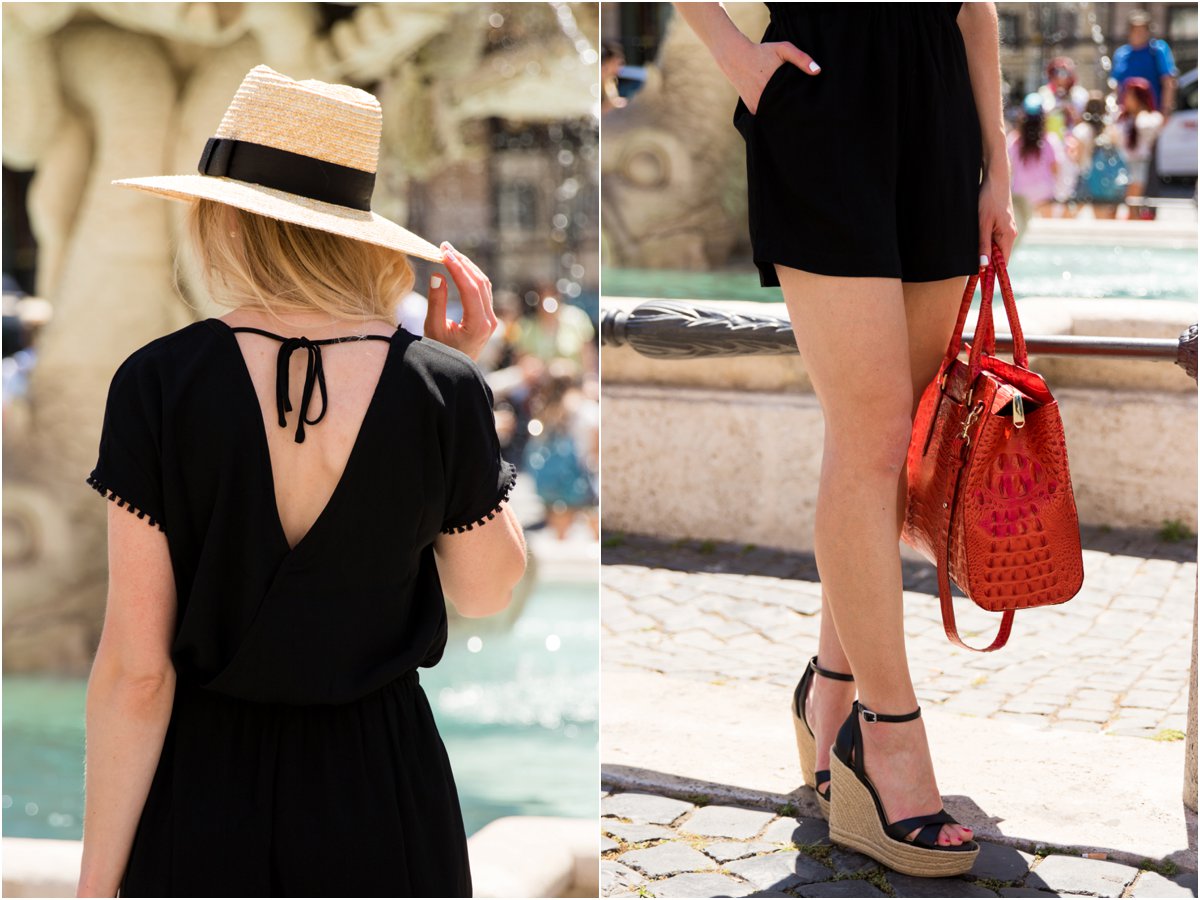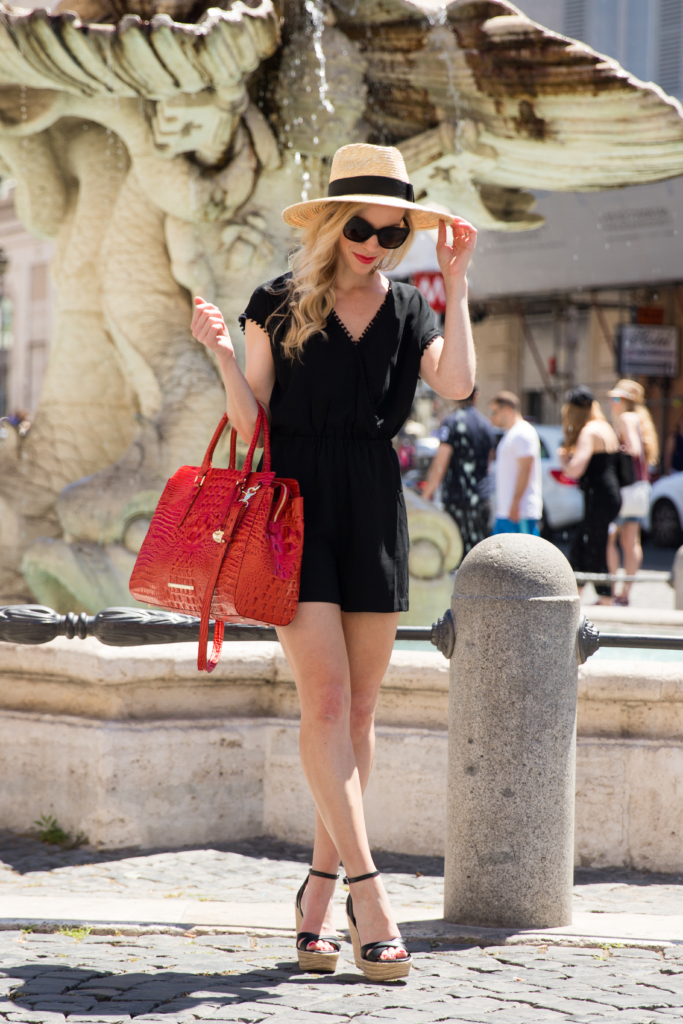 Does anyone have exciting weekend plans? Unfortunately, my husband has to work for most of it, so it looks like I'll be on my own. However, Saldi season (Italy's major bi-annual sale) starts next weekend, so this gives me time to do a little pre-sale perusing to finalize my shopping list. Hope all of you have a great one, and as always, thank you so much for reading!
Linking with Living in Color, Stylin' in St. Louis, Happiness at Mid Life, Doused in Pink, Posh Classy Mom & Rachel the Hat