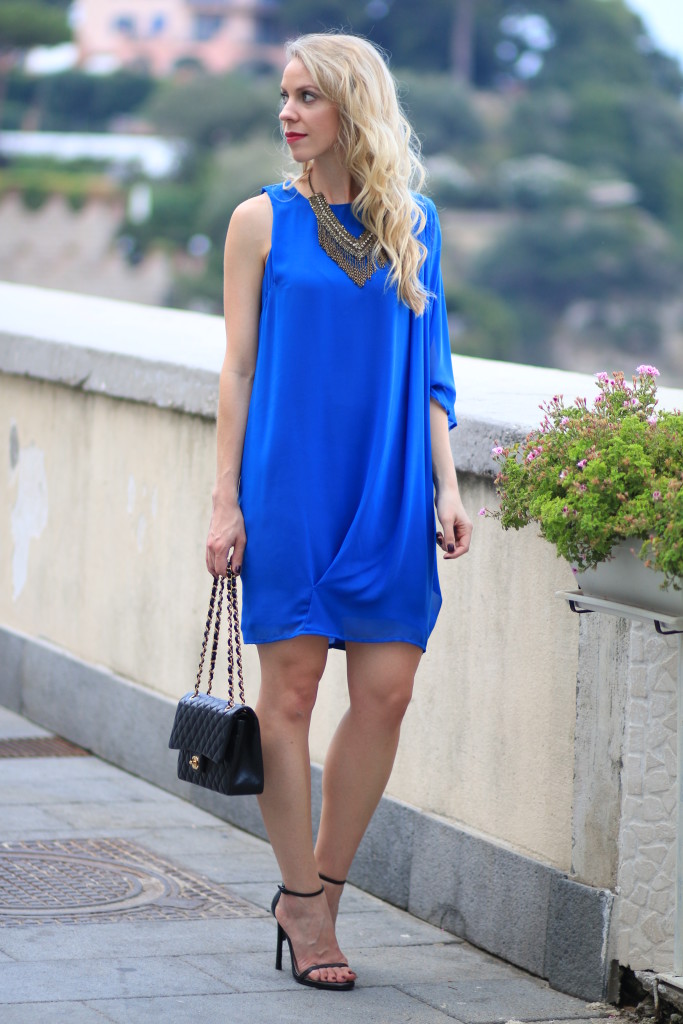 Happy Monday and I hope all of you had a wonderful weekend! It was fun traveling for the last few weeks, but we are so happy to be back in Rome.
Last weekend we celebrated my sweet husband's birthday with dinner in Marechiaro, a few miles from Naples. Marechiaro is a fishing port, and the restaurants in the surrounding area serve some of the freshest seafood dishes you'll ever eat. I took the opportunity for dinner in this romantic setting to get a little fancy (although it doesn't take much for me to find a reason to dress up!)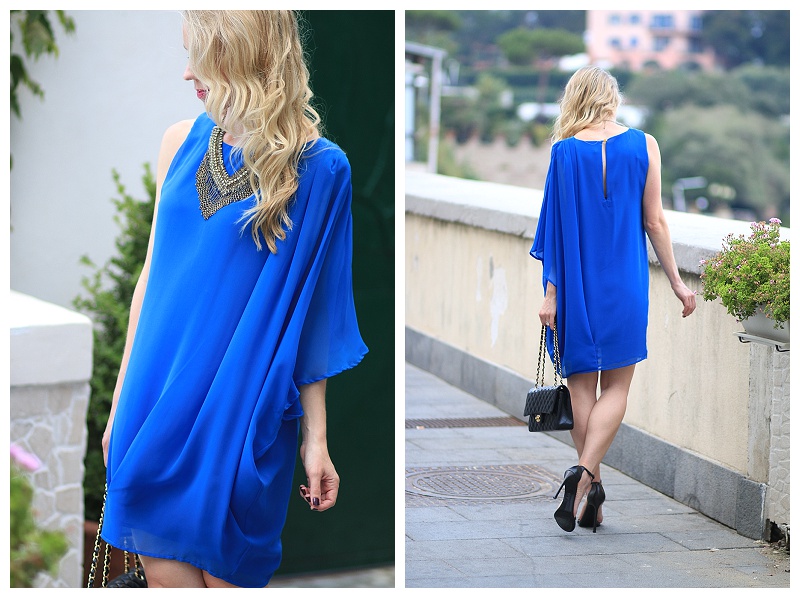 This beautiful Grecian-style dress is another one of my vintage shopping treasures–I fell in love with the brilliant cobalt blue color and flowy one-shoulder silhouette (which is also very comfortable for warm summer evenings).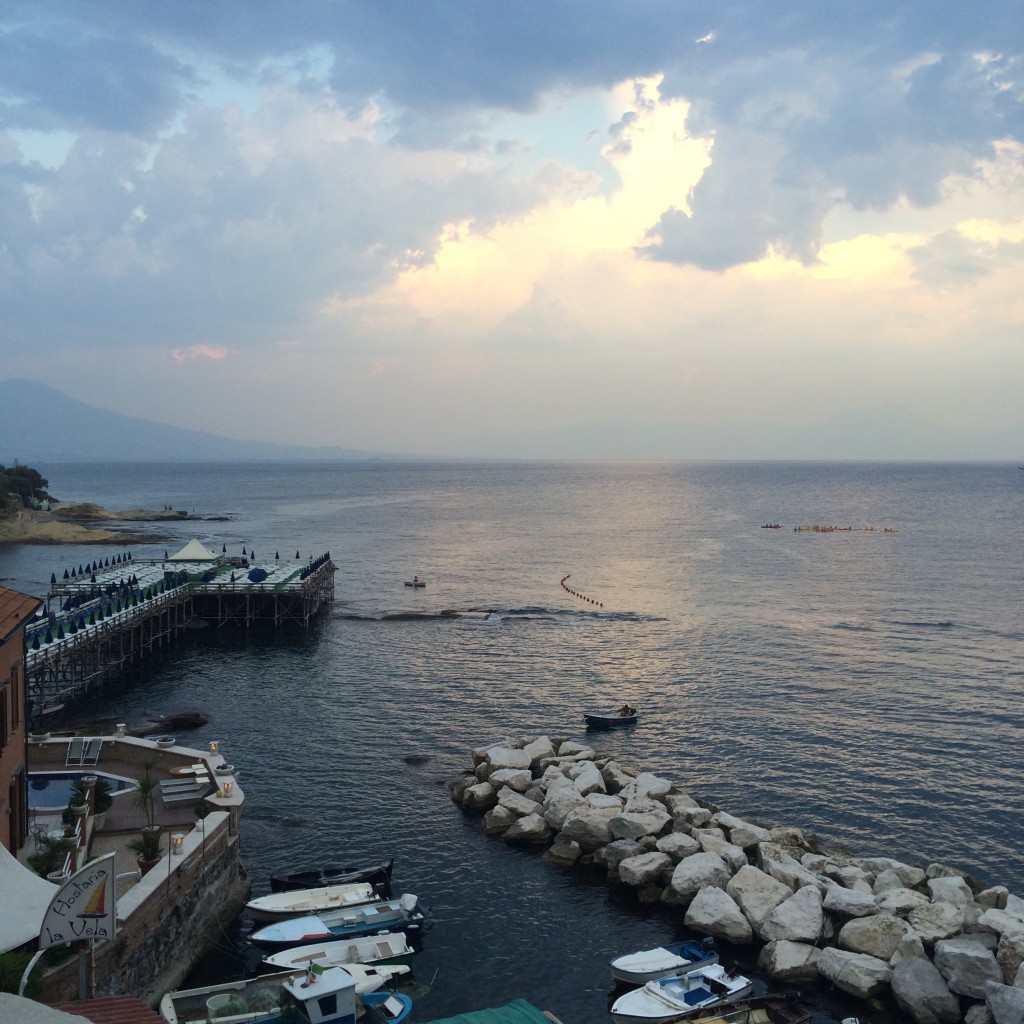 Looking out over the bay, you'll find Mt. Vesuvius on the far left, and to the right is the peninsula where Sorrento and the Amalfi Coast are located. Marechiaro is definitely a great location in Naples for prime views of the surrounding islands; from our table, we also had a good view of Capri.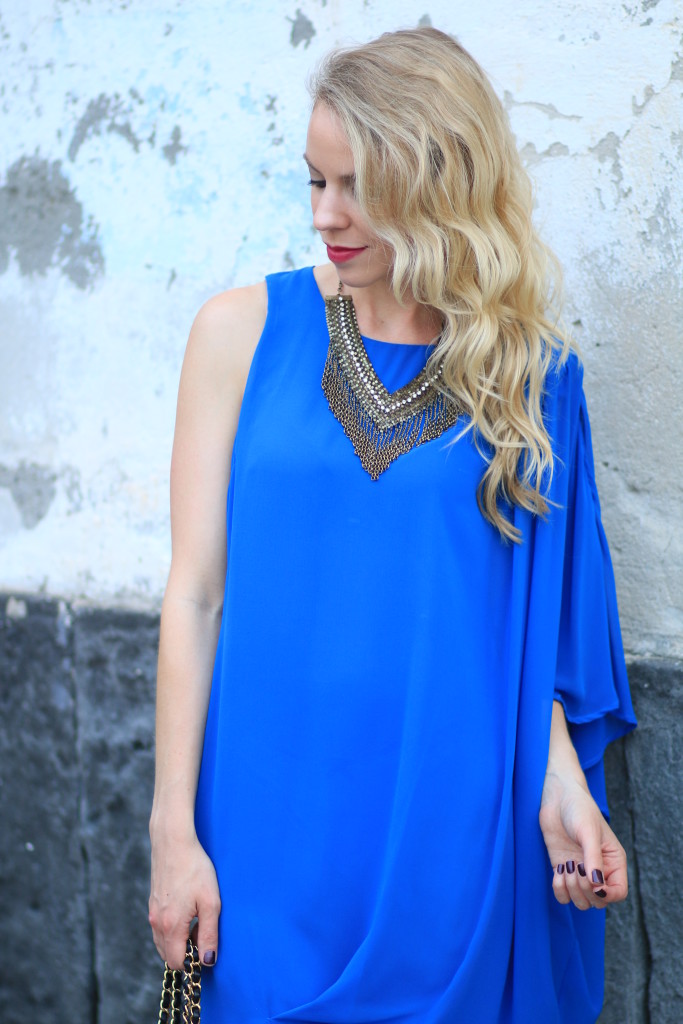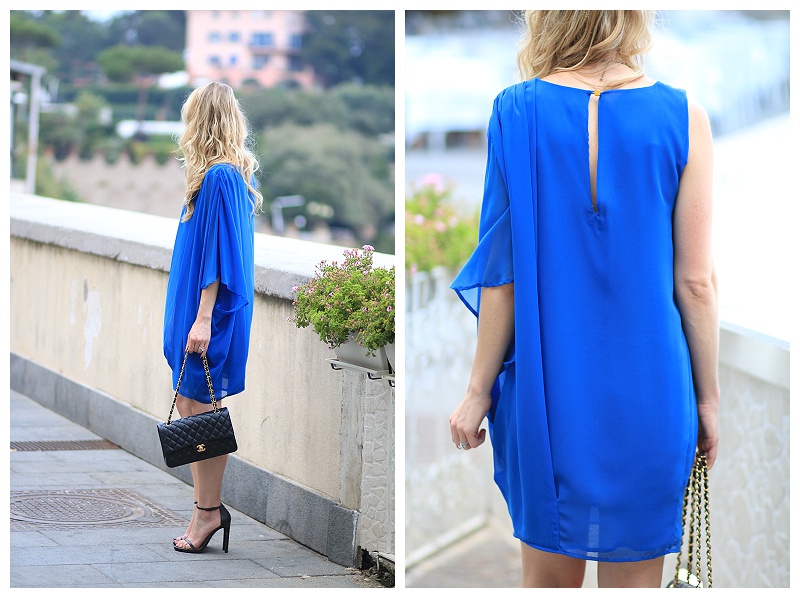 With an eye-catching dress like this, a few polished accessories are all that's necessary to complete the ensemble.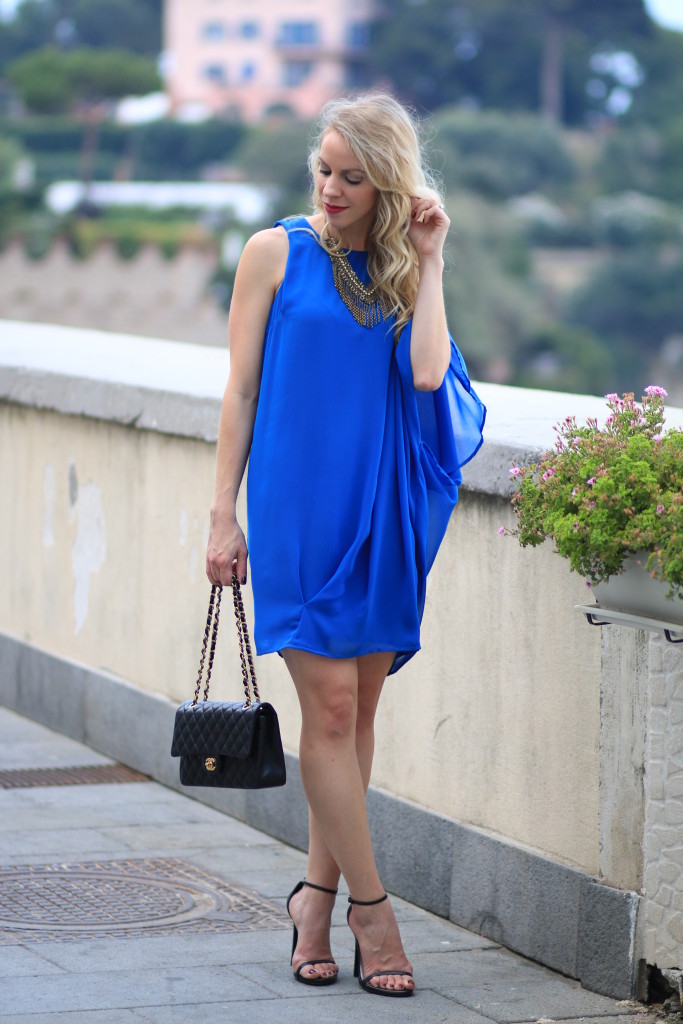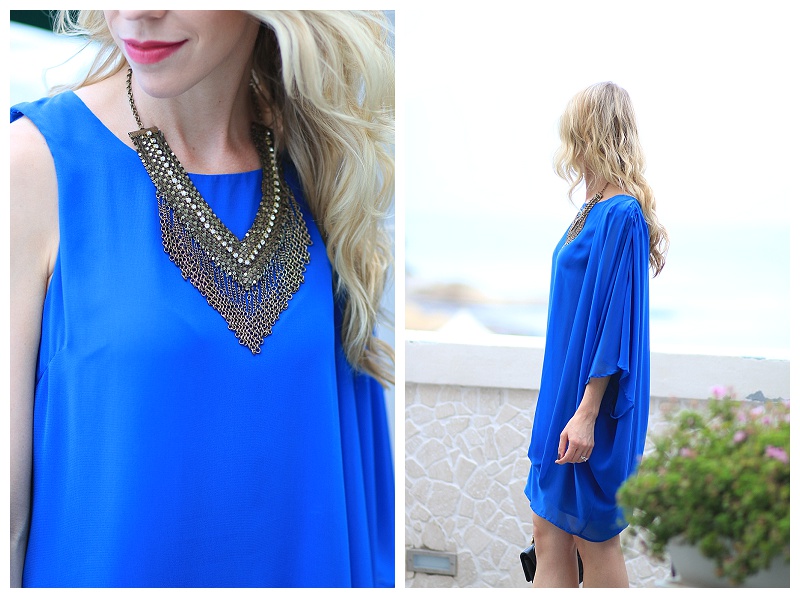 I found this bejeweled statement necklace at a small boutique in Rome during the Saldi sales and have found myself reaching for it a lot lately–not only does it complement formal looks, but it's also ideal for adding a glam touch to something as casual as a tee shirt and jeans.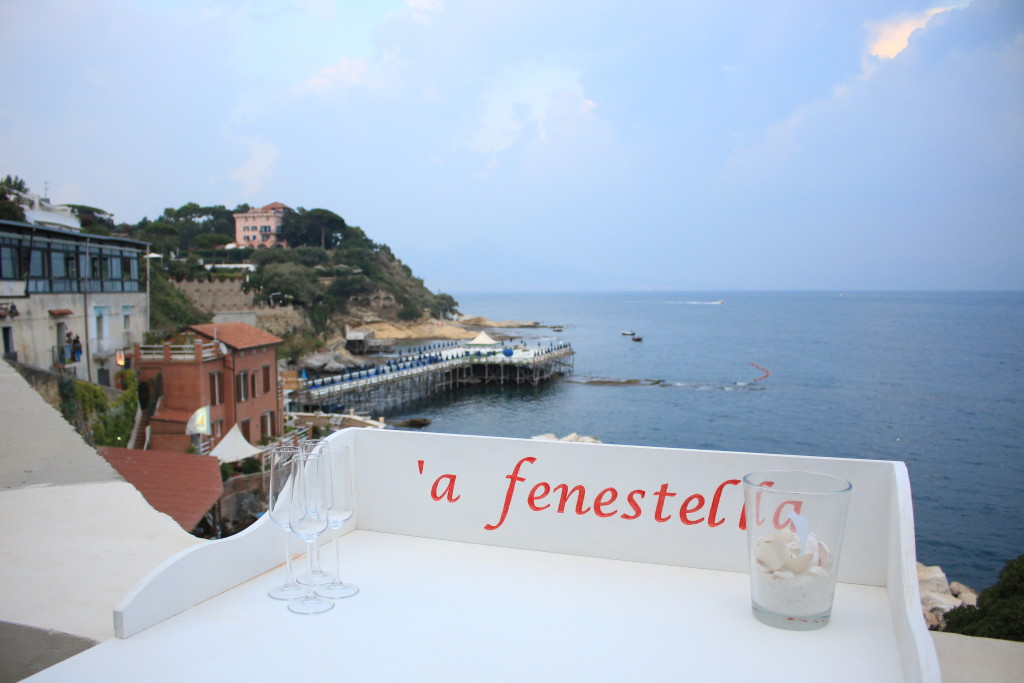 There are many restaurants located on the Marechiaro strip, and we chose to have dinner at 'a Fenestella for their phenomenal view of the water, but the dining experience turned out to be just as wonderful.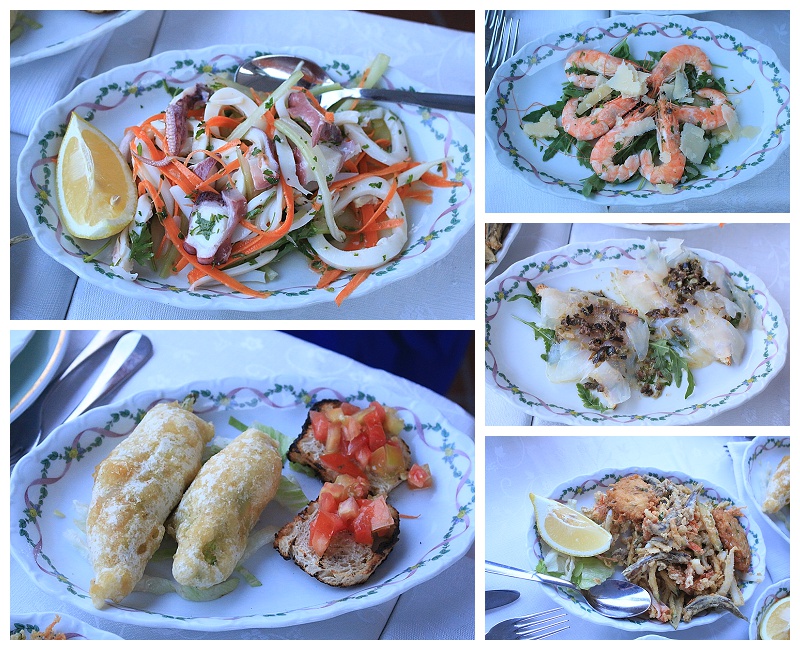 This spread of beautiful food is only what we had for starters–they sure know how to begin a dining experience at 'a Fenestella! The seafood was incredibly fresh and the tomatoes used in the bruschetta were some of the best I've ever eaten.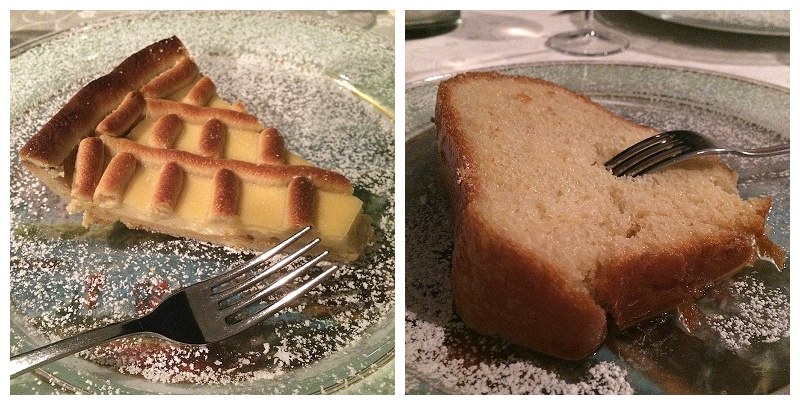 Of course we couldn't pass on dessert, so we shared a slice of lemon custard pie and 'Baba' (Neapolitan rum cake) for a sweet ending to our night out.
Linking with More Pieces of Me, Sincerely Jenna Marie & Still Being Molly