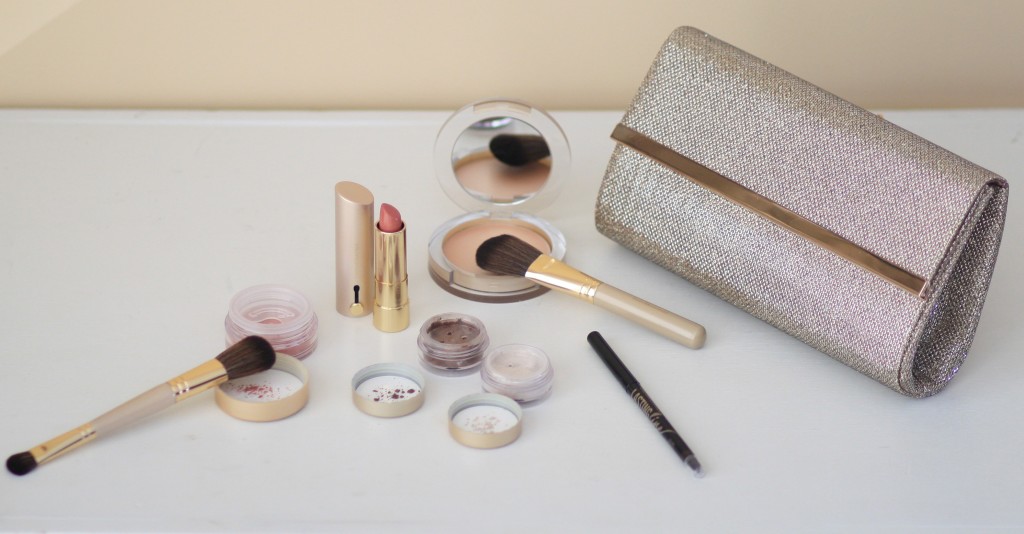 I'm taking a break from the usual post today to talk about holiday beauty. This is the perfect time of year to play with shimmering makeup and bold lipcolors to go with your holiday party looks. I'm reviewing products from two of my favorite beauty brands: Bare Minerals and Clinique.
QVC offered this 'Chandlelight Glow' 8-piece holiday collection at a special price over Thanksgiving weekend, and I quickly took advantage of the deal. Makeup collections are the perfect opportunity to experiment with new items at a fraction of the cost for each individual product. This has quickly become my go-to set for a natural, romantic look. The collection includes two loose eyeshadows in 'Morning Glow' (shimmering ivory) and 'Nightfall' (sugared cocoa), long-wearing eyeliner in 'Sure Sable' (deep brown), 'Sweet Romance' blush (warm rose), Marvelous Moxie lipstick in 'Dim the Lights' (pink nude), Chandlelight Glow illuminator in 'Luminous Gold', soft glow face brush, and double-ended blush/shadow brush, all in a beautiful gold clutch.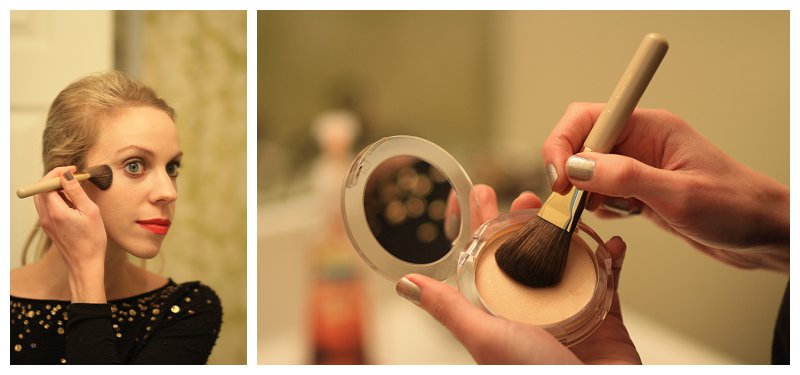 To apply the luminating powder, lightly swirl the soft glow face brush (included with set) in compact and apply where desired.  The gel-like formula can be worn under or over foundation and once applied, quickly dries to a soft powdery finish on skin. I like to sweep it over the bridge of my nose and under my eyes for a luminous glow where I often get dark circles.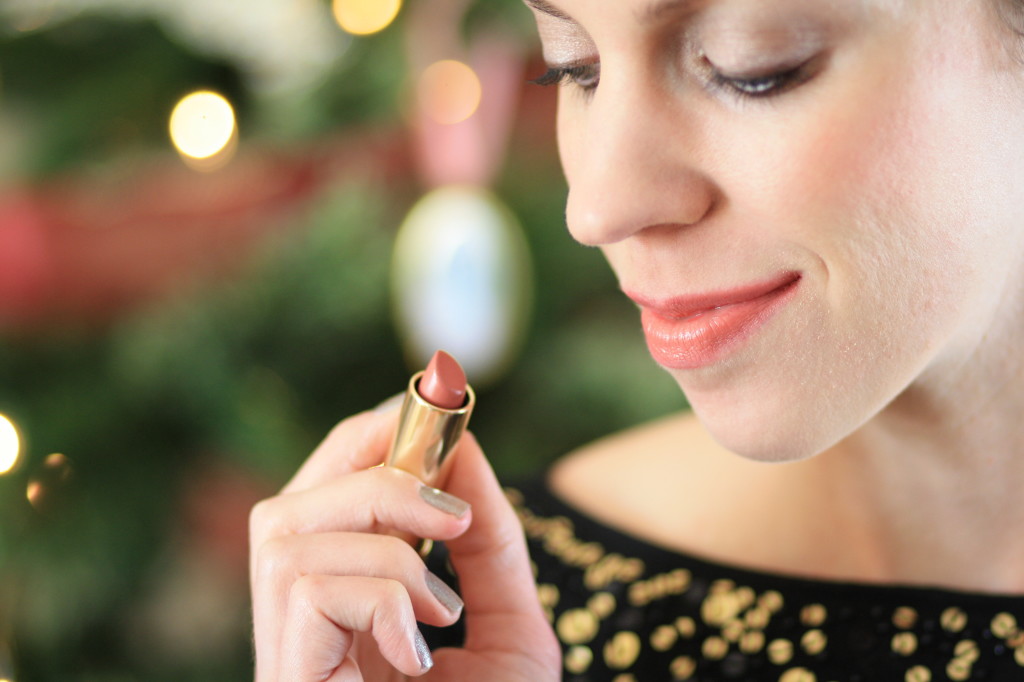 I am wearing the entire 'Chandelight Glow' collection here–so soft and pretty for the holidays or anytime!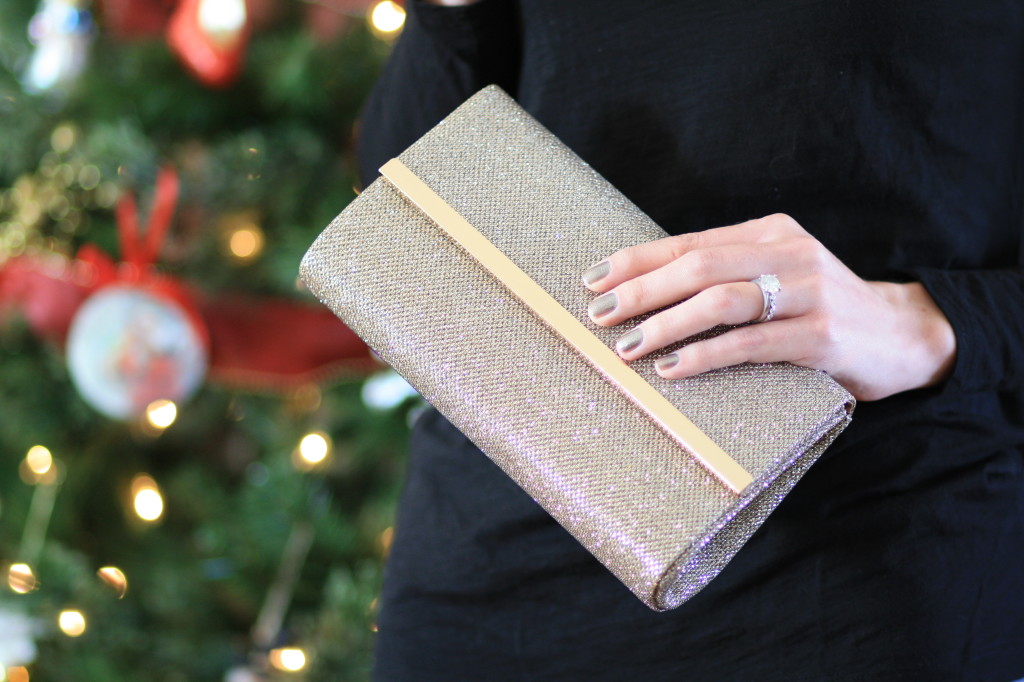 This is the first time I can honestly say I will use the bag included with a makeup collection. This shimmering gold clutch adds the perfect touch of subtle sparkle to any party ensemble and I recently used it here for a holiday look. It's roomy enough for my phone, small cosmetics case, and money for a night out and the magnetic closure easily secures everything inside.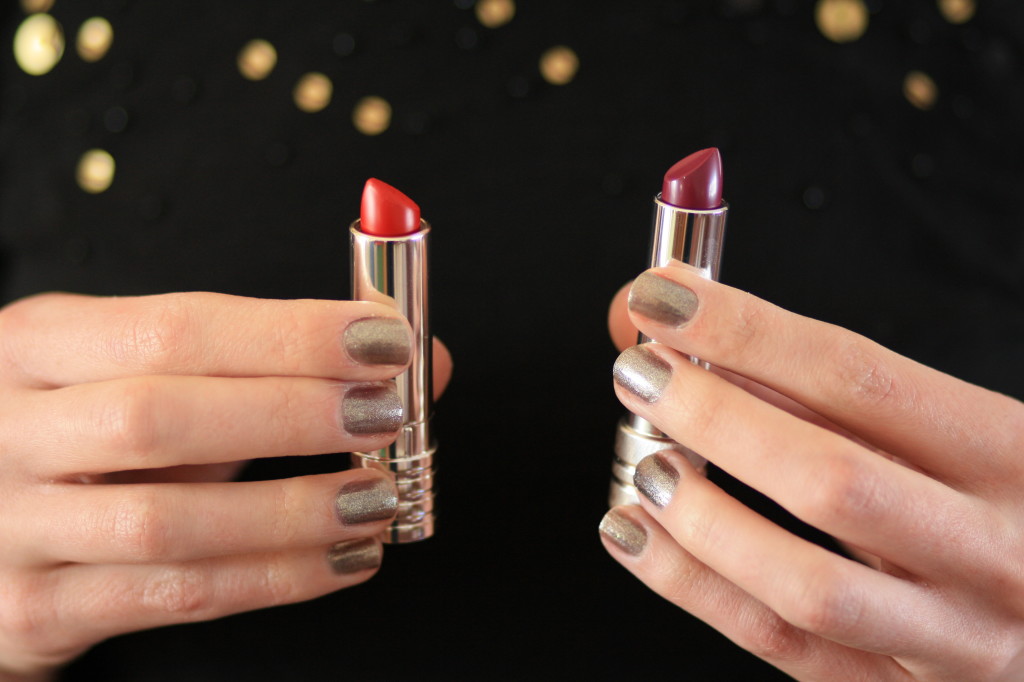 I also love a bold lip, especially around the holidays. These are two lipsticks that I absolutely love: long-last soft matte lipstick in 'Matte Crimson' (vibrant crimson red) and high impact lipstick in 'Sophisticate' (vivid plum), both by Clinique. Unfortunately, 'Sophisticate' is currently unavailable, but hopefully it will be restocked soon! I also can't resist a shimmery nail color for the holidays. I am wearing 'A Phil's Paradise' by Nicole OPI, a beautiful pewter shade with hints of gold sparkle. This newer shade from Essie is also similar.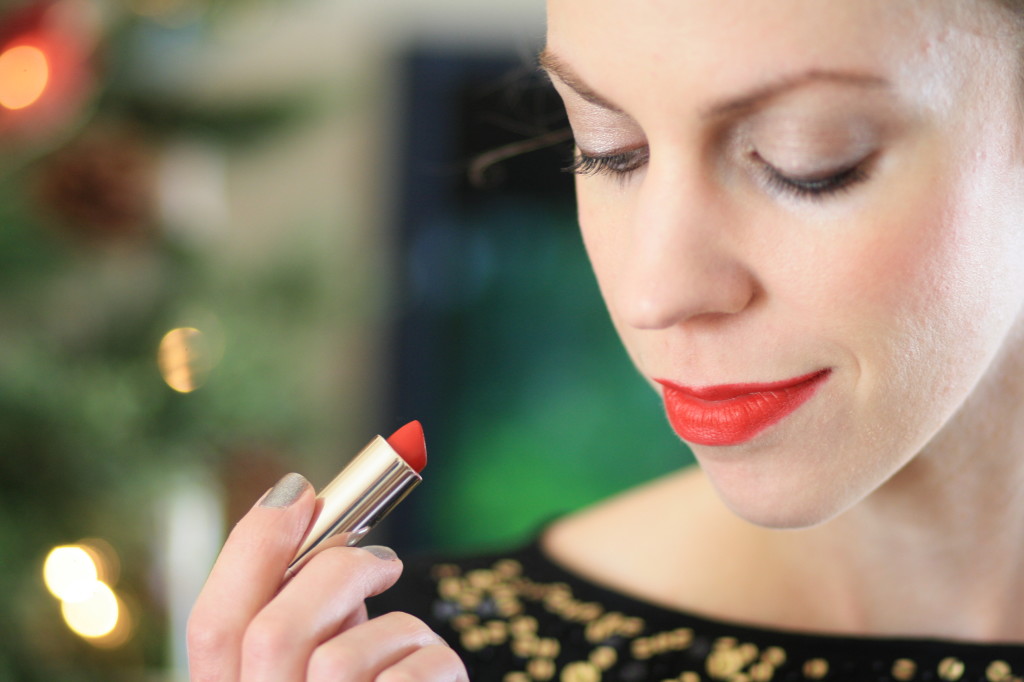 Swapping your daytime lipstick for a bold color is a quick and easy way to take your makeup from day to night, but this vibrant shade can be worn anytime. To amplify the first look, I swapped the nude pink lipcolor from the Bare Minerals set for the aforementioned cherry red from Clinique.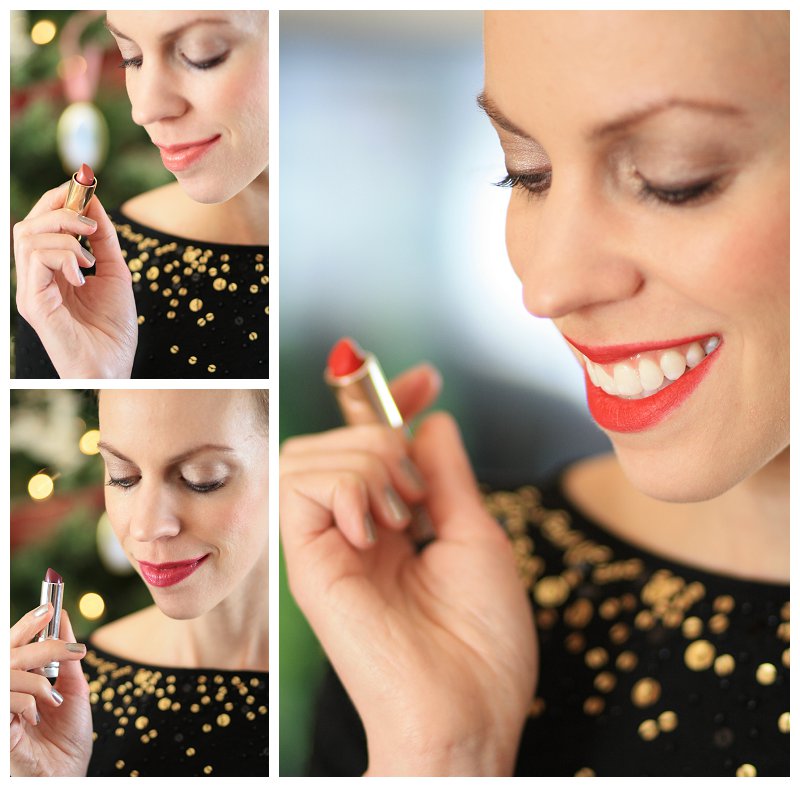 Whether you want to achieve a natural glow or crave dramatic color, any of these lipcolors are fabulous choices!
**Tip: to remove saturated color from your lips, a trick I've learned is to put a little bit of olive oil on a tissue and gently dab off. It's quick, easy, and also moisturizes your lips!
Linking with The Pleated Poppy & Because Shanna Said So